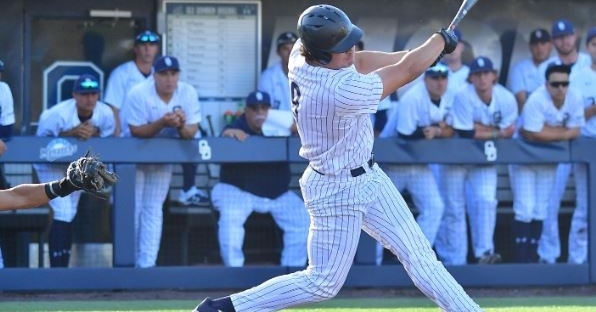 | | |
| --- | --- |
| Draft Breakdown: Cubs 17th-rounder Andy Garriola | |
---
| | | |
| --- | --- | --- |
| Monday, August 15, 2022, 7:51 AM | | |
If you are a fan of position players, then the back end of the Cubs draft was for you as two of their final four picks were position players. Not only that, but both were outfielders, with the first one coming in round 17 by the name of Andy Gabriola.
Drafted 503rd overall from Old Dominion, Gabriola comes with a decorated career from Old Dominion that was filled with plenty of accolades this season. Second-Team NCBWA All-American … Third-Team ABCA All-American … First-Team All-Region … First-Team All-Conference USA … Conference USA All-Tournament Team were all the honors he earned this season, so you can see the success he had.
When looking deeper into how he earned those awards, you have a player who set the school record in home runs with 49 and ranked second in program history with 214 RBIs. He also ranks fifth in ODU history with 434 career total bases and started all 58 games this season. He made 36 starts in left field and 22 starts in right field. Hit .322 (78-for-242) with 25 home runs, 80 RBIs, and scored 57 runs. Hit 18 doubles and had one triple. He finished seventh in the country in RBIs and ninth in home runs.
Not bad for a player coming out of a mid-major school and doesn't get the recognition some of these other bigger programs get. While all those career numbers were great, you must take notice of his senior season this year, where he raked. Typically when you have someone that posts .322/.384/.715, with 25 homers, 18 doubles, and a triple, against just 54 strikeouts, they would be a day two selection.
The fact that he made it this far before getting drafted is very intriguing, and it reminds me a lot of Matt Mervis, who went undrafted in 2020 and is now one of the fastest-rising Cubs prospects in the system. When you get to day three, these are the picks you expect to see. A college hitter with plenty of on-field success and at least one carrying tool (power) to give you some upside.
Unlike Wheat, who is most likely going to college, Garriola was a senior last season and is out of college options for next year. That means the Cubs essentially offer him less money, and he will most likely take it to play at the professional level. I am not saying they will do that, but the Cubs are in a position to make something happen with him.
I usually don't put a ton of stock into lower-round draft picks, but this one excited me, especially after what Mervis has done this season. There is no way you can sit here and look at his numbers to justify him being this low of a pick. Gabriola is way better than a 17th-round pick, and the Cubs have benefitted from that and could have a significant steal on their hands.
This is also a player I expect to show up in Mesa soon and be on the way to Myrtle Beach before too long. Guardiola may not be part of the future plans of this team, but he is someone who will make things interesting in the minor leagues. The better he plays, the more playing time he will get, making the decision on what to do with other guys more difficult.
If I could compare this draft pick to another player in the Cubs system, it would be fellow outfielder Jacob Wetzel. In 2020, Wetzel came from a small school in Cal-Poly, where he put up incredible numbers. He then went undrafted due to the COVID shortened draft and has now worked his way into a regular role. I could see the same thing for Gabriola.