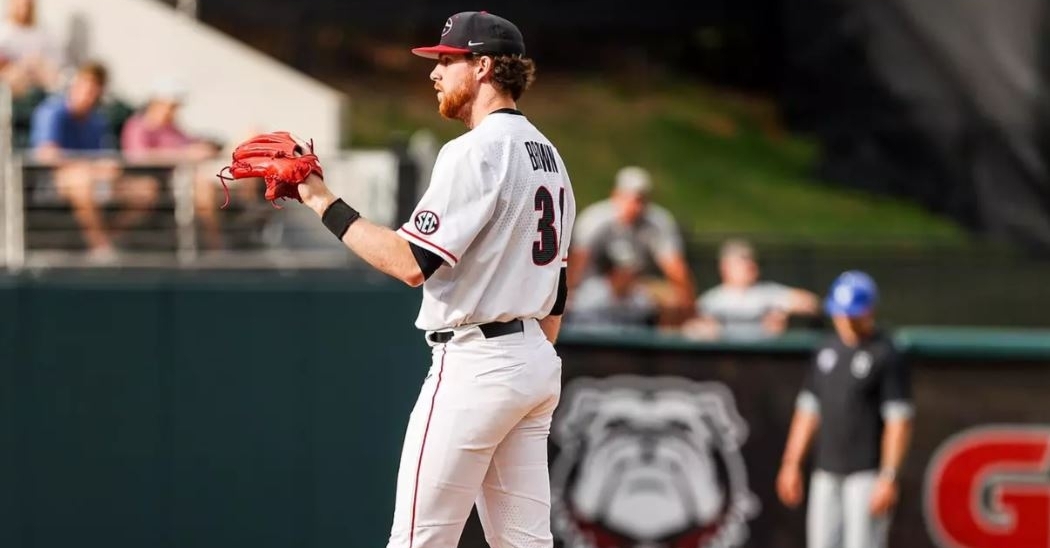 | | |
| --- | --- |
| Draft Breakdown: Cubs 18th-rounder Garrett Brown | |
---
| | | |
| --- | --- | --- |
| Friday, August 19, 2022, 12:08 PM | | |
We are getting down to the end of the getting-to-know draft picks series and the final three picks for the Chicago Cubs. Today we focus on their 18th round selection as they went back to pitcher again with Garrett Brown.
At 6-7, Brown is one of the bigger pitchers in this draft and brings with him an intimidation factor because of it. While it is nice to have guys like this on your staff, there are plenty of concerns regarding how healthy he is.
Listed as a senior, Brown may have no choice but to sign with the Cubs, but even at that, what can he give them. Not only did he pitch sparingly in 2020, but he had some kind of injury in 2022 that we don't have the datils on. Even at that, the numbers were not great as he posted a 7.11 ERA in 10 appearances this season as he returned from elbow surgery that kept him out of 2020 and 2021.
When you watch him on film, especially this season, the first thing that jumps out at you is how wild he was. A lot of that has to do with seeing minimal action across the last two seasons, so you have to think the Cubs made this pick more as a developmental play above all.
His frame is big enough that they feel they can get more from him as his fastball right now sits in the 91-92 range. When you look at how big he is, there shouldn't be an issue with him hitting the mid-90s, which is where the Cubs are hoping they can get him. However, there is one thing the Cubs love about him, and that is his breaking ball.
While it may be unclear what kind of breaking ball it is, Brown does a tremendous job generating a high spin rate on that pitch which helps with a vertical break. Over the last few seasons, we have seen the Cubs focus on high spin rate guys as they plan to put them in their pitching lab to fine-tune a few things. Brown could be the next of a long line of pitchers to do that, and who knows what could happen if he does.
Low-Velocity for his size and injury issues aside, this is an intriguing pick for the Cubs in the 18th round. It is essentially a win-win for this organization because if it doesn't work out and he doesn't contribute, it doesn't cost or hurt this team anything.
On the flip side, should he work out or at least show that he can be a serviceable man inside the system, the Cubs are looking at another late-round pickup that can help this organization in various ways. When it comes to 2022, look for Brown to contribute minimally to this organization, if at all, as 2023 may be the best opportunity for him.