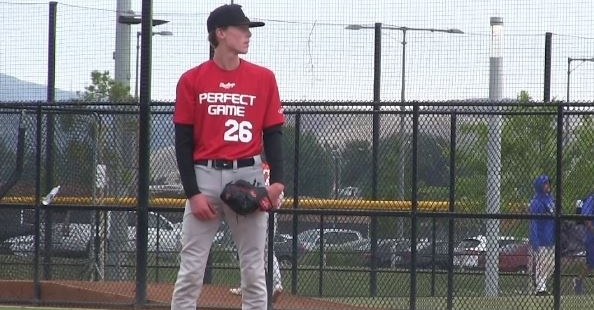 | | |
| --- | --- |
| Draft Breakdown: Cubs eighth-rounder Mason McGwire | |
---
| | | |
| --- | --- | --- |
| Wednesday, July 27, 2022, 8:38 AM | | |
As the Cubs entered round eight of the MLB draft, they already had an influx of talented young arms and just one hitter. That didn't stop them from continuing to target pitching, as that has been a Carter Hawkins special going back to his days in Cleveland.
With pick 233, the Cubs went with the High School right-hander Mason McGwire. If the last name sounds familiar, it should, as he is the son of one of the greatest home run hitters to play the game, Mark McGwire. Along with Sammy Sosa in 1998, McGuire and Sosa helped bring back fans to the ballpark as their historic home run chase was nothing short of amazing.
Mason is vastly different from his father as he is a pitcher, not a position player. He also has a much smaller body build and hopes to create his own legacy for the McGuire family. An Oklahoma university commit right now, McGuire was not a top 500 prospect, so any scouting information on him was not easy to find.
That also might benefit the Cubs as they could offer him a lesser offer than they would had he been a top 500 option, but they still need to pay up to keep him out of the NCAA ranks. Considering there were plenty of college seniors available at this pick, you have to believe the Cubs feel like they will sign him. If not, why make the pick in the first place.
Right now, McGwire is not a power pitcher, which was the opposite of what the Cubs were doing in the early rounds. His fastball currently sits in the 88-90 MPH range and has topped out at 91. Should he add some weight to his frame, look for his velocity to pop, and that could help him unlock even more of his true potential.
Mason McGwire ('22 CA) sitting an effortless 88-90 T91 w/ gd ASR. Flashed low-80s CH. low eff, deliv AA athlete, more in the tank. #Sooners commit @California_PG #WWBAWorlds pic.twitter.com/viuVHj394Q

— Perfect Game Scout (@PG_Scouting) October 7, 2021
Along with that fastball comes a change-up in the 82-83 MPH range. Low velocity or not, McGuire has a virtually effortless delivery that bodes well for someone who is expected to bulk up significantly in the coming months to years.
There are some mechanical flaws in his delivery which will be ironed out in time, but the Cubs like how he looks right now, and that is all that matters. Unlike his father, who was the best home run hitter of the 1990s, McGwire will have a hard enough time getting to the majors.
Mason McGwire (CA) working 91-92 in his first inning of work. FB comes out clean, here's a good look at the SPL for a weak out #PGAllAmerican pic.twitter.com/tC2AmpC8YC

— Perfect Game All-American Classic (@PGAllAmerican) August 21, 2021
Should that become a reality, the perfect storybook ending would be for him to make his Cubs debut pitching in Busch Stadium, where his dad became famous. I have always been one of those guys that have wanted college arms over prep arms unless you are a sure thing.
McGwire is far from a sure thing, and this pick will have mixed reviews for a long time. Either way, you have an organization that had a plan going into the draft, and they executed that plan by taking a pitcher with nearly every pick.
This is a pick that is not going to benefit this team for many years down the road. Instead, this gives the Cubs another young arm they can work with and one that they could turn into something special.
You have what the pitching lab has done for a lot of pitchers, and expect McGwire to get a taste of that this season. Should he show anything that stands out, whether it be release point, velocity spin rate, etc.. look for the Cubs to build off that as they try to maximize what they can get out of him.
8th-rder Mason McGwire signs w/@Cubs for $200K (slot 233 value = $189,100). Yep, Mark's kid. HS projection RHP up to 95 mph. @MLBDraft

— Jonathan Mayo (@JonathanMayo) July 27, 2022