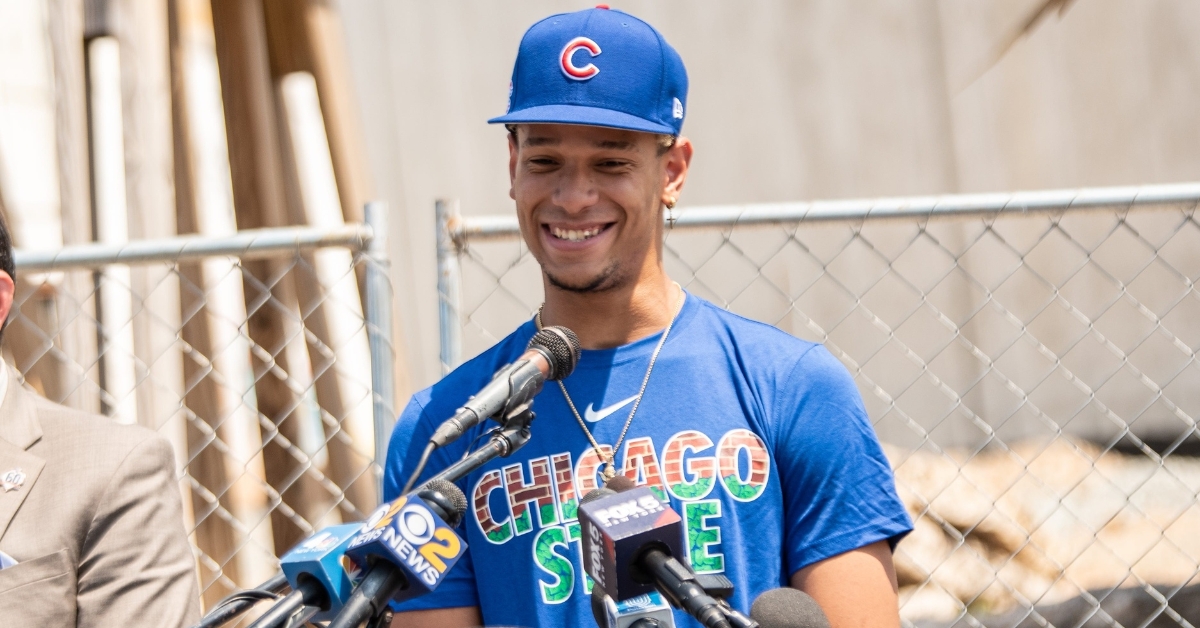 | | |
| --- | --- |
| Draft Breakdown: Cubs fourth-rounder SS/RHP Nazier Muhl | |
---
| | | |
| --- | --- | --- |
| Sunday, July 24, 2022, 12:00 PM | | |
Across the first several rounds of the 2022 MLB draft, you immediately noticed two distinctive patterns with the Cubs. The first and most obvious was their thought process going in as they made it a point to target pitching. The second thing you noticed, which is less noticeable, was an interesting trend.
In round one, it felt like the Cub reached a bit for their pick. In round two, they got a bargain. Round three, another reach, and for round four, you guessed it, another bargain. The second bargain comes with plenty of upside in Passaic Tech (NJ) prep product Nazier Muhl. The 6-3 210-pound right-hander is not only big, but he is just 17 years old, which is scary to think about as he hasn't fully filled out his body.
The two-way star demonstrated plenty of power all summer long at the plate and on the mound. A player that seemed destined to become one of the better two-way stars in this year's class saw his pitching take over as a hot start out of the gates in front of scouts may have helped solidify that decision. That is why most feel pitching is in his future, which is what the Cubs are banking on.
Muhl is not only big and physical for a teenager, but he is one of the bigger pitchers in this entire class. His power on the mound, which we will get into in a second, has also been on full display at the plate, where he has posted some incredible exit velocities when he gets into a pitch. Granted, his bat is impressive, but his strides as a pitcher have forced hitting to take a back seat for now, and they may not be a bad thing.
Given his size, you would expect his fastball to be the star of his arsenal. That is exactly what you get as Muhl averaged 96.1 MPH on his fastball this summer and was seen touching triple digits several times. Keep in mind this kid is just 17 years old, which is unheard of when you talk about kids his age.
Despite his fastball being one of the best in the class, Muhl has toned it down a bit, averaging 93-96 as opposed to 95 MPH plus. That has seemed to work in his favor as the pitchable factor in Muhl has been much better with a slight decrease in velocity. With that fastball, Muhl uses a low 90s slider which has been a plus pitch at times to go with a change-up that he rarely uses. The next stage in his developmental process is getting a more consistent third pitch.
Having a guy who can throw 100 MPH at such a young age makes him worth the risk, but Muhl did struggle with command when hitting those numbers. That was a big reason his control has been so up and down the past year, but it appears he finally figured things out strike zone-wise.
Committed to going to Miami, Mule may tempt a team to send him out as a position player and see if he can tap into that power, but teams are really preferring him as a pitcher now. If the Cubs didn't want him as a pitcher, I don't think they draft him in this spot, so that is something to consider when talking about a high-upside guy who is more than capable of putting up big numbers at the plate.
This is another one of those long-term products that will take time to make an impact. That is not something the Cubs are concerned with right now. Instead, they want him to develop at his own pace without pressure. Hopefully, that will help him relax and unleash his true potential on the mound and on the diamond.