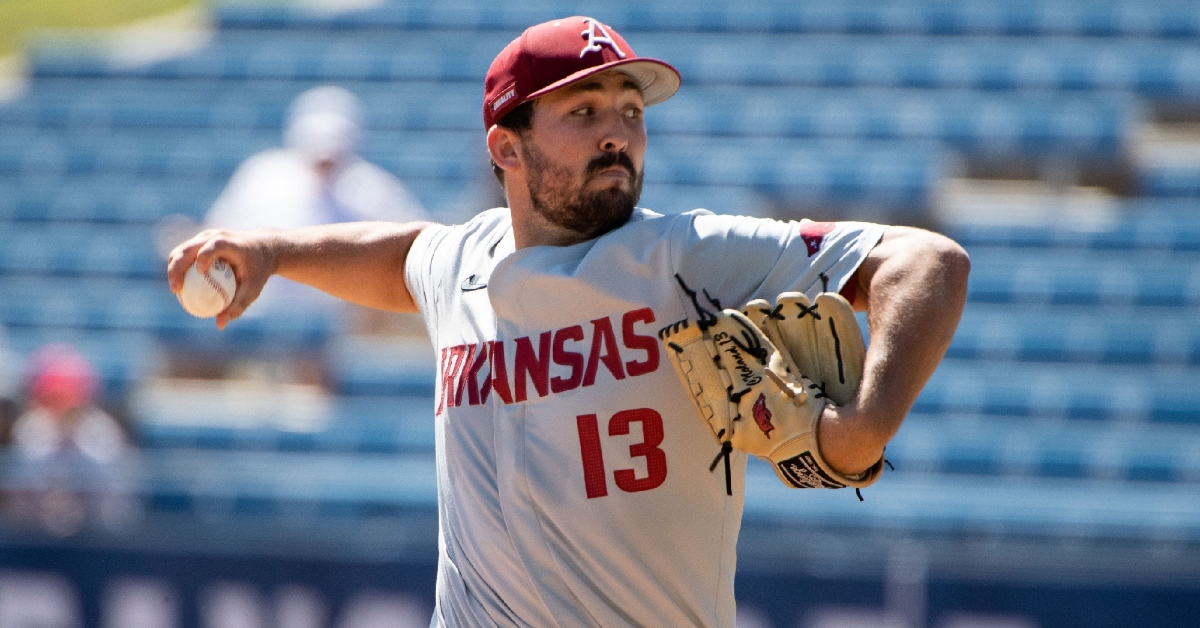 | | |
| --- | --- |
| Draft Breakdown: Cubs ninth-rounder Connor Noland | |
---
| | | |
| --- | --- | --- |
| Thursday, July 28, 2022, 8:21 AM | | |
When you talk about some of the most successful NCAA programs in the country, Arkansas University comes to mind. From an offense that is constantly loaded with bats, including Christian Franklin and Casey Opitz, who the Cubs drafted last season, to a pitching staff that is often top 20 in the nation, the Arkansas program is one to be jealous of.
Going back to last year when Franklin and Opitz were taken, the Cubs obviously have a connection with Arkansas and have scouts in that area, considering the Tennessee Smokies are not too far away. That allows them to see perhaps more games than other teams, which could be beneficial come the draft.
In hopes of keeping the Arkansas success train going, the Cubs selected Connor Noland in the ninth round. Listed as a senior pitcher, the right-hander just snuck into the Baseball Americas top 500 rankings, where he entered the draft sitting at 470.
Noland was mainly a swing guy in 2021 as he didn't have a defined role during the season. 2022 was a vastly different story as he not only had a role, but stepped up in a big way as the Razorback Ace Peyton Pallete blew out his elbow. That forced the hand for Noland to step up, and he was about as good as Arkansas could have hoped for.
Noland was rarely spectacular, but as the team's fifth starter, he was about as reliable as you could ask for. Across 19 starts this season, Noland logged 116 innings and posted an 8-6 record doing so. Along with that, his 3.65 ERA was a pleasant surprise as he helped his draft stock this season.
When you look at his success, you would think he was a hard thrower but not elite. That is far from the case as Noland sits in the 89-91 MPH range, which is still regarded as a below-average pitch at the major league level. However, for Noland's sake, his less-than-stellar fastball helps set up his offspeed pitches, where he makes a living on the mound.
Cubs ninth-round pick has Ninja in his past, so that's good. Another older pitcher, likely coming in underslot. Cubs have liked this program in recent years. https://t.co/YsIgQyYwmf

— Cubs Prospects - Bryan Smith (@cubprospects) July 18, 2022
The best of his secondary pitches in his curveball comes in around 85 MPH. He also adds an 86 MPH slider that, despite being an average pitch, is still capable of getting guys out as his control is some of the best in this year's class. Noland is a fourth-year junior who could opt to return to Arkansas for another season if his late-round draft status doesn't entice him.
When reading that last part, Noland is already a senior in terms of age at 23, but still has one more year of draft eligibility left should he elect to return to school. That could mean he is not going to be a well-below slot value guy, so it will be interesting to see what the Cubs plan to offer him in the coming weeks.
One thing that could end up being a fun storyline in the near future is the connection that Noland and Opitz have. Not only were they teammates last season, but Opitz often caught Noland when on the mound. That means they have great chemistry together as they could emerge as battery mates again.
Should that happen, you could also see Noland elect to have Opitz as his own personal catcher, which a lot of teams have gotten away from. We know the Cubs love this Arkansas program, so to target an older guy with a ton of experience makes a lot of sense.
Fans saw him at his best this season when given an opportunity to lock down a starting spot all season. Now the next steps for him are to build off that and prove he is worthy of being a long-term starter in this organization for years to come.