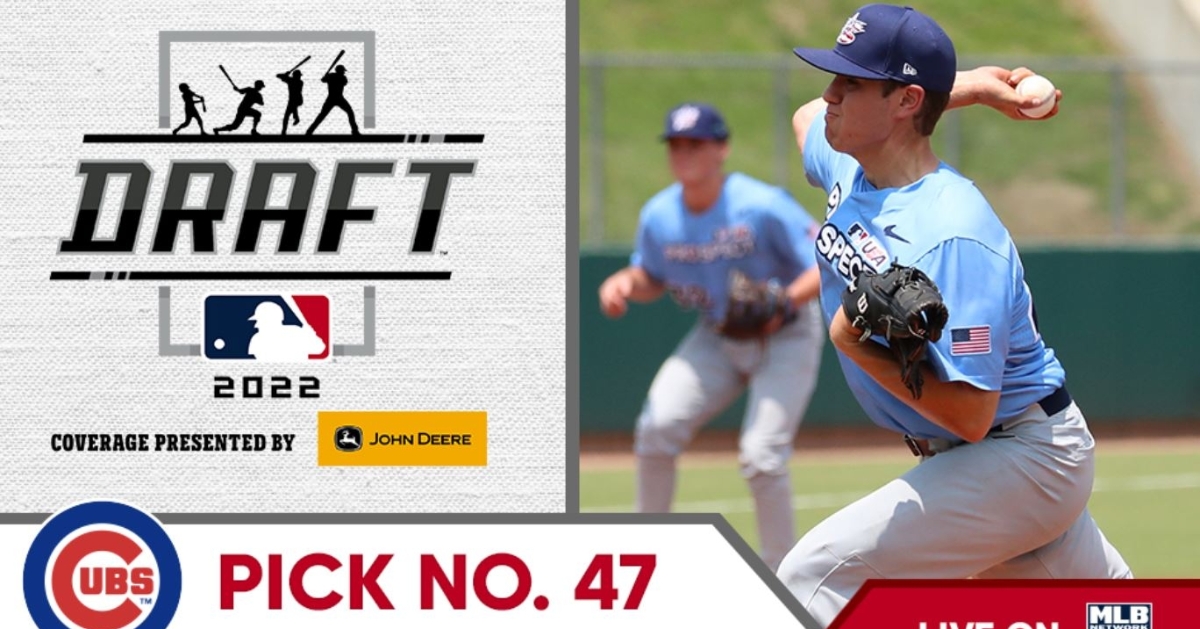 | | |
| --- | --- |
| Draft Breakdown: Cubs second-rounder Jackson Ferris | |
---
| | | |
| --- | --- | --- |
| Wednesday, July 20, 2022, 7:50 AM | | |
Whenever you draft a high school pitcher, many risks are involved. However, if you are willing to take that risk, why not look at IMG Academy in Florida as they continue to churn out quality high school players who land in the big league systems.
When it comes to the Cubs, they are as familiar as anyone with the talent pool at IMG as they have become regulars in scouting that program. Not only did they draft Drew Grey from IMG last year, but they turned around and selected two more players from IMG academy this season. The first happened to be Jackson Ferris in the second round, which could be viewed as one of the best steals so far.
Ranked as the 19th best prospect by MLB.com, Ferris somehow fell into the Cubs lap at 47, which made it a no-brainer to pick him. However, when you see a drop like that on a draft board, you have to wonder if there are some question marks with him that finally came up.
Regarding IMG, scouts flocked to Florida to watch Elijah Green this season as he was viewed as one of the best prep players in the nation. With that, they also tried to get a look at Ferris whenever he toed the rubber. Considered one of the best prep left-handers in the draft, Ferris made a name for himself last spring when he outdueled eventual Phillies first-round pick Andrew Painter, then threw at a number of summer showcase events. That goes to show you the talent he has.
Not only did he get out of the gates strong this season, but he showed incredible upside early despite some inconsistencies later in the season. That is expected from a high school arm, so more often than not, you focus on the potential, which this kid has a ton of.
When he is dialed in, the 6-4 Ferris has three pitches he can rely on, with all of them having a chance to be plus offerings. His fastball consistently sits in the 92-95 MPH range and brings some good riding action which Ferris does a great job controlling. He pairs that with a true 12-6 curveball that sits around 75 MPH and has worked an excellent mid 80's change up into the mix that he has a great feel for.
Ferris is tall, but the Mississippi commit may have more in the tank as he matures. Given that he is fresh out of high school, that may take some time, but the Cubs love his makeup, as did plenty of other scouts out there. Even if the mature factor is not quite there, Ferris has done a phenomenal job holding his stuff deep into outings which only bodes well for his development as a starter.
One thing you notice when watching him pitch, which is something to work on, has to be the consistency with his delivery. At times, Ferris features an unorthodox delivery that can get him out of sync. When that happens, he struggles to command his pitches, and that is not something you want to hear.
That is something that he has always done and something the Cubs will certainly work with him on once he gets inside the system. Given his size, pitch mix, and the ability to control all three pitches, Ferris has the potential to emerge as a solid No. 2 or No. 3 starter in this league. For a team that has struggled to develop any sort of pitching until recently, he is the perfect project to prove those days are over.