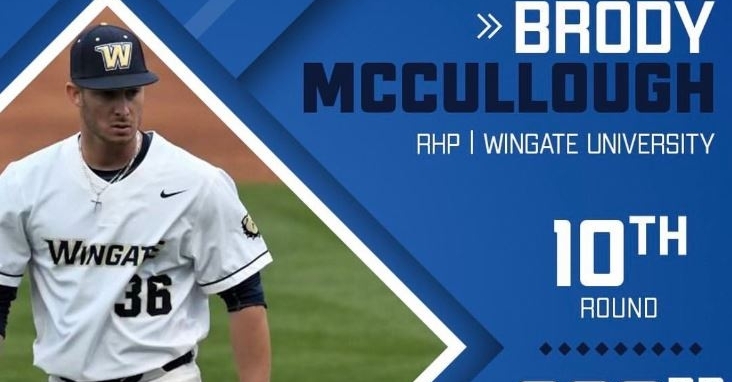 | | |
| --- | --- |
| Draft Breakdown: Cubs tenth-rounder Brody McCullough | |
---
| | | |
| --- | --- | --- |
| Friday, July 29, 2022, 2:51 PM | | |
With day two of the MLB draft coming to a close, the Cubs had selected five pitchers and one position player. They followed that trend in round 10, where they went with their sixth consecutive pitching selection and took Brody McCullough from Wingate with pick 293.
Another RHP, who happens to be a senior, McCullough, also snuck into Baseball America's top 500 list, which is a good thing for the Cubs. After making 18 relief appearances in 2019, McCullough transitioned into a starting role during the COVID-shortened season before splitting time as a starter and reliever in 2021.
During that time, he posted an impressive 2.47 ERA while always putting up remarkable strikeout to walk rates. With 2022 his first time as a full-time starter, McCullough not only continued to miss bats, but, most importantly, prevented runs as he became the bonified ace of the Wingate staff.
At 6-4 and 205 pounds, McCullough is the ideal size you look for in a starter, and there is still room for him to fill out over time. Across his 11 starts this season, McCullough gave his team nearly 64 innings of work while posting an impressive 2.40 ERA. While those may be good, the most impressive stat is his strikeout to walk ratio, where he registered 110 strikeouts to just 24 walks.
Putting that into comparison, McCullough struck out nearly 43% of the hitters he faced while walking just 9%. That is elite even for major league pitchers, so if that is what the Cubs can expect from him, fans will love this pick. Going a bit further to look at his entire career, McCullough recorded 258 strikeouts (32%) of batters faced compared to just 72 walks (9%) of batters faced.
Looking to prove his spring season was no fluke, McCullough latched on to the Cape Cod League this summer, where he continued to dominate hitters. Across five starts and 20 innings for Hyannis, McCullough posted a 2.70 ERA while walking eight and striking out 30.
Looking at his pitches, you will see a guy who sits around 92 MPH with his fastball, but has seen an uptick to 94 during the summer. He adds an 85 MPH change and 84 MPH slider to his arsenal as all three pitches are good enough to get hitters out consistently.
His college track record is impressive, and his turn on the Cape late in the year before the draft could have teams even more excited. The Cubs were one of those teams interested and excited and made sure he wouldn't slip past day two.
It seems a good guess that McCullough is an under-slot senior signing, which was expected given the distribution of the other picks so far. McCullough was the D2 CCA Southeast Region Player and Pitcher of the Year, which is impressive on its own, but everything he did to accomplish that feat is mind-blowing.
After making the All-Region Second Team as a reliever last season, McCullough moved to starter and is 8-1 with a 2.08 ERA and 101 strikeouts over 56 1/3 innings this season. He ranks second in the NCAA in strikeouts per nine innings at 16.14 and allows just 6.23 hits per nine innings, good for 15th in the country.
Yet even with those great numbers, he still fell to the 10th round, which is nearly impossible to understand. You have to think coming from the D2 level had something to do with it, but if you can pitch, you can, and McCullough certainly can. I don't care what level you are pitching on. When you put up numbers like that, teams are going to notice.
Of all the pitchers the Cubs drafted in this year's class, he might be the one I am most excited to see start pitching in Arizona. His experience, command, and overall record lead the Cubs to believe he has all the tools to become a full-time starter in this league and could be a back-of-the-rotation guy for years.
Brody McCullough went 4 with 3ER 4H 3BB 6K. Compared to last outing his slider was a lot sharper and got a few swings and misses and froze batters. He mixed in a curveball 3 times which I hadn't seen, all for strikes. He should throw this pitch more often pic.twitter.com/dM2udAG1tD

— Daniel Garcia | Cape Cod Baseball Scouting (@CapeScouting) July 11, 2022