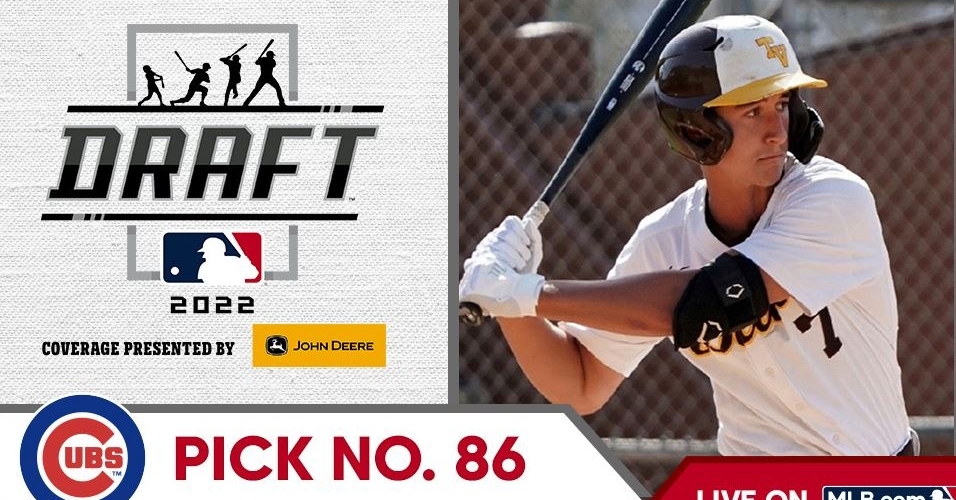 | | |
| --- | --- |
| Draft Breakdown: Cubs third-rounder Christopher Paciolla | |
---
| | | |
| --- | --- | --- |
| Thursday, July 21, 2022, 7:48 AM | | |
The Cubs have a long history of drafting position players in the MLB draft, hoping those big-time bats will pan out. However, after drafting 16 pitchers in this year's draft, including nine of their first 10 picks, it is easy to see what the organization is now focussing on as they continue to press for the need for homegrown pitching.
The lone position player selected in the first 10 rounds came in round three, where Christopher Paciolla heard his name called. Ranked 166th in the MLB.com top 250 rankings, Paciolla went off the board way sooner than expected as the Cubs made him the 86th pick overall. Some may call this a reach, but the Cubs must see something in him to take him this high and plan to offer him a contract large enough to keep him away from UCLA.
There were plenty of intriguing high school bats in this year's class from California, and Paciolla was one of them. Unlike Jacob Reimer and Cutter Coffey, who were looked at as top three-round prospects, the Temecula Valley native Paciolla was viewed as a fifth or sixth-round talent, but still managed to go in round three.
Temecula Valley is one of the more well-known baseball programs nationwide as they have had 10 players drafted since 2013, with only Brooks Pounders landing in the MLB. Paciolla is hoping to end that streak as he will look to become the next great Chicago SS in their system.
A right-handed hitter, Paciolla reminds scouts a lot of Nico Hoerner, but with better contact skills like a Nick Madrigal pre-injury. He does not have a lot of swing and miss in his game and has the chance to become a very good hitter. Considering the direction the Cubs have been trending on offense, he fits the mold of what they are trying to do and has a knack for making contact.
Paciolla has an effortless and easy swing which comes from his relaxed pre-pitch stance. Once he makes contact, he uses his strong hands to generate quick bat speed, which alone helps him drive the ball to all fields. Seeing something like that early in his career is huge because it should allow him to be a consistently good extra-base hitter for most of his career.
As expected, Paciolla is extremely athletic, as most shortstops are, but he does lack speed as running is not part of his arsenal. Many scouts feel that lack of running could force a move to second base, which may not be a bad thing, but he does have the quick feet and soft hands you love seeing at the shortstop position.
Another thing Paciolla does well is bring a strong and accurate arm with him that allows him to make all the throws across the diamond. That could come in handy down the road as the Cubs decide to move him to the hot corner should they feel his overall athletic ability is not ideal for the SS spot. That is where most scouts see him in the future, and with that a position of need long-term, it certainly wouldn't hurt to stick him there and see what he can do.
Many people felt that if he were to go in his fifth or sixth-round range, he would almost certainly be leaving for UCLA to improve his overall draft stock. Now that he was selected in the third round, that makes the decision a lot tougher, as I expect the Cubs to give him an over-slot value contract offer to make that decision easier.
Paciolla may not be the typical power bat the Cubs fans have grown accustomed to, he is a bat, and the Cubs have made sure to continue to focus on that, just not in high volume. This is a sneaky good pick with plenty of upside, and should it work in their favor, it will be considered a genius pick as he went 80 picks earlier than his overall ranking.