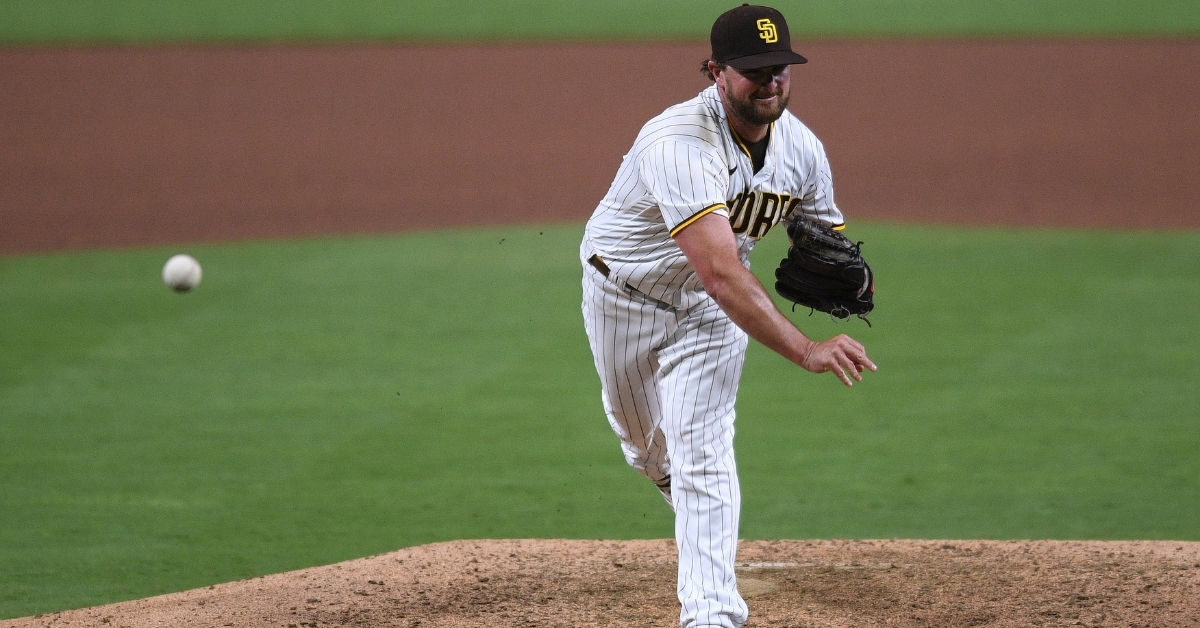 | | |
| --- | --- |
| Former Padres closer could be an interesting option for Cubs | |
---
| | | |
| --- | --- | --- |
| Thursday, November 5, 2020, 10:02 AM | | |
Ever since the Cubs lost Aroldis Chapman in free agency, the team has been searching for that lockdown closer they could count on in games. They traded for Wade Davis in 2017 but only had him one season before losing him to the Rockies in free agency. Since then, the Cubs have tried to mix and match various closer options using players like Brandon Morrow, Steve Cishek, Pedro Strop, and others across the past three seasons.
The Cubs went out and grabbed Craig Kimbrel in June of 2019 with hopes it would solve the ninth inning revolving door. However, across his now two seasons with the Cubs, Kimbrel has been anything but lockdown. Fans are starting to wonder if his days are numbered as a closer. Chicago did find some great options this past season in Jason Adam, Rowan Wick, and the now free agent Jeremy Jeffress.
All three of them filled in nicely for Kimbrel this season, and they all have the potential to do so again. However, the problem I see with that is that the Cubs can count on one of those guys to be their stopper going forward. They all have the stuff, but outside of Jeffress, they don't have the consistency to battle through those tough ninth innings. Instead, how about this option for the Cubs as one of the best closers across the past three seasons is up for grabs.
Kirby Yates, formally of the San Diego Padres, is now a free agent and is one of the top 50 free agents to boot. A little older than what most would like as he is approaching 33, Yates has been the definition of lockdown the past few seasons minus a rough 2020 campaign. Not known as the hardest thrower in the world, Yates uses a plus spin rate to create sink and deception on his pitches, making him a strikeout and ground ball specialist.
Yates has gone 12-17 with a 3.54 ERA for his career and is 57-67 in saves with 39 holds. That may not seem like a lockdown closer, but most of those saves have come since 2018 when he burst on the scene as a full-time closer for the first time. After going 2-8 in saves across his first six seasons, Yates started to find success in 2018, going 12-13 in the closer role in his first crack.
Loving what they saw, San Diego awarded him the closer job ahead of the 2019 season, where he proved to be the best reliever in the National League that year. Yates not only saw action in 60 games that season but threw just shy of 61 innings. His record was 0-5, but Yates posted an absurd 1.19 ERA and saved 41 of 44 games, including 27 straight at one point.
He then saved two games in two tries this season but was lost for most of the year with an injury. Along with that dominating stretch of relieving, you must look at how he pitches to see how dominating he can be. Yates isn't going to come out and throw 97 plus to blow hitters away. Instead, he is content with staying around the 94-95 range while adding great sink and spin to his pitches.
The sink comes in handy as Yates is a strikeout pitcher and a ground ball pitcher. He tends to rank in the top five among relievers in double-play balls, so he finds multiple ways to get you out. While the Cubs bullpen was quietly one of the better pens in the game last season, the command was often their Achilles heel, something Yates has no problems with.
Across his career, Yates has better than a 4:1 strikeout to walk ratio walking 94 hitters and punching out 400 in only 282 innings of work. Looking back at 2018 and 19, Yates walked a total of 30 hitters those two seasons and struck out 191. That included his 13 walk to 101 strikeout performance in 2019, where he allowed just two homers on the season.
Age aside, Yates is exactly the closer the Cubs need, even if it is for just one or two seasons. Fans keep waiting for Kimbrel to come around, but at this point, I don't know if he will ever be what the Cubs paid for. Jeffress was great, but can he be that good again. On the other hand, Yates has a track record of being great and will give the Cubs something to work with this season and possibly next.
By adding Yates, they get closer to Davis in age and someone who pitches the same way. That would allow the team to give guys like Burl Carraway, Michael McAvene, and others a chance to develop a little more as they could be the organization's future closers.

Tags: Cubs Baseball
,
Aroldis Chapman
,
Wade Davis
,
Brandon Morrow
,
Steve Cishek
,
Pedro Strop
,
Craig Kimbrel
,
Jason Adam
,
Rowan Wick
,
Jeremy Jeffress
,
Michael McAvene