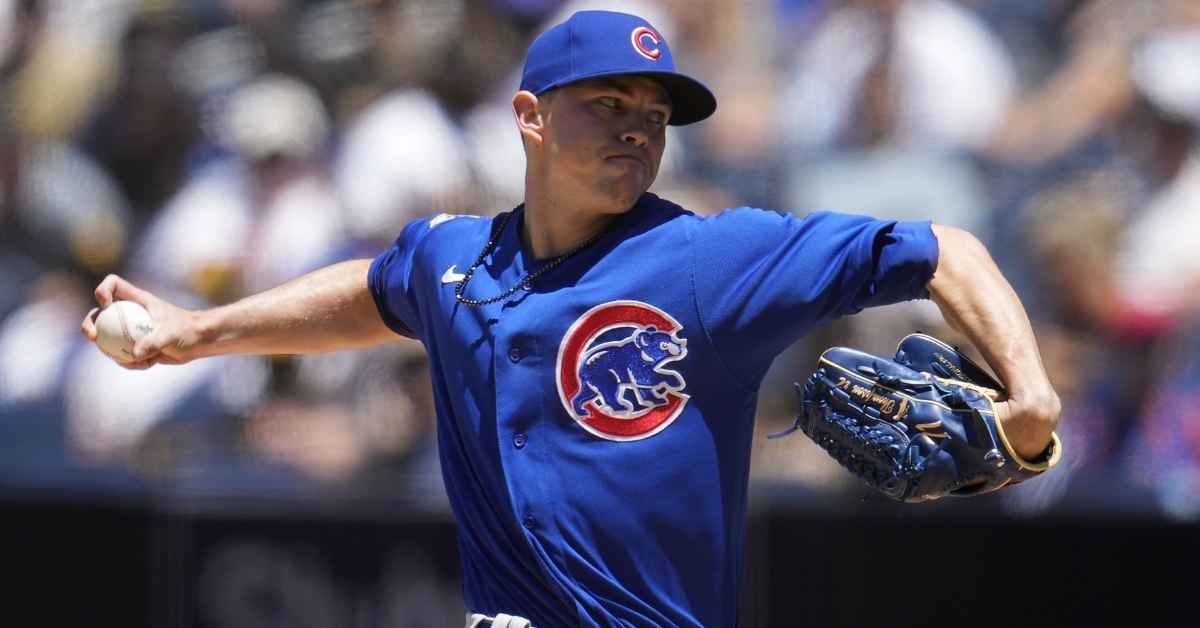 | | |
| --- | --- |
| Home-grown pitching, finally for Cubs | |
---
| | | |
| --- | --- | --- |
| Sunday, May 22, 2022, 11:58 AM | | |
The Cubs have been notorious for drafting and developing hitters but have struggled to grow pitching in their organization.
The Cubs won the World Series back in 2016, and Rob Zastyzny was the only pitcher drafted by the organization on the team — he pitched just eight games and sixteen innings throughout the season.
The Cubs threw money at their pitching problems, signing Jon Lester, John Lackey, Cole Hamels, Yu Darvish among others. Bullpen pitchers were popular in terms of shopping as well, signing Wade Davis, Brandon Morrow and other pieces. With the Cubs developing hitters, a large portion of their budget and payroll during their success was to pay for pitching.
Eventually, that process of plugging holes with money wore out. The organization decided to constrain the front office's budget. When it came time for all of the developed hitters to approach free agency and their pitching contracts aging, the Cubs were forced into a tumultuous state of rebuilding.
But, this time around, homegrown pitching has been prevalent. Keegan Thompson, Justin Steele, Michael Rucker, Ethan Roberts, Brandon Hughes, Scott Effross and Adbert Alzolay are all members of the Cubs 40-man roster who have been developed in their system.
Thompson has been the Cubs' most effective pitcher in 2022. He is a crisp 3-0 with a 1.41 ERA in 32 innings pitched, whether in the starting rotation or out of the bullpen.
Steele has battled injuries slightly but has made seven starts this season and, in 28 innings, has struck out 29 batters.
Michael Rucker has also seen success from the pen, with a 4.20 ERA in eight outings. Ethan Roberts has struggled slightly thus far and is currently on the IL but has been very effective in garnering swings and misses.
Scott Effross has dazzled as well. He's appeared in 17 games, leading the team, and has a 1.15 ERA in 15.2 innings of 18 strikeout ball.
Then there's Adbert Alzolay, who is sidelined for the season with an injury but has made 28 starts in his young career. Alzolay's ERA isn't sparkling, but he has shown an excellent ability to miss bats.
Then there's Brandon Hughes, the converted outfielder who made his major league debut on Tuesday night, facing six batters, walking one, and striking out five for all five outs he recorded.
The fact of the matter is, the Cubs have displayed an ability to develop solid pitching at the major league level after years of trying. Tommy Hottovy's impact at the major league level as the team's pitching coach and the impact on the organizations acclaimed pitch lab can not be overstated — but what the Cubs are hoping to finally do is create that player development juggernaut they promised more than a decade ago.
None of these arms will be taking home the Cy Young anyway soon, but the Cubs are on the right track to developing consistent big-league pitching — and Thomson, Steele, Alzolay, Rucker, Roberts, Effross, and Hughes are leading the way.

Tags: Cubs Baseball
,
Jon Lester
,
John Lackey
,
Cole Hamels
,
Yu Darvish
,
Wade Davis
,
Brandon Morrow
,
Keegan Thompson
,
Justin Steele
,
Michael Rucker
,
Ethan Roberts
,
Brandon Hughes
,
Scott Effross
,
Adbert Alzolay
,
Tommy Hottovy