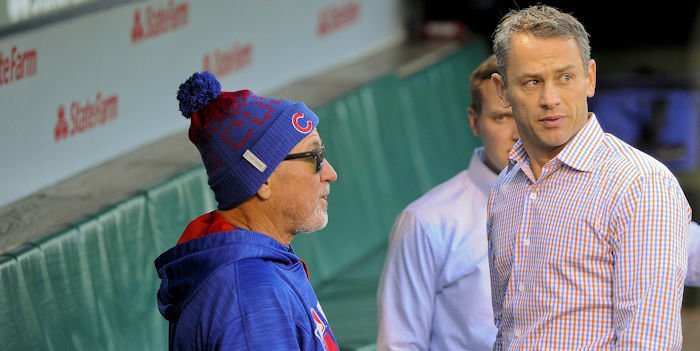 | | |
| --- | --- |
| Latest news and rumors: Hoyer's comments, Cubs rumor on Harper, more | |
---
| | | |
| --- | --- | --- |
| Tuesday, December 11, 2018, 8:14 AM | | |
Cubs news and notes
Cubs' 2019 Opening day: 107 days.
Hoyer on relievers: Still nothing imminent with the Cubs, per Hoyer. Relief market so flooded it's taking time to go through. Hoyer says they aren't too worried about closing experience, just want the quality arms.
Hoyer on leadership: Jed Hoyer said he's never wanted a season to begin sooner than the upcoming one. Referring to David Ross and Jon Jay, Hoyer said to the media Monday, "We didn't have anyone like that on the roster last year," Cubs general manager Jed Hoyer said from the winter meetings on Monday. "I did think there was a bit of a void, to be honest with you. That's not to say we don't have a bunch of guys that have leadership qualities. We absolutely do, but we have such a young group. Having someone that's been through the game a little bit longer, with more perspective, that can help out with some of the difficult times, is important. We had that in '15, '16, '17. We were lacking that last year."
Cubs/Harper: According to Bruce Levine, via 670 The Score, "…rumblings also exist that the Ricketts family have signed off on the possibility of a big expenditure for a star like Harper."
Latest from the winter meetings and the Hot StoveLatest news and rumors: Hoyer's comments, Cubs rumor on Harper, more
Blue Jays: Toronto says there's "significant interest" in right-handers, Marcus Stroman, and Aaron Sanchez, but according to GM Ross Adkins, it would be "very difficult" for the Jays to find a good deal on either. The Blue Jays met with five different teams yesterday and spoke to five different agents, looking for deals.
Braves: Atlanta still said to be part of a narrowing field for JA Happ. Meanwhile, Atlanta is receiving a ton of inquiries about righty, Mike Foltynewicz, and CF Ender Inciarte, though the team says Foltynewicz is off the table.
Brewers: Milwaukee is said to be expressing interest in trying to retain 3B Mike Moustakas and has also expressed interest in former Cubs' 2B, Daniel Murphy. While insiders agree this is a possibility, they seem to agree that it's far from a done deal. Milwaukee has now been tied to Yusei Kikuchi, although there are questions about the Brewers' ability to afford the newcomer to MLB.
D-Backs: According to Ken Rosenthal, despite losing Goldschmidt, Pollock, Corbin and presumably Greinke, the Diamondbacks will not be undergoing a teardown anything even remotely similar to what's going on in Seattle.
Mariners: Seattle claims INF Kaleb Cowart off waivers from the Angels. Seattle has also signed veteran catcher Jose Lobaton to a minor league deal, with a guaranteed $1M salary if he makes the team out of spring training.
Mets: The Mets are being reported as "one of only three teams" in the running for Marlins' catcher JT Realmuto, with the other two teams remaining unknown at this point. The Mets and Yankees are working with the Marlins on a three-team trade. (See Yankees below).
Nationals: The Nationals have engaged in multiple discussions to trade starter Tanner Roark, who is a year out from free agency and could make upward of $10M in arbitration. The Nationals continue to look at free agent pitchers to supplement their rotation.
Orioles: Former Indians/Nationals manager Manny Acta is interviewing for the manager's spot in Baltimore. Ken Rosenthal weighed in stating, "I cannot recall any year in which a team entered December, much less the winter meetings, without a manager."
Washington also has announced that it has offered INF Anthony Rendon an extension. The two sides are said to be working toward agreeable terms.
Pirates: Pittsburgh now said to be shopping catcher Francisco Cervelli, RHP Ivan Nova, and LF Corey Dickerson.
Rays: Tampa reported to be engaging in talks with Cleveland for INF Yandy Diaz and 1B/DH Edwin Encarnacion, but Cleveland is likely to have deal either Kluber or Bauer first, to have funds to offset Encarnacion's salary.
Red Sox: Boston GM Dave Dombrowski told reporters "we're not looking to make a big expenditure in [the closer position]," meaning they may pass on Kimbrel.
Reds: The Reds have signed RF Jordan Patterson, former Angels' backstop Juan Graterol and former Braves' infielder Christian Colon to minor league deals.
Rockies: According to reports, the Rockies are serious about upgrading at first base and may be looking to trade with the Mariners for Carlos Santana.
Twins: Thus far, the twins have been tied to slugger Nelson Cruz, catcher Wilson Ramos, and right-handers Trevor Cahill and Joakim Soria. There is reported to be a mutual interest in the case of Cruz.
White Sox: The Sox have met with Bryce Harper and appear to be in on Manny Machado as well. According to White Sox Executive VP of Baseball Operations, Ken Williams, 'We have transitioned from a sell mode to a more aggressive look at the future." Chicago has also signed former KC INF Ryan Goins to a minor league deal.
Yankees: From the mouth of GM Brian Cashman: "The Harper stuff? I'm surprised you're still asking, but I have had a conversation or two with Manny Machado." In addition to pursuing Machado, the Yankees have talked to Scott Boras about another one of his clients- pitcher, Yusei Kikuchi.
The Yankees are also reportedly working on a three-team deal with the Marlins and Mets that would send JT Realmuto to the Mets, while Syndergaard would wind up a Yankee. Reports currently say there is "a lot of smoke, but no fire yet."