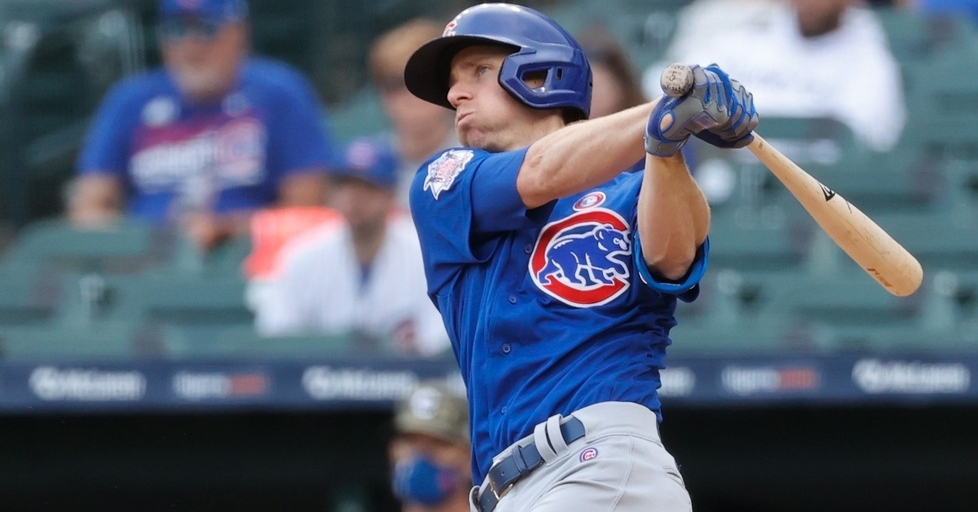 | | |
| --- | --- |
| Matt Duffy tabs career-high five RBIs, but Cubs fall to Tigers in extras | |
---
| | | |
| --- | --- | --- |
| Saturday, May 15, 2021, 9:28 PM | | |
DETROIT — An extra-inning barn burner at Comerica Park on Saturday concluded with the Chicago Cubs (18-20) losing in walkoff fashion. For the fourth time in less than a week, the North Siders lost by one run. Moreover, the 9-8 contest marked the Cubs' 10th one-run contest in the month of May. The Detroit Tigers (14-25) scored two runs in the bottom of the 10th, winning on a walkoff RBI single by Harold Castro. Matt Duffy matched a career high with five RBIs on the day, three of which were tallied with one swing of the bat, but that was not enough to prevent the Cubs from dropping to 1-4 in their last five games.
Joc Pederson started the game off on the right foot for Chicago by hitting a triple to the wall in right-center. Kris Bryant then drew a walk, and Anthony Rizzo went on to hit a two-run double with one out. Rizzo's two-bagger to the opposite field dropped in for a hit near the left field line. Rizzo tagged up and reached third on an ensuing flyout by Duffy but was left stranded by Ian Happ, who returned to action on Saturday following an injury layoff, flying out.
Extra bases.#CubTogether pic.twitter.com/fzwnpG3uUm

— Chicago Cubs (@Cubs) May 15, 2021
While Tigers starter Jose Urena struggled out of the gate, so did Cubs starter Trevor Williams. Robbie Grossman hit a leadoff double in the first and eventually scored on an RBI double off the bat of Nomar Mazara. Former Cub Jeimer Candelario then came home on an RBI infield single by Jonathan Schoop, and Mazara was plated via an RBI fielder's choice that Castro grounded into. Urena was able to remain in the game after a liner hit by Jason Heyward ricocheted off his right leg at the beginning of the second frame. After walking it off, Urena retook the mound and tossed a 1-2-3 inning.
The Tigers placed a couple of men on base in the second but did not add to their lead. An infield single recorded by Bryant with one out in the third was followed by a double from Javy Baez. An RBI groundout by Rizzo pushed Bryant across, and an RBI double by Duffy scored Baez, putting the Cubs up 4-3. Daniel Norris relieved Urena at that point and subsequently struck out Happ. Alec Mills took the hill to begin the bottom of the third. While he pitched a scoreless third, he coughed up the lead in the fourth and was taken out.
.@mm_duffy doubles in the go-ahead run!#CubTogether pic.twitter.com/gaTW2LLQmg

— Chicago Cubs (@Cubs) May 15, 2021
Willi Castro led off the bottom half of the fourth with an infield single and then stole second. With the bases loaded and no outs, Mills threw a wild pitch that ushered Willi Castro home. Akil Baddoo scored on RBI groundout by Miguel Cabrera. Justin Steele entered to pitch after that and walked Mazara before Schoop hit an RBI double off him, thereby scoring Grossman. Harold Castro struck out to end the inning. Two fifth-inning singles by Bryant and Rizzo set the stage for Duffy's first home run as a Cub. The three-run bomb to left, which Alex Lange gave up, served as Duffy's second of three go-ahead hits in the matchup.
The secret weapon stops being a secret weapon at some point.@mm_duffy #CubTogether pic.twitter.com/lVh1lYQ6uO

— Chicago Cubs (@Cubs) May 15, 2021
Rizzo bailed out Baez by making an excellent catch at first base to lead off the bottom of the fifth. The putout, which came on an Eric Haase grounder featured Rizzo showing off his flexibility by extending to grab a hurl from Baez that was not exactly on target. Daniel Winkler hit Candelario with a pitch to lead off the home half of the sixth, and Candelario was forced to exit the game. Later in the frame, a wild pitch by Rex Brothers moved a pair of Tigers into scoring position, but Harold Castro left them stranded by striking out. Brothers loaded the bases with one out in the seventh, resulting in Ryan Tepera relieving him. An RBI infield single from Cabrera plated Willi Castro with two outs, evening the score at 7-7.
That's our gold glute first baseman. @ARizzo44 #CubTogether pic.twitter.com/QxajpDbdPH

— Chicago Cubs (@Cubs) May 15, 2021
Haase made a tremendous diving catch in foul ground to out Heyward in the eighth, with the catcher covering a lot of ground before snagging the popup. Keegan Thompson continued his recent ascension by striking the side out swinging in the eighth. He notched two more strikeouts in the ninth, ushering in extra innings. With Michael Fulmer pitching, Baez started the 10th off at second and moved to third on a Rizzo groundout. Duffy yet again provided the Cubs with the lead by smacking an RBI base knock to right field and scoring Baez. Duffy reached third on a two-out single by Heyward, but Eric Sogard grounded out to leave runners deserted at the corners.
Nothing to see here, just a catcher making a grab at third base. @ehaase3 | #DetroitRoots pic.twitter.com/tjpWWJnFfh

— Detroit Tigers (@tigers) May 15, 2021
That makes 5 RBI and 3 go-ahead hits for @mm_duffy today!#CubTogether pic.twitter.com/jGXsfO1sl5

— Chicago Cubs (@Cubs) May 16, 2021
Craig Kimbrel forced Cabrera to hit a fly ball that resulted in the first out of the bottom of the 10th. Niko Goodrum, who took second at the start of the half-inning, tagged up and motored to third. Mazara then hit an RBI base knock up the middle to bring Goodrum home and tie the game at 8-8. JaCoby Jones pinch ran for Mazara and stole second before Schoop struck out swinging. Kimbrel was unable to escape the inning, though, as Harold Castro then hit a game-ending RBI base knock to left that scored the speedy Jones and capped off a 9-8 Tigers victory.
Hittin' Harold strikes again! pic.twitter.com/Fou4fYFbzG

— Detroit Tigers (@tigers) May 16, 2021

Tags: Cubs Baseball
,
Matthew Duffy
,
Joc Pederson
,
Kris Bryant
,
Anthony Rizzo
,
Ian Happ
,
Trevor Williams
,
Jeimer Candelario
,
Jason Heyward
,
Javy Baez
,
Alec Mills
,
Justin Steele
,
Daniel Winkler
,
Rex Brothers
,
Ryan Tepera
,
Keegan Thompson
,
Craig Kimbrel