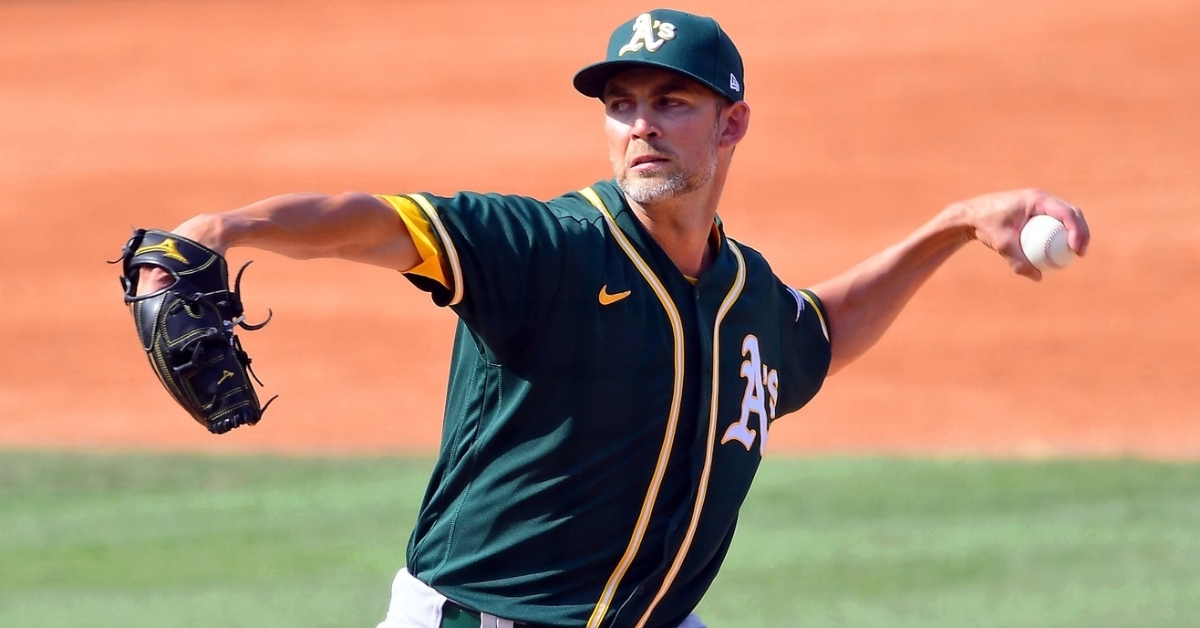 | | |
| --- | --- |
| Mike Minor could be an interesting option for Cubs | |
---
The last time the Cubs went out and picked up a left-handed starter was the Cole Hamels trade in 2018. The last time they signed one out of free agency was Jon Lester in 2015. Both instances worked out well for the Cubs, and now the Cubs may be in line for more starting depth.
As things sit right now, only Kyle Hendricks and Yu Darvish are guaranteed to be in the rotation next year. Alec Mills did a decent enough job to earn a look next spring, as did Adbert Alzolay, but there are still holes to fill. Tyler Chatwood got injured last season and was in the final year of his deal, as was Jose Quintana, as both are out of the picture.
Then you have Lester, who has a 25-million-dollar team option on the table. Given his age and performance from last season, it seems very unlikely that he will be around for that amount of money. The Cubs could work things out to keep him in Chicago by signing him cheaper, but the two sides need to agree on that.
For hypothetical things, all the above names mentioned are gone outside of Mills and Alzolay. That would leave an open spot in the rotation heading into the offseason. The Cubs need to pursue a lefty with potentially four righties, and one pitcher might do the trick. Former Atlanta Brave, Texas Ranger and Oakland A's lefty Mike Minor is set to hit the free-agent market and be an excellent option for the Cubs.
As a lefty, Minor certainly will fill a need for the Cubs, but nearing age 33, will the Cubs see him as too old for their staff. Minor is not the sexiest of names when it comes to free-agent starters, but he is not only durable and reliable but has been very solid the past few seasons and is someone the Cubs could significantly use next season and into 2022.
Trevor Bauer and Marcus Stroman will be the cream of the crop when it comes to free-agent pitchers this offseason, and they will undoubtedly get paid accordingly. You also have guys like Kevin Gausman and Mashahiro Tanaka, who could be available as two more great options. However, all four of them are righties, and with no lefties, a lock in the rotation next season should be the Cubs focus if they pursue rotation help.
Cubs have a lot more money coming off the books this season but don't expect them to spend all of it. Guys like Minor are the price range I expect the Cubs to go after as he isn't as good as the four free agents mentioned above but isn't bad enough to pass on. In other words, Minor reminds me of what the Cubs got out of Hamels a few years ago, and if he continues to stay healthy, he is certainly worth a look.
The Cubs used to carry three left-handers in their rotation and was one of the few left-hand dominant rotations. Now just two seasons later, they are on the verge of having zero lefties, so acquiring one is a must at this point. Minor is about to be age 33, and the Cubs have two starters already on the wrong side of 30. However, Darvish doesn't appear to be slowing down, and Hendricks can throw for another 50 years, so that might not be a bad thing.
In Minor's case, he is pitching the best he ever has at this point in his career, and someone will give him a look. Before this offseason, Minor signed a three year 28-million-dollar deal with the Rangers, and the Cubs were in on him until the very end that offseason. Expect the Cubs to not only be in on him again but look for a deal with a similar price tag to that if one gets done.
The only snag I see in a potential deal is that they planned to use him as a reliever when the Cubs wanted him. Now that Minor has reinvented himself as a starter, I don't foresee him going back to the reliever role unless he has to. Minor is coming off a rough 2020 season in which his ERA rose to 5.56, which may land him in the Cubs price range.
Before that, Minor only had one season with an ERA above 4.6 and has posted a solid 3.98 ERA across his career with a starting ERA of 4.28. In his lone season as a reliever, he posted a 2.55 ERA, so Minor has shown versatility. The thing I like about Minor is that he reminds me of an older version of Mike Montgomery.
Minor has always had excellent command and is somewhere along the lines of 4/1 strikeout to walk ratio. He certainly isn't going to blow you away as his fastball sits in the 90-92 range and can touch 93. While that isn't overpowering at all, he knows how to get hitters out, mixing in a good changeup and solid breaking pitches with plus spin rate.
The Cubs have one of the worst starting rotations in terms of overall velocity, so adding Minor to that won't help in that regard. However, they would have three pitchers who don't walk very many hitters, which will also be a good thing. With most fans wanting the Cubs to be big spenders this offseason, it seems unlikely that it will happen. Instead, look for moves like this to help stay competitive as Theo transitions out of his role with the team.