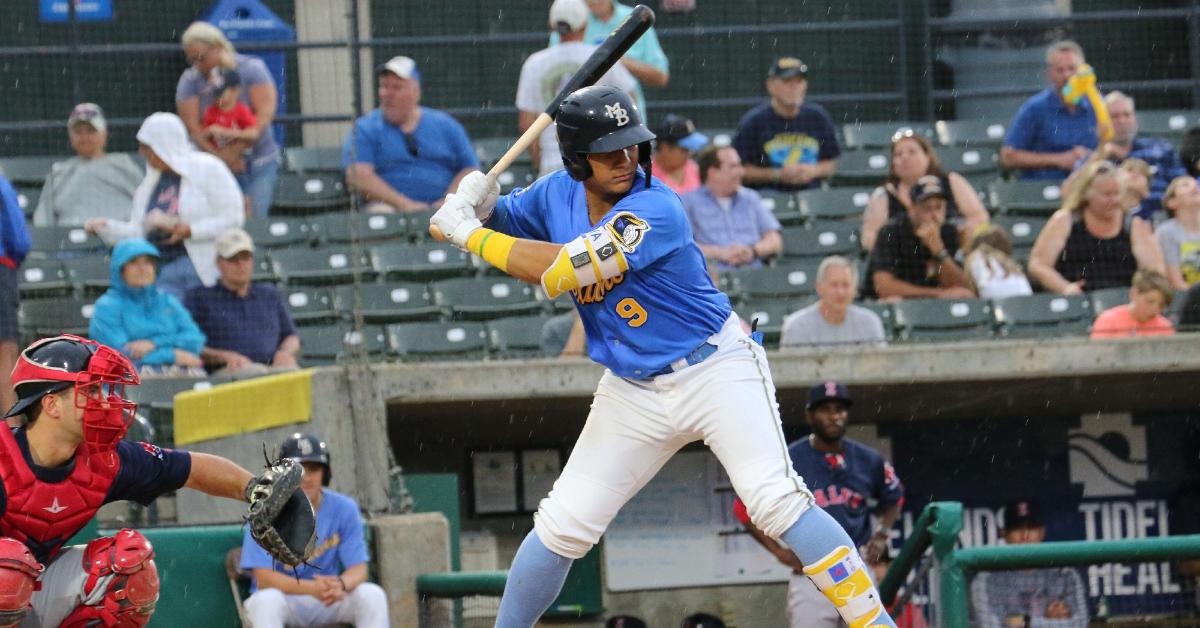 | | |
| --- | --- |
| MiLB announces 2019 Cubs system All-Star team | |
---
Although the Minor League season has been officially over for a month, that doesn't mean the action is silent. With the Arizona Fall League, Winter Ball, and Caribbean Ball, some Minor League action will always be going on up until that first week of February when Spring Training gets underway.
Even with most of the MiLB players now working out and prepping for this winter, it hasn't stopped Minor League Baseball from handing out more postseason awards as they released some more great honors recently. It was time for the organizational all-star teams to be released, and when you look at the Cubs, it should come as no surprise who landed on this list based on their season performances.
Catcher: Miguel Amaya: The Cubs No.2 overall prospect, Amaya was stable at the catching position for Myrtle Beach this season, seeing action in 99 games. At just 20 years of age, playing in the Carolina League is a tough challenge, which was an indication in his batting average dropping 21 points to 235 this season. Although his power remained right around the same, Amaya showed an improved eye at the plate bringing his walk rate up to 13.2% while cutting down on his strikeouts 16.8%. He also threw out 34.8% of base stealers in 2019. Cubs director of player development Bobby Basham felt like Amaya took giant strides forward in 2019.
"He has sort of come into his own," said Basham to MILB.com. "He has transitioned to a leader on the field. You could tell from his presence how excited he was pulling for his guys when they had success. That is a good thing to see from a young player."
First base, Jim Adduci: The Cubs don't have many first base options behind Anthony Rizzo, but Jim Adduci may be the only one in the system who proved his worth at that position. In 105 games for AAA Iowa this season, Adduci played 78 of those games at first base where he put up a solid season. Drafted in 2003 by the Cubs as a 42nd round pick, Adduci returned to the organization for the first time since leaving as a free agent in 2012.
That reunion proved to be a great thing as Adduci led Iowa with a .301 average and connected for 12 homers and 58 RBI's. Adduci had the best average in the entire Cubs system, which is mighty impressive for a 34-year-old. The highlight of his season came in mid-June when he was during a 16-game hitting streak and 22 game on-base streak. That earned him a brief callup to the Cubs for their series in Houston, which he went 0-4.
Second Base, Vimael Machin: One of the most under the radar prospects in 2019 will no longer be that as Machin produced a fantastic season. With most people thinking Trent Giambrone solidified the season all-star for this position, it was Machin taking the honor after playing in 117 games with Tennessee before 12 with Iowa. Utilizing his strong plate discipline, Machin bounced back from his worst season in his career to post an average north of .280 while ranking third in the system in hits (132), RBI's (65), and Doubles (27). He led the farm with 69 walks and struck out just 62 times in 529 at-bats.
"Machin was coming off a good winter ball season and made himself a tough out," Bashman said. "Being able to put the barrel on the ball and put it in play with some authority using all fields is why he ranked in the top 10 in OPS in the Southern League. He is just a really good story to put himself on the map as a prospect who could help the Cubs long term."
Third Base, Phillip Evans: This may not be a name most fans are familiar with, but they should be as Evans put together a great season in 130 games for Iowa. After spending his entire career with the Mets organization, Evans signed with the Cubs as a free agent this year posting his best season since 2016. Not only did he lead the system in games played (130) but led the system in extra-base hits (50) and a system best 219 total bases. His 283-average kept him in the lineup daily while his 17 homers was a career-high while tying his career mark with 30 doubles.
Shortstop, Nico Hoerner: This should come as no surprise to everyone given the track Hoerner took this season. He was chosen as the Cubs first pick (24) in the 2018 MLB draft, Hoerner has been the team's top prospect for the past two seasons despite both seasons being shortened with injuries. This season was no different as Hoerner fractured his wrist in late April, which limited to just 70 games with AA Tennessee before getting the call to the bigs in September playing the team's final 20 games of 2019.
Hoerner certainly was a huge part of the Tennessee offense this season, hitting a 284 with three triples, 16 doubles, and eight stolen bases. He also managed to hit three homers and drive in 29 runs. Once the 22-year-old was called to the show, he once again proved why he is the team's top prospect in the organization, hitting a 282 in 20 games with 2 homers and 17 RBI's.
"I think the constant story with Nico has been the guy has a special makeup," Basham said. "He is a worker, a competitor, and I don't know many guys who could have been making plans for the fall league only to adjust to the majors so quickly. He certainly showed his value this season."
Outfielders: South Bend outfielder Brennan Davis occupies the first of the Cubs three outfield spots. Much like Hoerner, Davis was taken in the 2018 MLB draft and has struggled to stay healthy during his time in the minors. This season, after beginning the year in extended spring, Davis was hit on the wrist not once, but twice during the season, which is why he played in just 50 games. Minimal action aside, the Cubs No. 3 prospect produced at a high level and showed great potential this season.
Standing at 6-5, the former basketball star busted out with a 305 average, eight homers and ten steals in just 177 at-bats. Put that in context for a full season and your looking at a guy who would be on pace for 26 homers and 30 steals.
"I think our thought process on the amateur side was this guy was going to be slower at developing, and his athleticism needed to be harnessed," Basham said. "He made some real adjustments with our hitting staff, really dug in, and started to understand his body much more. It clicked way sooner than we could have hoped for. Let's see if this is the tip of the iceberg for him.
Edmond Americaan: A name that may be lost in the Cubs system is Americaan, as he spent most of the year with short-season Eugene. After opening the season with South Bend and playing in just eight games, Americaan was sent to Eugene to fine-tune his craft, where he played in 66 games. That proved not only to be the right decision for him, but the right one for the organization also.
After struggling with a 160 average for South Bend, Americaan put up a 785 OPS in 255 at bats with Eugene. That included a .310 average from July first on as his 16 steals ranked fourth, and he was second in all the Northwest League with five Triples. Basham felt that the move down a level helped him discover who he was as a player.
"If you look at the last two months of the season, you would think he was an entirely different player," he said. "Most of the reason for that was getting him to understand his body and that he can do damage by getting the ball in the air with a short swing. Once he got a feel for his game at the plate, he really took off."
Zach Davis: The final outfielder to make this list was speedster Zach Davis as he provided the one thing the Cubs lacked in 2019, SPEED. In 62 games with Myrtle Beach before finishing up the season playing in 23 games for Tennessee, Davis entirely put his speed on display despite posting .333 on-base percentage. Davis entirely put his speed on display, leading the organization with 40 stolen bases. No other player in the system had more than 31, and only 11 players had more than him in all the minors. He was 11-12 with the Smokies.
Utility Player, Robel Garcia: Garcia was a lock to make the all-star team no matter where they decided to put him. Being able to play multiple positions certainly helped his cause as he landed on the utility role in the organization. His journey this season was quite a track, as he played in 22 games with Tennessee, 76 games with Iowa, and 31 games with the Cubs. Signed by the Indians in 2010, Garcia was released in 2014 before signing with an Italian pro team where they Cubs discovered him in the Arizona fall league last season.
The rest is history for the 26-year old as he put together one of the best stories in the minors this season. Garcia led the Cubs minor league system with 27 homers and 78 RBI's while playing multiple positions and serving as a switch hitter. Had he not spent all of July and September with the big-league club, the 26th ranked prospect could have delivered even better numbers this season.
Right-Handed pitcher Cory Abbott: This was an obvious choice from the right side as Abbott was certainly the ace of the Tennessee staff this season. In 26 starts with the Smokies, Abbott posted an 8-8 record with a sparkling 3.01 ERA. That comes following a season in which he posted a 2.50 ERA in 115 innings of work. Not only did Abbott toss a career high 146 2/3 innings, but his 166 strikeouts led both the organization and the Southern League, becoming the first Cubs pitcher in 13 years to top 150 strikeouts in a season.
Abbott put an exclamation point to his season by tossing 22 2/3 consecutive scoreless frames to end his 2019 campaign, solidifying himself as a solid starter for the Cubs long term. As the team's No. 16 ranked prospect, look for this season to be the key in his development stage as he most likely is ticketed for Iowa in 2020.
Left-Hander, Brailyn Marquez: The most obvious choice in the Cubs system this season in terms of deserving end of the year all-star honors was left-hander Brailyn Marquez. At just 20 years old and armed with a 100-mph heater, no one made quite the impact that Marquez made this season, proving the Cubs have a future arm in waiting. After making 17 starts for South Bend, Marquez finished the year with Myrtle Beach making five starts for the Pelicans.
Ranked No. 4 in the Cubs system, but passing Adbert Alzolay as the team's top arm, Marquez posted a 2.70 ERA in his first seven starts only to see that ERA rise by more than two runs over his next three. However, Marquez never allowed more than three runs the rest of the way posting a 1.71 ERA with the Pelicans and tossing a career best 103 2/3 innings.
His best outing of the year came in July, where he struck out 14 batters in six shutout innings of work. That was during a four start stretch in which Marquez allowed only one earned run in 23 innings.
"This is a 20-year-old lefty that is still growing into his body," Basham said. "When he got locked in this season, there were a ton of ace-like performances. He needs to stay healthy, keep improving his command, and build up his stamina so he can get through six innings. This guy has as high of a ceiling as anyone.
Relief pitcher, Ryan Lawlor: The final player to make the all-star team was listed as a reliver in Ryan Lawlor. In just 30 games this season, nine with South Bend and 21 with Myrtle Beach, Lawlor showed he is a guy the Cubs system can count on long term. The 8th round pick in 2015, spent last season in the independent league before joining the Cubs in July for his second season with the club.
Lawlor proved that his second chance was both good for him and the organization itself as he went on to toss a 1.95 ERA with just 26 walks and 85 strikeouts in 55 1/3 innings of work. After being promoted to the Carolina League in mid-May this season, Lawlor was nearly untouchable, holding lefties to 193 average and righties hitting just 143 against him. Let's see if his second chance can continue next season.

Tags: Cubs Baseball
,
Miguel Amaya
,
Jim Adduci
,
Anthony Rizzo
,
Vimael Machin
,
Trent Giambrone
,
Phillip Evans
,
Zach Davis
,
Robel Garcia
,
Cory Abbott
,
Brailyn Marquez
,
Adbert Alzolay
,
Ryan Lawlor