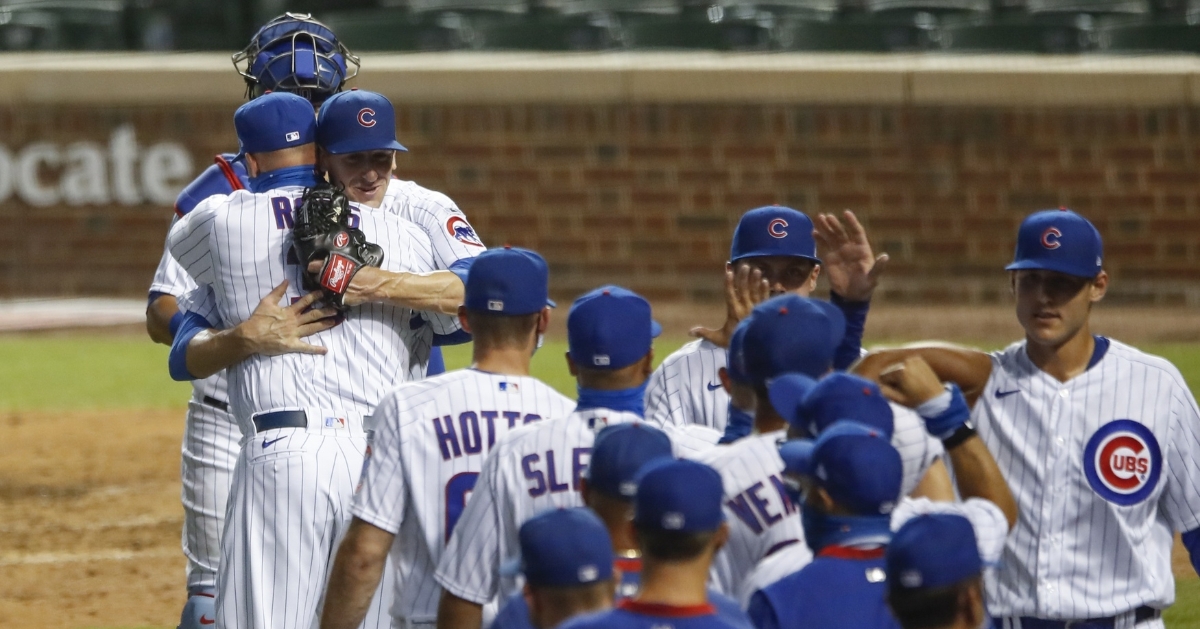 | | |
| --- | --- |
| Nine questions and possible answers for first-place Cubs | |
---
| | | |
| --- | --- | --- |
| Tuesday, July 28, 2020, 2:01 PM | | |
We're through four games of the 2020 season, and the Cubs hold a 3-1 record after taking two of three from the Brewers and hanging on in the opener against the Cincinnati Reds. For those of you keeping track at home, the Cubs are now through 1/15th of their season.
It was David Ross' first four games at the helm, the first four contests without fans that mattered and, of course, the first regular-season action on the team's brand new flagship station, Marquee Sports Network.
Aside from the solid 3-1 start, there a few aspects and question marks to break down from the Cubs' start of the season.
Will Ross have a short leash?
The first question on our list is will David Ross be quick to pull pitchers or allow them to work out of their own jams. Throughout the four games, we have seen instances of both scenarios pop up. For example, in the opener, Kyle Hendricks' pitch count was up near 100 through eight innings, but Ross decided to keep him in. That decision paid off as Hendricks completed a three-hitter and a shutout, and as a result, took home NL Player of the Week honors.
However, the next three starts saw You Darvish, Tyler Chatwood, and Jon Lester all get pulled out of the game around 70-80 pitches as they are not as stretched out as Hendricks. Darvish was giving up some hard contact, so that made sense. For Chatwood, his command was beginning to waiver a bit, so that made sense. But for Lester, the lefty was through five no-hit innings when he was pulled — and the bullpen nearly blew an eight-run lead so that leash might have been a little short.
When it comes to the bullpen, it is essential to remember that each pitcher needs to face at least three batters or finish an inning (barring an injury) — so sometimes the leash is going to have to be a little longer than Rossy would like. But when it came to the game yesterday, Craig Kimbrel recorded one out, and walked four Reds and hit a player before Ross eventually pulled him for Jeremy Jeffers. For many Cubs fans, that was far too long for Kimbrel to be left in the game to potentially blow a Cubs' lead in this shortened season where every game carries a lot of weight.
How will Cubs handle 2B?
One of the biggest positional questions for the Cubs has been the second base question, but it seems early on in their season that they have the answer. Out of camp, the four players competing for the position were Nico Hoerner, Jason Kipnis, David Bote, and Daniel Descalso. With Descalso on the injured list, that makes Ross' call much more manageable. So far, Hoerner has taken a large percentage of the at-bat and innings share from Kipnis, with Bote serving more as a utility man and backup third basemen/shortstop. Hoerner has started three games and Kipnis one. Thus far, the Cubs' youngster is hitting .364 in 11 at-bats, and Kipnis is one for his first four at-bats. I expected the share initially to be lefty-righty split as Hoerner is a righty, and Kipnis is a lefty, but it has been Hoerner's job early on. Hoerner got the opening day start against a righty and has seen at-bats against both sides of the plate early on — which has been good for the Cubs lineup and Hoerner's development.
How will Cubs handle CF?
As far as center field goes, the Cubs' have been tackling it with Ian Happ and Albert Almora Jr. Ian Happ is red hot to start the season, hitting .273 with two home runs and leading the Cubs with five RBIs. As we have seen, the games go when the Cubs are leading Happ slides from centerfield to left field, and Almora takes over centerfield as a defensive replacement to help preserve leads. Almora has notched one start and is 0-3, although he did have a strong spring. Almora is the better defensive option and will likely see some starts against lefties. Happ is the more reliable option at the plate, and his switch-hitting ability and defensive utility will ultimately lead to him getting more at-bats than Albert.
Why did the Cubs take a third catcher?
While many people expected Daniel Descalso or speedster Ian Miller to take the Cubs' final roster spot but with Descalso injured ("injured") and Miller not invited to the show, the final spot was awarded to Josh Phegley, a third catcher. Many Cubs fans wondered why they would bring a third catcher when they arguably have the best catching tandem in the league with Willson Contreras and Victor Caratini.
Ross provided his answer during the opening series against the Brewers, where all three games saw both catchers in the starting lineup and Phegley there for backup or injury. When Hendricks and Chatwood started, Contreras caught, and Caratini was at DH. When Darvish pitched, the opposite occurred. The whole point is to get both of those players as many at-bats as possible, and their numbers show why. Contreras is hitting .357 with three extra-base hits and four RBIs in 14 at-bats, and Caratini is hitting .375 through eight at-bats of his own. Ross, if he knows nothing else, it's how to handle the catcher position.
Who will be the Cubs' leadoff hitter?
Just as he announced back in Spring Training, Ross and the Cubs have gone with Kris Bryant at the top of the order, followed by Rizzo, Baez, Schwarber, and Contreras. So far, the offense has been clicking, but Bryant has yet to get going. In 17 at-bats, Bryant has just one hit, one walk, one hit-by-pitch, and eight strikeouts. He has been seeing many pitches, which is part of the role of a leadoff hitter — but so is setting the table, and Bryant has yet to get going. He has scored a run 66% of the time he's been on base, but the Cubs hope the number of times he's been on base is the number that rises. Be patient with Bryant as he adjusts to leadoff as I think that is the long term hope for this lineup — he has MVP potential as always, we just need to see it.
Who will be the Cubs' closer?
Last season the Cubs made a much-needed acquisition to bolster the bullpen when they signed Craig Kimbrel, but it has yet to pay off thus far. Last year he battled injuries and the lack of spring training and saved 13 games but also blew a handful. Kimbrel had the lowest amount of innings in his career but gave up the most home runs. He and the Cubs both hoped he'd turn it around and be a force at the back end of the Cubs' bullpen — but his debut suggested otherwise. Kimbrel only managed to get one out and issued four walks and hit a batter — almost leading to a blown save and a seven-run comeback for the Reds. I don't think you abandon ship on Kimbrel just yet, but you can not afford to blow games. If Kimbrel is not the guy, expect Jeffers or Rowan Wick to take the job.
How will David Ross elect to use DH?
Many expected to be Kyle Schwarber's spot only belonged to him in one game of the four thus far. The question you have to ask yourself is would you rather have Albert Almora/ David Bote in the lineup or Willson Contreras/ Victor Caratini and the answer is relatively obvious — which is why Ross has elected to give the start at DH to the catcher not catching three out of four times this year.
Schwarber will be another player who DHs often, and then I believe if a player like Anthony Rizzo, Kris Bryant, or Javier Baez could use a breather — Ross may elect for them to DH so they could essentially take the day off, but not lose their bat in the lineup.
How will the Cubs handle traveling?
Coronavirus concerns traveling, especially to cites that have seen spikes in their positive test numbers, is a significant issue. To preserve some of their players' health, the Cubs offered Tyler Chatwood, who is not scheduled to pitch in Cincinnati to stay home, but he traveled with the team. Expect more storylines like that as this uncertain season progresses. As for the health of the players and coaches, so far so good *knock on wood*.
How different does the sport look?
With new rules to the game in place like the universal DH and three batter minimum for pitchers and many different protocols put in place to battle the coronavirus, the game was expected to look a lot different on the field.
To me, the most substantial noticeable difference is the lack of fans and authentic crowd noise. There were rules in place on spitting and licking fingers and even high giving — and while I have not seen much spitting or licking fingers, there has been no shortage of high fives after big plays or long home runs.
As for contact with the other team on the bases, Anthony Rizzo has carried a hand sanitizer bottle in his pocket, and some players like Kris Bryant have opted to run the bases with their masks on. It all may look a little different, but it's baseball, and we're so excited.
There you have it, nine questions and answers for your first place Chicago Cubs.

Tags: Cubs Baseball
,
David Ross
,
Kyle Hendricks
,
Tyler Chatwood
,
Jon Lester
,
Craig Kimbrel
,
,
David Bote
,
Daniel Descalso
,
Ian Happ
,
Albert Almora
,
Ian Miller
,
Willson Contreras
,
Victor Caratini
,
Kris Bryant
,
Rowan Wick
,
Kyle Schwarber
,
Anthony Rizzo