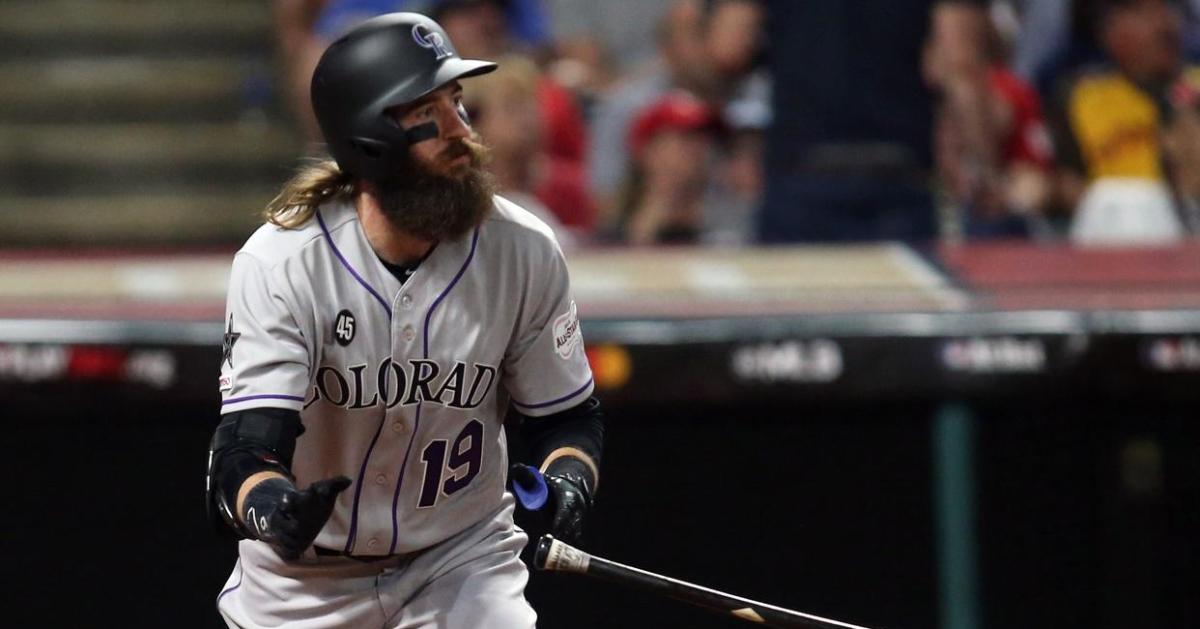 | | |
| --- | --- |
| Potential Trade targets for Cubs' stretch run | |
---
After an exciting win last night for the Cubs, the trade deadline is only a few days away. The rival Cardinals are inching closer to the division lead as it looks like the Cubs need some moves more than ever.
First and foremost Willson Contreras returning behind the dish Wednesday and Cole Hamels' awaited return to the rotation will undoubtedly help this Cubs team.
But some external moves may be made over the next week that could make or break this season for the Cubs.
The Cubs have dealt with the same issues since late last year and it led to their demise in the post-season. An equal balance of wrong moves in years prior, a lack of spending in the budget and underperformance this season have led to the Cubs needing Theo Epstein to play hero at the deadline or let Joe Maddon play scapegoat after it.
There is only so much Joe Maddon can do with a roster that has Daniel Descalso, Addison Russell, David Bote, Albert Almora, Brad Brach, Pedro Strop, and Carl Edwards Jr. all underperforming all season long. There's also so much that you can put on Theo for assembling a roster that has underperformed, especially since they are certainly overpaid as the Cubs sport a 215 million dollar payroll this year.
Nonetheless, the Cubs hold a 0.5 game lead in the NL Central despite all of the holes on this roster.
So let's take a look at their needs since day one of this season.
Veteran Backup Catcher -- Needs addressed
The Cubs addressed this need in trading Mike Montgomery to the Royals for Martin Maldonado.
Backend Bullpen help -- Needs addressed
The Cubs address this need in June by acquiring Craig Kimbrel. Kimbrel's first few outings were bumpy, but he has looked dominant in his last few and recently hit the five save mark for this year.
Leadoff hitter
Targets: the Cubs could choose to address this hole in multiple ways. They could attempt to make a deal for a guy like Charlie Blackmon who is one of the best leadoff hitters in the game, but he is not young nor would he come for a low price.
The Cubs may also choose to look small for a Jarod Dyson type player who can hit leadoff in a platoon role in the outfield, especially since Dyson has some control beyond this year.
Speed guy
Theo Epstein led teams have historically made moves for a speedy player and to pay dividends down the homestretch of the season and into playoffs. Terrence Gore and Quentin Berry are a few of these type players from years past. Should the Diamondbacks choose to sell, Jarod Dyson would be a name linked to the Cubs. He could provide some elite speed and bag stealing ability down the line for Joe Maddon and the Cubs. Cubs killer and current royal Billy Hamilton is another name who would fit on this team, Hamilton's price would be low and as Tony Andracki has pointed out that he has played phenomenally at Wrigley Field in his career. Not only that, but the Cubs have admitted being in conversations with the Royals beyond Martin Maldonado.
Veteran right-handed bat
Tigers rent-a-player Nick Castellanos has been one of the only hitters linked to the Cubs this season. Some reports have gone so far as to say the Cubs are strong suitors for the veteran right fielder. Although the defense is not great, Castellanos has killed left-handed pitching this season and would make the Cubs lineup much deeper come October and beyond.
Veteran hitter with versatility
Eric Sogard is a name who has come up in various talks from the Blue Jays. Sogard bats lefty and could solve some top of the order issues the Cubs have been searching to fill, especially since he is sporting a career-best batting average at the plate. Sogard also has some defensive versatility, which is extremely valuable on a team that Joe Maddon manages.
Left-handed specialist
The Cubs currently have two lefties in their bullpen. Kyle Ryan and recent call-up Tim Collins. Neither, however, are espy dominant against lefties. Every national league has at least one dominant lefty, and winning playoff games is going to mean having to get Cody Bellinger, Christian Yelich, Freddie Freeman, Bryce Harper, Juan Soto or Matt Carpenter out. Having a trusted lefty in the pen makes doing that so much easier. Will Smith has been dominant in the back end of San Francisco's bullpen, but it is unsure whether they are selling or if the price would be too high considering he is set to hit the market in a few months anyway. Tony Watson, who is also a Giant, could be much more affordable. Jake Diekman is another name the Cubs have been linked to, especially since he is a Royal and the Cubs have been in ongoing talks with the Royals. Brad Hand would be another option, but he would come at a quite expensive price, especially since he is on a team in the thick of a wild card race in the Indians.
Relief help
With Pedro Strop's recent struggles, the Cubs don't have many trusted guys beyond Brandon Kintzler, Steve "rubber arm" Cishek and Craig Kimbrel. It seems like the Cubs have been linked to Ken Giles from the Blue Jays and Shane Greene from the Tigers, both right-handers who have had good years on bad teams.
Especially since the Cubs have been rumored to be in conversations with both teams about Castellanos and Sogard, these two relievers are not out of the question.
Perfect Fits
Offensively, there is a guy who fits all of the Cubs needs. A right-hander who hits lefties, can bat at the top of the order, steal bases and provide defensive versatility AND comes with 2-3 plus years of control. That guy is Whit Merrifield. The asking price for Whit Merrifield may be huge, but in my opinion, it would be well worth it. Whit is batting above .300 this year with ten plus steals and plays center field and second base well, a perfect fit for the Cubs.
The Cubs roster may look different in a few weeks when Cole Hamels return and if Ben Zobrist and Brandon Morrow make their debuts. But time is ticking, and Theo Epstein and company have less than a week to "firm up" this team for the rest of the year. Fasten your seatbelts.

Upgrade Your Account
Unlock premium boards and exclusive features (e.g. ad-free) by upgrading your account today.
Upgrade Now

Tags: Cubs Baseball
,
Willson Contreras
,
Cole Hamels
,
Daniel Descalso
,
Addison Russell
,
David Bote
,
Pedro Strop
,
Mike Montgomery
,
Kyle Ryan
,
Brandon Kintzler
,
Ben Zobrist
,
Brandon Morrow
,
Joe Maddon
,
Theo Epstein