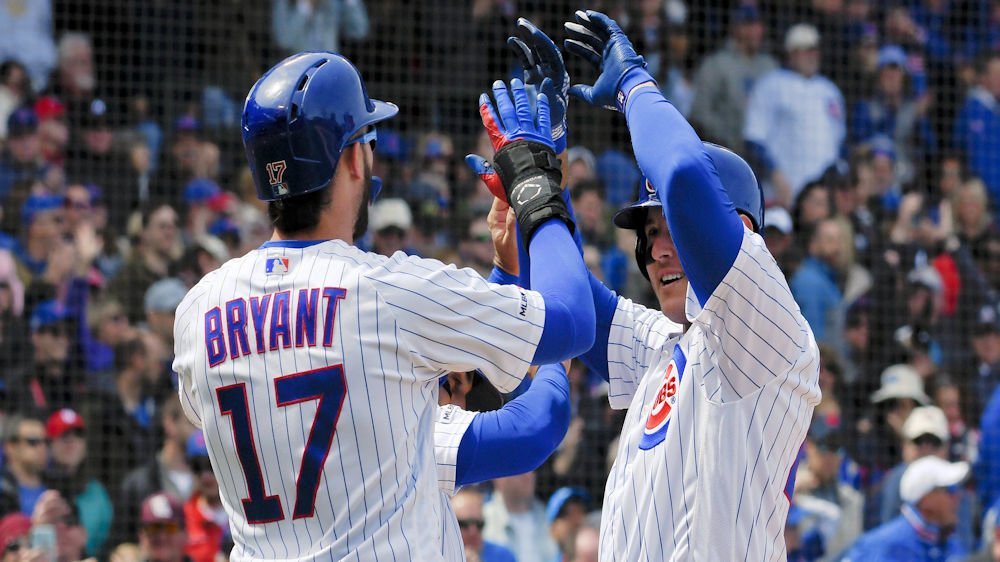 | | |
| --- | --- |
| Predictions on Cubs extensions with Rizzo, Baez, Bryant, Contreras | |
---
This off-season much has been made of the subtractions the Cubs have made ( Theo Epstein, Kyle Schwarber, Jon Lester, Yu Darvish, Víctor Caratini, and more). As of late, it's been the Cubs' most recent editions of Jake Arietta, Joc Pederson, Jake Marisnick, and Eric Sogard making strides in Spring Training and making the front office look good.
But as more than half the roster enters walk years, part of what could not only make this offseason but the entire year a productive one would be re-signing some Cubs to long-term deals.
Reports have consistently been made regarding Anthony Rizzo, Kris Bryant, Javier Baez, and Willson Contreras and their willingness to stay in Chicago for the rest of their careers. While it may not be feasible for Jed Hoyer and company to keep all four in Cubs uniforms for the rest of their career — it is imperative for the fan base and the future of the franchise to lock up some of the four long term — potentially as early as next week — before three of the four become free agents at the end of this season.
Spring Training is oftentimes a key time to get negotiations done, look no further than Kyle Hendricks and David Bote a few years back which were inked right before opening day. Baez has made it clear once the season starts, extension talks are on pause -/ and those are sentiments that Rizzo has echoed. With less than a week before Opening Day, Hoyer should act fast to at least try and lock up one of their stars beyond 2021.
In my opinion, of the four, one of the players is affordable, one should be a priority, one is a long shot and one can wait.
AFFORDABLE -- Anthony Rizzo
What appears to be the most affordable option for the Chicago Cubs to extend is Anthony Rizzo. Many refer to Rizzo as the modern-day Mr. Cub and he has backed that up both on and off the field. In between the lines, Rizzo has been a model of consistency for the franchise. The 31-year old is the longest-tenured Cub, and during this current run of Cubs baseball, it has been Rizzo leading the Cubs offensively in home runs and RBIs. In his Cubs career, he has made a trio of all-star games and won a quartet of gold gloves.
What might make Rizzo even more likable is his off-the-field actions that include visits to Lurie's Children Hospital and fundraising for kids suffering from cancer through his Anthony Rizzo Family Foundation.
Since Rizzo is turning 32 soon and plays a fairly replaceable position, an extension with Anthony should be cheaper and for less years than any of the other four potions. While Rizzo's nagging back issues show a reason for some concern, seeing Rizzo wearing any other uniform would be extremely painful for Cubs fans.
Rizzo's extension will get done at some point, and potentially sooner rather than later.
UPDATE: The Chicago Cubs are still working on extending Anthony Rizzo and would love to get it done while there's no likelihood for a new deal anytime soon for Baez or Bryant, per @JonHeyman. #Cubs pic.twitter.com/EXCOocUgsF

— Cubs Zone ™? (@CubsZone) March 29, 2021
Baez should be the priority for the Chicago Cubs to re-sign. Over the course of his career, Baez has earned the nickname El Mago (Spanish for The Magician) and that is the exact reason why the Cubs should make it a priority to extend Javier Baez.
The Puerto Rico native is known for his energetic style, flashy plays, epic slides, lightning-quick tags, unbelievable instincts, and massive home runs. Baez is a two-time all-star, a gold glover and he finished second in the MVP voting in 2018. Beyond that, Baez is one of the most marketable players in the league — so having him on your team makes money for the team and the league. Locking Baez up has to be a goal.
Baez is 28 years old and plays a premium position as well as anybody we've ever seen. While Baez may be a bit more expensive than Rizzo, he also gives a little bit more value to the team — and would come at a cheaper price than some of the other players on the market at his position (Carlos Correa, Trevor Story, Corey Seager) and will certainly be cheaper than Fernando Tatis and Fransisco Lindor although his play is not a massive drop off from those players.
LONG SHOT -- Kris Bryant
Bryant has been one of the most influential Cubs players of all-time. As the poster child of the Cubs' rebuild, Bryant went on a historic run of sweeping trophies — College Player of the Year (2013), Minor League Player of the Year (2014), Rookie of the Year (2015), and Most Valuable Player (2016) — en route to guiding the Cubs to their first World Series in over 100 years.
He has made three all-star games in his career and is a true five-tool player. Part of what makes Bryant so great is that he can hit for contact and massive power — but his underrated base running and defensive versatility are what separates him from his peers.
While he has expressed interest in playing for the Cubs for the rest of his career, many believe that the ship has sailed for an extension between Bryant and Chicago. Bryant is represented by Scott Boras, baseball's super agent who squeezes every dollar from opposing teams and encourages his players to test out free agency, and he does not typically represent players that sign extensions. That, mixed with the fact that Bryant has filed a grievance against the Cubs for the way they manipulated his service time his rookie season. Bryant will likely hit the open market this offseason at 29 years old, and will likely be seeking big money.
WATCH: Kris Bryant crushes his first homer of spring https://t.co/iXrMDu61R1

— CubsHQ.com (@ChicagoCubsHQ) March 20, 2021
IT CAN WAIT -- Willson Contreras
Contreras fits this category because, unlike Rizzo, Baez, and Bryant, Contreras has two seasons left of Cubs control as opposed to just one. Contreras, like Baez, is a very special player. The Venezuelan catcher brings a skill set to the game that not many possess. Contreras plays with unmatched energy, but also has a rocket of a throwing arm and hits bombs at the plate — while also showing a commitment to get better as shown through is much-improved pitch framing.
It could be argued that Contreras is the Cubs' most valuable asset, so extending him should be something the Cubs try very hard to do — especially since his services are done at one of the game's most premier positions.
I expect that Contreras will be a Cub for the rest of his career, but we may not know it for a while.
WATCH: Willson Contreras smacks homers vs. A's https://t.co/5JMLRNAMhW

— CubsHQ.com (@ChicagoCubsHQ) March 19, 2021
FINAL PREDICTION: Rizzo extended first for roughly 5 years, Baez extended long term for 7-10 years, Bryant walks and Contreras signs a 5-7 year extension before the season in 2022.

Tags: Cubs Baseball
,
Kyle Schwarber
,
Jon Lester
,
Yu Darvish
,
Joc Pederson
,
Jake Marisnick
,
Anthony Rizzo
,
Kris Bryant
,
Willson Contreras
,
Kyle Hendricks
,
David Bote
,
Javy Baez
,
Theo Epstein