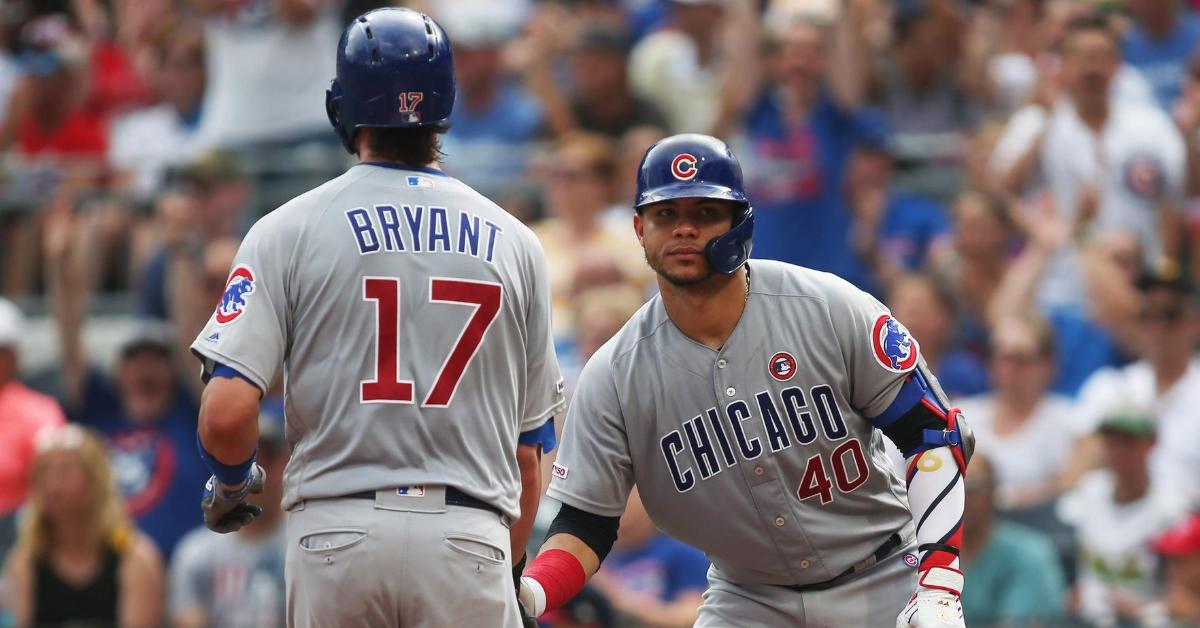 | | |
| --- | --- |
| Projected 2020 Opening Day roster for Chicago Cubs | |
---
YAWN! That is the best way to describe the Cubs offseason thus far as they have done next to nothing in terms of signing FA players. Outside of bringing in a dozen minor leaguer contracts, the Cubs are just one of three teams this offseason that have zero dollars in guaranteed big-league contracts through FA. They are joined by the Pirates and Rockies, both of who appear to be headed to the bottom of the division once again.
For the Cubs to remain competitive with this current roster, they will have to improve across the board from what they have as don't expect any drastic signings or trades at this point. That means David Ross will undoubtedly have his work cut out for him this season, but the players on the roster are still good enough to make things interesting should they bounce back.
As it stands right now, the Cubs appear to have most of their everyday positions filled with several bench spots taken also. Pending anything changing in the next month or so, this is how I see the opening day roster looking for the Cubs in 2020.
Catchers: Locks: Willson Contreras and Victor Caratini: Ever since the end of last season, Contreras has had his name thrown in as a popular trade candidate, given his value across the board. Not only has that chatter regressed as the winter has gone on, but it doesn't even seem to be an option anymore, making it more likely this will be the Duo moving forward. Yes, Caratini will once again be the backup, but expect him to get more starts behind the dish this year as he proved he could handle a heavier workload.
First Base: Lock Anthony Rizzo: The Cubs picked up his option for this season and have another one lingering next season before they need to make a decision on him. At 16.5 million this season, the Cubs are getting a bargain on him for what he could make should he test FA following 2021. One of the mainstays in the middle of the Cubs lineup since 2012, Rizzo has indicated his desire to remain a Cub for life, although no extension talks have been had yet. We will at least enjoy his services for two more seasons before looking into that again.
Second Base: Locks None. This is one of the two positions on this team that doesn't have a locked-in starter for 2020 at this point. As of right now, all signs are pointing to Nico Hoerner getting the job out of spring and hopefully holding on to that spot long term. Should the Cubs opt to send him to AAA for a little more seasoning, in house options are David Bote, Daniel Descalso, Tony Kemp, Robel Garcia, and Ian Happ, all of whom could rotate in and out in some platoon situation.
Keep an eye on the free-agent or trade market; however, as plenty of good second baseman are still available. One name that continues to pop up with the Cubs is Whit Merrifield of Kansas City, as Chicago still is figuring out how to acquire him and bring him in. Should they find the right package, Merrifield would not only be the team's second baseman but would be moved to the top spot in the batting order, which solves two holes with one deal.
Shortstop Javier Baez: Not only did Baez prove his 2018 season wasn't a fluke until he injured his thumb late in the year but showed moving to shortstop full time from second base was not a problem either. The only way I don't see him starting at short is if something drastic happened. That would be a significant season-ending injury or signing someone like Francisco Lindor, where Baez would then move to second.
Of all the players on the current roster, Baez seems to be the ones the Cubs are the most open to signing an extension with right now. It seems talks have been ongoing for weeks now, so let's see if the Cubs can find common ground to lock him up for good.
Third Base Kris Bryant: Despite all the trade talks. Despite the grievance hearing. Despite the extension, he turned down two seasons ago, Kris Bryant is still a Cub and will be the teams 3B on opening day unless a trade is made before that.
While the Cubs continue to listen to offers regarding Bryant, the asking price seems to be too high for anyone to meet, making it most likely he remains in Chicago. Now the question is regarding the grievance hearing will he be an FA this season or next. Should his FA period not open until 2021, look for the Cubs to continue to dangle his name out there, but also talk extension in the process. Should he be eligible following this season, things could get dicey in Chicago should neither side reach a deal, or a trade isn't made.
Outfield: Locks Kyle Schwarber and Jason Heyward: Heading into 2020, 66% of the Cubs outfield is solidified with Schwarber and Heyward manning the corner spots. That leaves center field as one of the openings and holes on this roster. Albert Almora and Ian Happ are the most likely candidates to fill center field, and if a trade or free-agent signing isn't made, look for them to platoon those two once again, although I wouldn't be shocked to see Happ run away with the job.
The most significant decision regarding the outfield is free-agent Nicholas Castellanos, who has expressed interest in coming back to Chicago. We know the two sides share the same interest, but Chicago needs to clear some cash before bringing him in. However, it also seems as if the two sides have a reported principle deal in place, meaning that once Chicago can do what they need to do, there is a chance he will be returning. That would move Heyward back to center and make Almora and or Happ an expendable piece.
Starters: Jon Lester, Kyle Hendricks Yu Darvish, and Jose Quintana: As of now, four of the team's five rotation spots are filled up, leaving the No. 5 spot as the one to be determined. Alec Mills and Tyler Chatwood appear to be the most likely candidates to battle it out for the final spot in the rotation, but don't rule out a cheap FA pickup, trade, or the possibility of Adbert Alzolay and Collin Rea getting a look.
One thing I would also watch regarding the rotation is Quintana. Yes, the Cubs got a decent salary regarding his option and picked it up this offseason. However, he will be a free agent following this year and will most likely test the open market. That leaves the Cubs with a choice to either hang onto him all season or try and flip him at the deadline to get something back. I like the second idea more than the first.
Bullpen Locks: Craig Kimbrel, Kyle Ryan, Brad Weick, Chatwood/Mills, Rowan Wick: Although most of these arms were minor league singings except for Kimbrel, they performed well for this team in the second half and have done more than enough to earn their spot in the pen. However, that is only five spots leaving a minimum three, if not four depending on what the Cubs elect to do with the 26th roster spot this year.
One more lock appears to be that of Chatwood or Mills, depending on who gets the final rotation spot. With Mills out of options and Chatwood in the last year of his deal, both appear to be locked on this team for this season. Duane Underwood is another arm that is out of options that made the transition from starter to the pen in late 2018. He has been excellent since making that move and showed potential last year, so look for him to get some more looks in spring.
Other possibilities to fill the pen this season include Alzolay, Dillon Maples, Trevor Megill, Jharel Cotton (who could also battle for rotation spot), Dan Winkler, James Norwood, CD Pelham. Ryan Tepera, and Brandon Morrow. Of this list, Alzolay would make a ton of sense if he can stay healthy. He showed promise in the pen last season but struggled in his couple of starts. Another player that could make a big difference is Morrow.
Yes, we know his injury history and what it has done to the Cubs pen. However, if and that is a big IF Morrow is healthy, not only will he be in the bigs this season, but he could be the setup man Kimbrel needs as that is the role Morrow thrived in before reaching the Cubs. The bullpen will continue to be the biggest challenge to figure out this season, but the pieces are there to put something together.

Tags: Cubs Baseball
,
David Ross
,
Willson Contreras
,
Victor Caratini
,
Anthony Rizzo
,
David Bote
,
Daniel Descalso
,
Robel Garcia
,
,
,
,
Kyle Schwarber
,
Jason Heyward
,
,
Kyle Hendricks
,
Yu Darvish
,
Jose Quintana
,
,
Tyler Chatwood
,
Adbert Alzolay
,
Craig Kimbrel
,
Kyle Ryan
,
Rowan Wick
,
Duane Underwood
,
Dillon Maples
,
James Norwood
,
Brandon Morrow