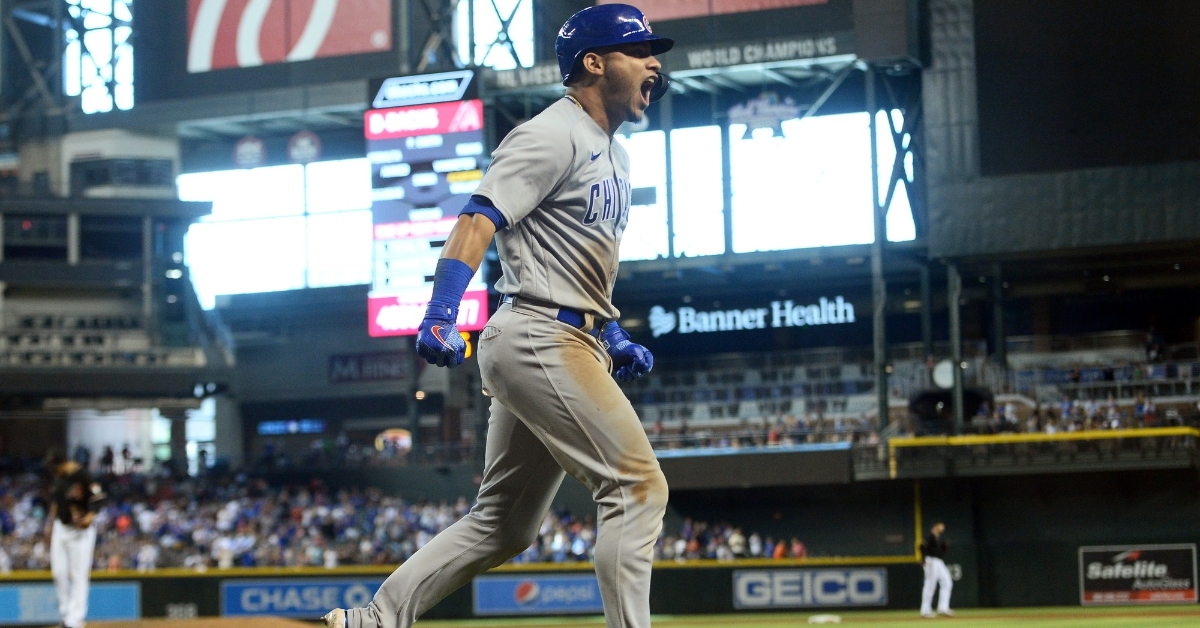 | | |
| --- | --- |
| Projecting Cubs Opening Day 2025 Roster | |
---
| | | |
| --- | --- | --- |
| Monday, February 21, 2022, 10:57 AM | | |
Unless you live under a rock, allow me to catch you up on all things baseball at the moment. Late last week, it was announced that spring training would be delayed through March 5th, which shouldn't surprise anyone. During that same time frame, it was also reported that if the MLB and MLBPA don't reach an agreement by February 28th, a delay to the regular season is inevitable.
With that being said, it seems like the two sides are set to try and work out their differences as they plan to meet every day this week if possible. It is nice to see this sense of urgency, but where was this two months ago when the lockout started. I am trying to be optimistic at this point, but we are approaching 80 days of a lockout with little to no progress made.
I don't see how one week will make any difference, and I am convinced there will be an extended delay that will shorten the MLB season. If that is the case, it will be a massive blow to both the league and its fans which is not something anyone wanted. However, this is what happens when you have two sides refusing to budge, as this has been a ticking time bomb for years.
Given that there is no baseball right now and plenty of free agents are left un-signed, we thought it would be fun to put together a projected roster for the Cubs in 2025. A lot of things from now until then can change, but it is at least nice to see what this team has coming up and what they could have once this lockout is lifted, and they begin to compete for another world series title.
Depending on the contract situation with Contreras this season into next, there is a great chance the Cubs extend him and keep him a bit longer. He is the veteran on this club right now and would be a huge player to have on the roster for years to come. With that being said, the Cubs also know that he comes with a considerable return should they trade him, and you can expect them to entertain that idea.
Amaya seems to be the future behind the dish if he is traded, although his health is a concern right now. Should he not be the guy the Cubs thought he was, Chicago has plenty of options in their system, including Ethan Hearn, Ronnier Quintero, Pablo Aliendo, and Casey Opitz. All are years away, but should be ready by 2025.
First base: Bryce Ball
There are lots of rumors out there that the Cubs are in talks about bringing Anthony Rizzo back. I could see that happening, but it would be on a short-term deal, not long-term. You also have guys like Frank Schwindel coming off the year he had and Alfonso Rivas, who cracked the major league roster in August last season.
Rivas is an intriguing player given his age and the ability to put the ball in play, as is Schwindel. Despite the season he had last year, I am not sure if Schwindel can duplicate that for another three years as he may be the short-term solution for now. If we were to look at the long term, you would like to think Ball is the future, especially after acquiring him in the Joc Pederson trade. A lefty bat with tons of power, Ball is the prototypical 1B who could play DH if needed.
Second Base: Nick Madrigal
When the Cubs traded away Craig Kimbrel last season, they hoped to get something back in return. They did just that, acquiring Codi Heuer in the pen and Madrigal to play second base. Madrigal was the key piece to that deal as the former first-round pick is coming off a hamstring injury that limited him to fewer than 60 games last season.
However, when healthy, he is precisely the type of player you want on your team. There is a reason his nickname is Nicky two strikes, and that is because of what he can do at the plate with two strikes. This guy puts the ball in play and has leadoff hitter written all over him. For a team that has lacked overall contact for the better part of three years, Madrigal is a nice change and someone this team can feed off.
Shortstop: Christian Hernandez
Ideally, I would love to see Carlos Correa here, but I don't think the Cubs can afford him. Fans are probably also wondering where Nico Hoerner is? Hoerner should be on this roster in 2025, but look for him to be a Ben Zobrist type of player who can play almost all of the positions.
If you want to focus on shortstop, Hernandez has to be considered the starter in 2025. Although extremely raw at this stage in his career, there is a reason why he is the No. 3 prospect in the organization. When you draw comparisons to Manny Machado and Alex Rodriguez at just 17 years old, you are doing something right, and the talent and potential is there.
Hernandez showed that talent and potential last season during the Dominican Summer League, and it is only a matter of time until he comes stateside. Once he does, look for the Cubs to potentially fast-track his overall development. He should move fast through the system if they can do that, as he is the real deal.
Third Base: Ed Howard or James Triantos
Drafted as a shortstop in 2020, Howard made his professional debut in 2021 for the Myrtle Beach Pelicans. He struggled offensively, but he lost the starting job at SS with Kevin Made taking over. Ideally, the Cubs would love for Howard to be their everyday SS, but with Hernandez in the fold, I don't see that happening.
As long as Madrigal remains on the team, Howard may be pushed off second base, limiting his options if he stays in this organization. Fortunately for him and the Cubs, Howard is athletic enough to move around, and I think third base lies in his future. He has the arm to play the hot corner and the athletism to make some extremely tough plays. His bat needs to catch up to his defense.
Triantos is another name to watch after bursting onto the scene in 2021. Drafted in the second round this past summer, Triantos was a shortstop by trade, but spent time at 3B and 2B throughout the season. Given his body type, SS may not be the best fit for him, which is why 3B could be his ideal spot. Looking at his offensive production and upside, he reminds me of Kris Bryant, which could help the Cubs a few years from now.
James Triantos In Instructional League Hitting Dingers @JamesTriantos pic.twitter.com/aTdYKOpLzZ

— ?????? ???????????????? (@JpaBaseball) February 21, 2022
Part two of this series coming later in the week.

Upgrade Your Account
Unlock premium boards and exclusive features (e.g. ad-free) by upgrading your account today.
Upgrade Now