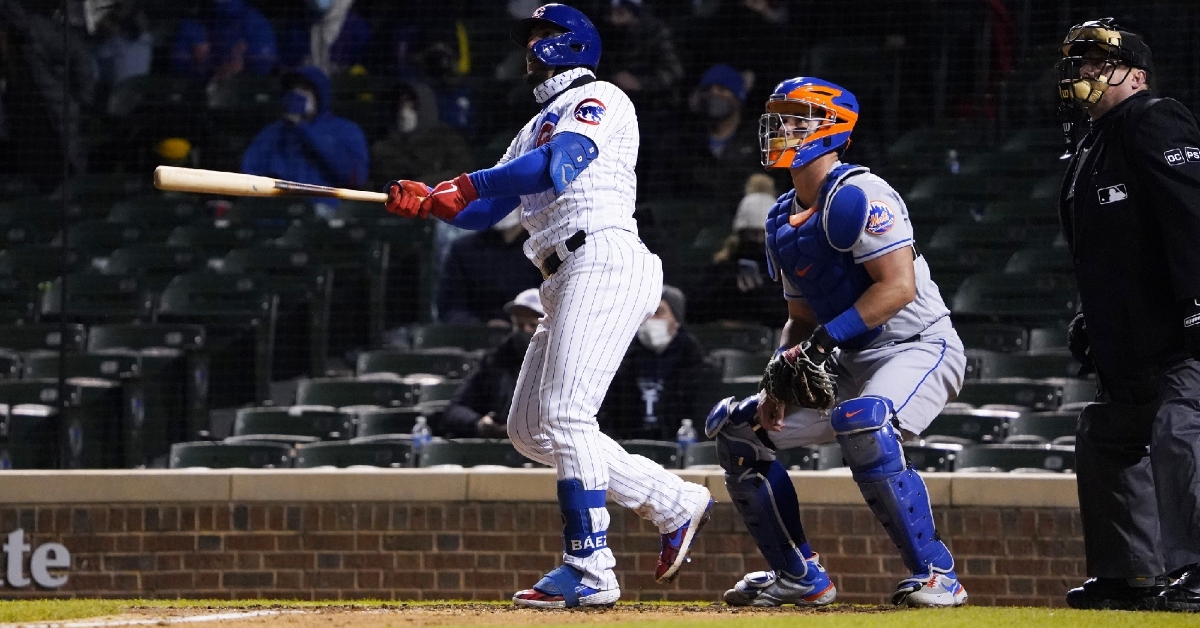 | | |
| --- | --- |
| Putrid Mets defense, Javier Baez grand slam contribute to blowout win by Cubs | |
---
| | | |
| --- | --- | --- |
| Wednesday, April 21, 2021, 11:46 PM | | |
CHICAGO — After trailing 2-0 through 3 1/2 innings, the Chicago Cubs (8-9) were able to take advantage of a series of New York Mets (7-6) defensive blunders and score seven runs in the fourth inning. A grand slam by Javy Baez later put the Cubs ahead by 10 runs, and the Cubs went on to score a season-high 16 runs and win 16-4 at Wrigley Field. On a frigid Wednesday night, both teams defied the odds by combining for 23 hits in a contest that, largely due to the low temperatures, did not figure to be a slugfest.
With his first home run a in Mets uniform, prized offseason acquisition Francisco Lindor smacked a first-inning solo shot off Zach Davies. Lindor took part in some friendly banter with Baez, a fellow Puerto Rican and close friend of Lindor's, as he rounded the bases. A two-out double by J.D. Davis in the third inning plated Jeff McNeil. David Peterson gave up three straight singles with one out in the fourth, including an RBI single by Anthony Rizzo that brought Willson Contreras home.
Davis was woeful defensively in Tuesday's series opener, and he committed a costly error on Wednesday that set off a Mets implosion. The third baseman was unable to cleanly field a routine grounder hit by Baez after Rizzo's RBI knock. Peterson proceeded to walk Matt Duffy to force home Kris Bryant. A bloop single by David Bote scored Baez and Rizzo, with Michael Conforto also committing a throwing error on the play. Robert Gsellman relieved Peterson at that point, and a grounder by Jake Marisnick scored Duffy.
Eric Sogard swatted a single to center field, thus driving home Bote, and then stole second base. Yet another error, this time a throwing error by Lindor, allowed Ian Happ to reach and Sogard to score. Happ was tagged out while attempting to make it back to first after considering trying for two, and the hectic bottom half of the fourth inning finally ended. The seven-run output, which was greatly aided by the Mets' three errors, marked the largest single-inning run total for the Cubs on the young season.
Everybody takes a turn in a 7-run 4th!#CubTogether pic.twitter.com/RURvNF2LaS

— Chicago Cubs (@Cubs) April 22, 2021
Pete Alonso cut into the North Siders' lead with a two-run jack off Rex Brothers in the fifth. Lindor led off the inning with a single before being driven in by Alonso's monstrous 429-foot blast to left. Contreras tallied arguably the flukiest extra-base hit in Cubs history, as pitiful infield defense resulted in a roller hit up the middle turning into a leadoff double in the bottom of the fifth. Contreras hustled to second and was credited with a two-bagger.
Pete with a side of TATER. ?? #LGM pic.twitter.com/F9BCmwTs0J

— New York Mets (@Mets) April 22, 2021
James McCann committed catcher's interference with Baez at the plate in the fifth, giving the Mets their fourth error of the evening. Duffy, who went 3-for-4 in his start at third base, then came up with a base hit on a play that saw the baseball ricochet its way into being an infield single. Bryant, who started in right field, scored as a result. Former Cub Albert Almora Jr. was then entered into the game as the Mets' new center fielder, and an ensuing fielder's choice hit into by Bote scored Baez. Almora went 1-for-2 with a single in his first plate performance versus his old club.
Baez changed the narrative of the game from one dominated by small and heavily impacted by the Mets' putrid infield defense by walloping a grand slam in the bottom of the sixth. The moonshot to left scored Happ, Bryant and Rizzo. Rizzo scored again in the eighth on a single by Bote, and an eighth-inning double off the bat of Marisnick plated Duffy. With a Mets position player pitching the eighth, Baez batted left-handed and flied out. Alec Mills pitched three scoreless innings in relief and helped the Cubs put a bow on their 16-4 beatdown of the Mets.
10 runs without a home run then Javy had to go and RUIN IT. @BinnysBev pic.twitter.com/MbBLiH9CGm

— Chicago Cubs (@Cubs) April 22, 2021

Tags: Cubs Baseball
,
Javy Baez
,
Zach Davies
,
Anthony Rizzo
,
Willson Contreras
,
Kris Bryant
,
David Bote
,
Jake Marisnick
,
Ian Happ
,
Rex Brothers
,
Albert Almora
,
Alec Mills