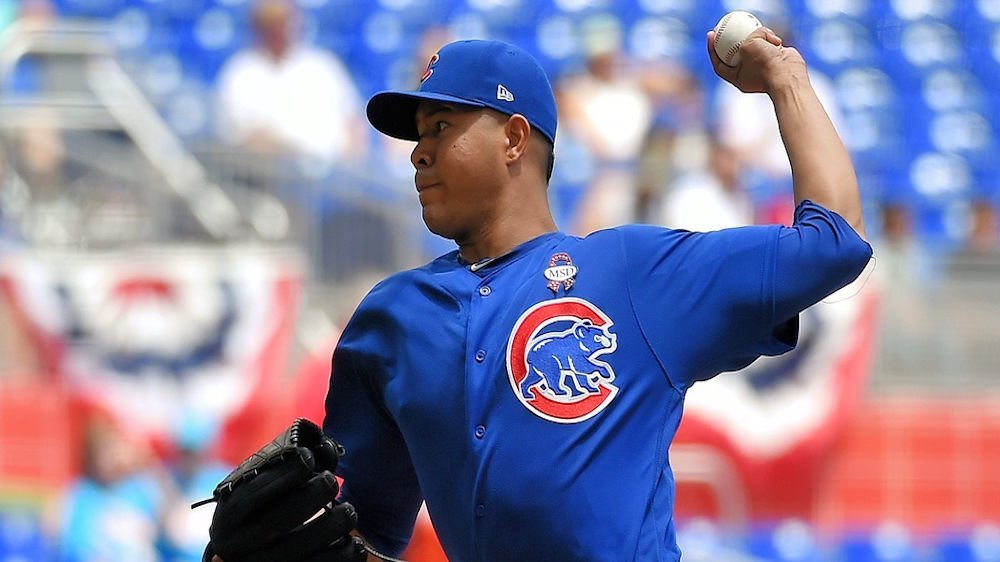 | | |
| --- | --- |
| Quintana, Chatwood impressive in win over Royals | |
---
| | | |
| --- | --- | --- |
| Wednesday, March 6, 2019, 6:03 PM | | |
After losing to the Angels on Tuesday, the Cubs returned home to host the Royals. Jose Quintana would face-off against Royals' righty, Heath Fillmyer, as the Cubs would look to improve to 8-5 for the spring.
The day turned into a pitching duel, but in the end, the Cubs would walk away with a 4-1 win.
T1: Jose Quintana got busy early, sending the Royals down 1-2-3 to start the game. (groundout (Flores), pop-out (Owings), strikeout- looking (Dozier).
B1: Fillmyer (RHP) answered with an up-and-down inning of his own on a pair of groundouts to short (Albert Almora, Jr. and Anthony Rizzo) and a fly out to left by David Bote. Game tied, 0-0.
T2: Quintana would walk Soler on four pitches to open the second, but a pair of flyouts (Schwindel, Bonifacio) and a strikeout (Starling) would end the inning keeping the no-hitter and shutout hopes alive while keeping Q's ERA at 0.00.
B2: (RHP: Fillmyer) Javier Baez reached on a grounder to short, when Royals' shortstop, Chris Owings, kicked the ball while trying to field it (error). Victor Caratini would erase himself and Baez on a 4-6-3 double-play. With two away, Daniel Descalso doubled to left, and Johnny Field would bring him home on a single to center. The inning would end on an Evan Marzilli strikeout. Cubs lead 1-0.
T3: Q returned for a third inning of work, giving up a leadoff single (Viloria). Billy Hamilton, despite his speed, would hit into a 5-4-3 double-play (Bote, Descalso, Rizzo), wiping the bases clean. Flores would fly out to end the inning, keeping the shutout alive and preserving Quintana's 0.00 ERA.
3 scoreless innings by Jose Quintana vs. #Royals #EverybodyIn pic.twitter.com/Gbw2NljV2i

— CubsHQ (@ChicagoCubsHQ) March 6, 2019
B3: (: Ynoa) The Cubs would again be held scoreless. After a strikeout (Ian Rice) and groundout (Almora), Bote would draw a two-out walk but would be gunned down while trying to steal second with Rizzo at bat. Cubs lead 1-0.
T4: Making his first appearance this spring, Pedro Strop would take the mound, giving up a leadoff single to Owings. Owings would steal second, then take third when Caratini's throw overshot Descalso (error- Caratini). Stroppy would retire the next two (Dozier groundout, Soler strikeout), while holding Owings at third, but would be lifted after issuing a two-out walk (Schwindel). LHP Mike Zagurski would relieve Strop, giving up a single to the first man he faced (Starling), scoring Owings from third (run charged to Strop). Zagurski would fan Bonifacio to end the inning Game tied 1-1.
B4: (RHP: Ynoa). Rizzo and Baez would get things rolling with back-to-back singles to start the inning, followed by a walk to Caratini to load the bases with nobody out. Descalso would get an RBI after being hit by a pitch (foot), scoring Rizzo to give the Cubs the lead. Ynoa would end the scoring by striking out the next three (Field, Marzilli, Rice) to end the inning with the bases loaded. Cubs lead 2-1.
T5: Steve Cishek would make an appearance in the fifth, quickly retiring the side on a trio of groundouts (Viloria, Hamilton Flores).
B5: (RHP: Staumont) After a flyout (Almora) and a called third strike (Bote), Jim Adduci would single, but a strikeout by Baez would end the inning. Cubs lead 2-1.
T6: Newly acquired, Brad Brach would also make his debut this afternoon, issuing a leadoff double (Owings) to start his day. Brach would get Dozier on a popup, but Owings would advance to third on a flyout, but an ensuing strikeout would get Brach out of the inning.
B6: (RHP: Greene) A leadoff home run by Caratini would give the Cubs a 3-1 lead, but the next three Cubs (Descalso, Field, Marzilli) would go down to end the inning.
T7: Tyler Chatwood would come on in the seventh, retiring the Royals in order while collecting a strikeout.
B7: (RHP: Greene) Rice would draw a leadoff walk, then be lifted for a pinch-runner (Nico Hoerner). Jacob Hannemann would strikeout swinging, and Hoerner would be gunned down trying to take second at the same time. A strikeout by Ryan Court would end the inning with the Cubs still up 3-1.
T8: Chatwood, returning for the eighth inning, would buckle a little, but wouldn't break, despite giving up back-to-back, one-out singles (Lopez, Arteaga). Chatwood would retire the side, without allowing a run, on a 6-4-3 double-play (Adames-Short-Adduci).
B8: (RHP: Storen) After a groundout by Adduci, Cristhian Adames would hit a ground-rule double to right, followed by Francisco Arcia's walk. Zack Short's single to center would score Adames before the inning ended, giving the Cubs a 4-1 lead.
T9: Chatty would get the nod for the ninth, giving up a leadoff single that was erased on a double-play, followed by a groundout to end the game by a final score of 4-1.
Tyler Chatwood with three scoreless innings and zero walks vs. #Royals#EverybodyIn pic.twitter.com/2QzDxS5C99

— CubsHQ (@ChicagoCubsHQ) March 6, 2019
The Cubs will host the Rockies tomorrow afternoon at 3:05 PM eastern as Jon Lester will be on the mound, facing off against righty Antonio Senzatela.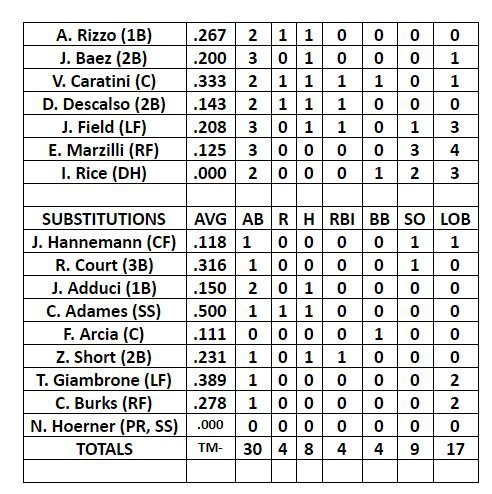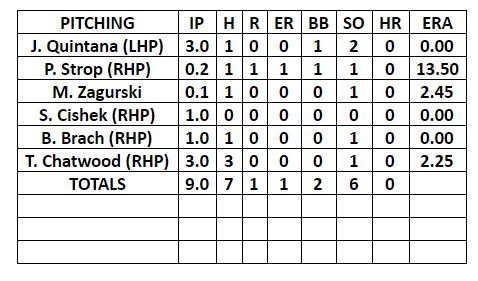 Final: #Cubs 4, Royals #1#Flythew pic.twitter.com/GY2wNt0CR1

— CubsHQ (@ChicagoCubsHQ) March 6, 2019
Cubs win!

Final: #Cubs 4, Royals 1. pic.twitter.com/GfLkA5vWUp

— Chicago Cubs (@Cubs) March 6, 2019

Tags: Cubs Baseball
,
Jose Quintana
,
Anthony Rizzo
,
David Bote
,
,
Victor Caratini
,
Daniel Descalso
,
Pedro Strop
,
Steve Cishek
,
Tyler Chatwood
,
Jacob Hannemann
,