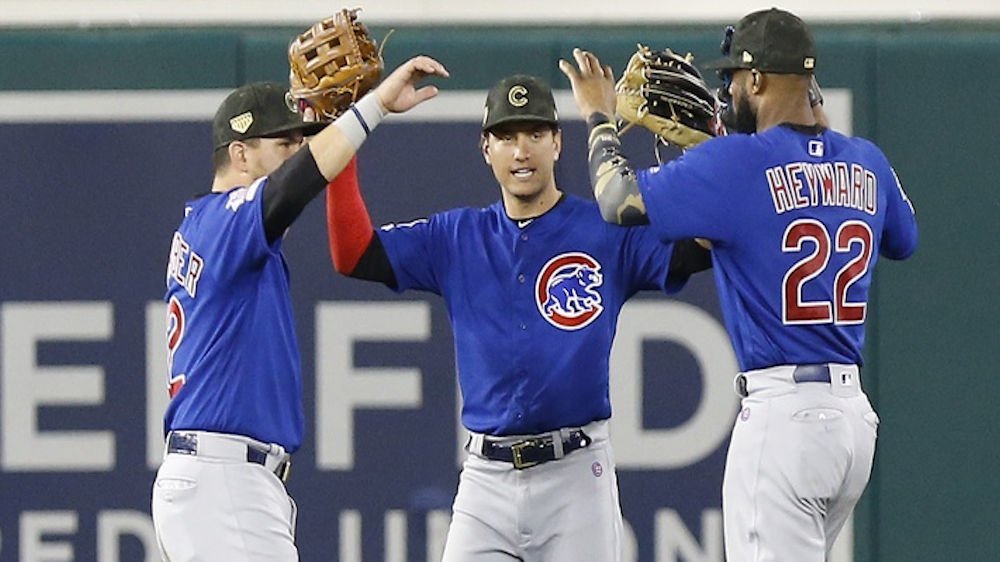 | | |
| --- | --- |
| Reasons why Cubs dynasty never came to fruition | |
---
| | | |
| --- | --- | --- |
| Monday, January 2, 2023, 10:00 AM | | |
Chicago Cubs fans deserve better. I've written those words far too many times over the last couple of years. The Cubs finally won their elusive championship in epic fashion during the 2016 World Series — but since then, have fallen back into the trap of being lovable losers.
A fanbase that pays top dollar for a TV Chanel, tickets, and fan experiences is now enduring bad baseball — and a big market organization in their second franchise-wide rebuild in a decade.
So what went wrong? We decided to list 10 reasons why the Cubs dynasty never came to fruition. Here is part 1:
Jason Heyward was signed to a massive eight-year, 184 million-dollar contract ahead of the 2016 season. While Heyward's leadership and impact in the community have been well documented and are nothing to scoff at — Heyward massively underperformed his contract and left the Cubs with holes to fill in their outfield every year. Heyward's contribution to the 2016 World Series championship can not be understated. His contract has been detrimental to the growth of the Cubs. That contract was the largest ever issued in Cubs history and was a massive failure on the diamond — leaving the Cubs very hesitant to sign massive deals like that in the future — which have caused the Cubs to miss out on the likes of Bryce Harper, Manny Machado and Carlos Correa among others.
Failure to develop pitching
When the Theo Epstein and Jed Hoyer regime arrived in Chicago, they promised a player development machine. While the Cubs did hit on first-round picks Kyle Schwarber, Kris Bryant, and Ian Happ, the rest of their development was a massive disappointment. Specifically on the pitching side. While the Cubs deserve credit for the way Kyle Hendricks and Jake Arietta came into their own in Chicago, the Cubs struggled to draft and develop pitching. On the World Series-winning team, only Rob Zastrysny was drafted by the team, and he pitched just eight games and sixteen innings throughout the year. This led to the Cubs throwing money at their pitching problems — which eventually led to ownership cutting spending for the Cubs.
Morrow, Darvish, Chatwood offseason
After the 2017 season, the Cubs were outpitched in the postseason, Jake Arietta was due to be a free agent, and John Lackey was retiring. So, with no pitching prospects up and coming in the Cubs farm system, they were required to throw money at their pitching problem via free agency. The Cubs dished out nearly $200 million dollars on Yu Darvish, Brandon Morrow, who had been riddled with injuries, and Tyler Chatwood, who was looking for a rebound. The Cubs got burned badly by those moves and were forced to throw more money at their problems with Cole Hamels.
After this, the Cubs were hamstrung financially, and I don't blame Tome Ricketts for making that decision — almost every signing the Cubs made was a mistake.
Non-tendering Kyle Schwarber
The Cubs won the division in 2020 after a hot start, and they practically limped to the finish line of their 60-game season and the season culminated with a two-game sweep by the Miami Marlins, where the Cubs combined for just one run in 18 innings. Following that season, even after winning a division, the rebuild began. The biggest move of the offseason was trading Yu Darvish and Victor Caratini for a slew of prospects, but the rebuild began when the Cubs non-tendered Kyle Schwarber — electing that what Schwarber would make in arbitration would be too much to spend on a struggling slugger. 2020 was an outlier for most players, and in Schwarber's last full season, he led the Cubs with 38 homers, and he drove in 92 runs, so this move was a curious one for starters — one a small market team makes. However, Schwatber's performance since has made the move look even worse.
In two seasons outside of Chicago, Schwarber has clubbed 78 home runs and made two all-star games — and the Cubs have a hole in their lineup and have been looking for a left-handed power bat.
Failure to extend core / Or trade them sooner
The avenue the Braves have taken to their sustained success has been to develop talent and extend talent, something the Cubs did not do during their last competitive window. If you call the offensive core Kris Bryant, Anthony Rizzo, Javier Baez, Kyle Schwarber, and Willson Contreras — the Cubs did not make extensions with any of them. While Kris Bryant and Javier Baez have struggled since their departure, the fact of the matter is that big market teams with a slew of all-stars should be able to afford to keep their all-stars in their uniform.
While there may have been outside factors that prevented an extension, like Kris Bryant's agent/displeasure with the organization, the bottom line is that one, if not more, of these players, should have remained with the Cubs. All five showed they can be major contributors to World Series baseball, and at the very least, the Cubs would have fewer holes to fill. All five have been All-Stars recently too.
But IF you knew you, as an organization, did not plan on signing these players (for fit or monetary reasons), you should have traded them sooner. The Cubs got nothing in return for Kyle Schwarber or Willson Contreras — and greatly reduced their returns on Bryant/Baez/Rizzo by waiting until the deadline before they were set to be free agents.
Trade or extension-wise, the core was mishandled badly by the organization.
Stay tuned for part 2 of this list on CubsHQ.

Tags: Cubs Baseball
,
Jason Heyward
,
Kyle Schwarber
,
Kris Bryant
,
Ian Happ
,
Kyle Hendricks
,
John Lackey
,
Yu Darvish
,
Brandon Morrow
,
Tyler Chatwood
,
Cole Hamels
,
Victor Caratini
,
Anthony Rizzo
,
Willson Contreras
,
Theo Epstein