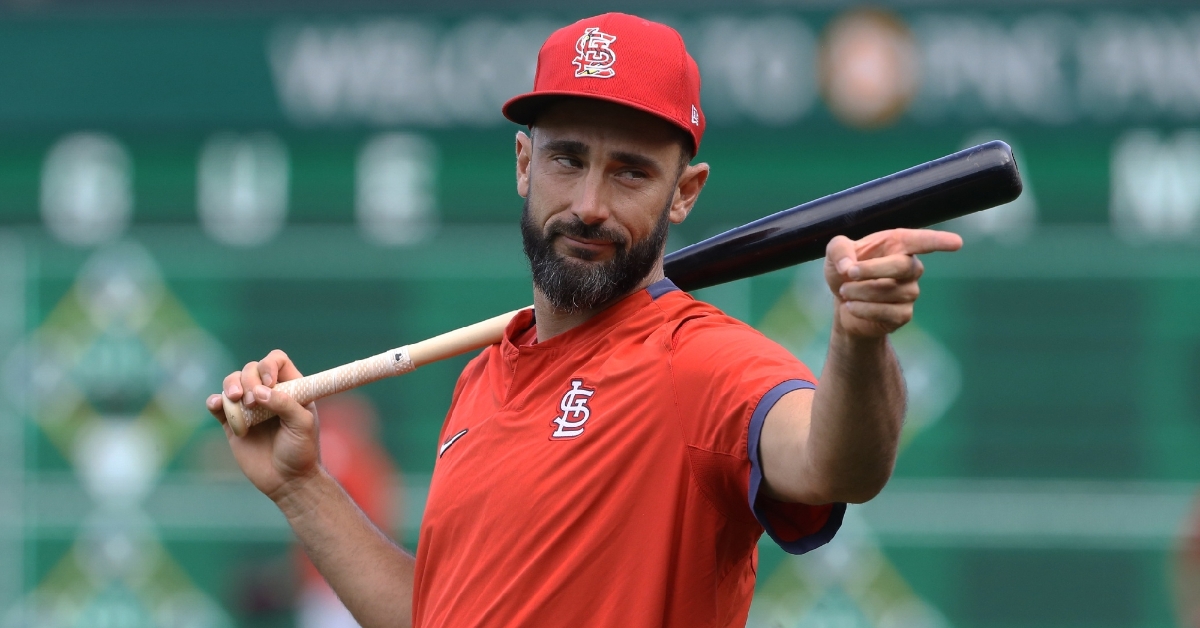 | | |
| --- | --- |
| Report: Cubs interested in former Cardinals infielder | |
---
| | | |
| --- | --- | --- |
| Tuesday, December 6, 2022, 9:00 AM | | |
One thing is for sure when it comes to the St. Louis Cardinals and Chicago Cubs rivalry. That is to expect the unexpected. Whether both teams are playoff bound or one is the bottom feeder, this is one of the most storied rivalries in all of baseball and is a pleasure to watch.
Not only do the games tend to be great, but there are many historical players, from Lou Brock to Ozzie Smith to Albert Pujols and beyond. The list of accolades these players have put together is impressive. Although there are plenty of things that fans don't expect in this rivalry, one thing fans could expect in recent years was having a Cubs killer on one of these Cardinals teams.
Pujols was the biggest Cub killer of them all in the early 2000s, which has now shifted over to Tyler O'Neil, among others. However, in between that gap was another Cub killer that did nearly as much damage as Pujols at times and is now starting to draw interest from the Cubs and their front office. That player is free-agent infielder Matt Carpenter.
Known for his old-school, no-batting-gloves approach, Carpenter was one of the best Cardinals hitters for the better part of a decade and was known to be a huge Cubs killer during that time. His ability to not only come through with huge homers but also pick up hits in nearly every clutch situation drove Cubs fans nuts.
When he signed with the Yankees last season, it was a relief as the Cubs dodged a bullet of having to face him a lot less than what they have been accustomed to. However, after battling an injury-riddled season in 2022, Carpenter saw his time with New York come to an end and is now on the free agent market ahead of 2023, where the Cubs are starting to show some interest.
My how the tables have turned. This is not something you would have expected to hear a few years ago and to hear it now seems a bit strange when you think about his tenure with St. Louis. Unlike a lot of players, Carpenter took a little while to break out as a player, but once he did the Cubs found out the hard way how good he can be.
Not only did he break out, but he put together a three-year stretch of dominance in St. Louis that earned him the nickname of the newest Cub killer and the results and numbers he put up against them backed that up. However, equally as fast as his dominace started, he declined as the past two seasons have been a rough go for Carpenter.
Things got so bad for him prior to the start of 2022 that Carpenter was set to head to the minor leagues to hopefully restart his career. That is when the Yankees gave him a chance, and although much of this season was lost due to injuries, when he was on the field, he started to show those dominating stretches again.
With the Cubs in the market for first base help, it does make sense to hear them kicking the tires on Carpenter, even if he is older and in the backend of his career. One thing Carpenter has going for him is that he is a left-handed hitter, which the Cubs lineup doesn't have a ton of at the moment.
Across 47 games last season, not only did the 37 year old remake his swing, but he posted a 1.138 OPS in those games which was one of the highest marks in the MLB. Sure, he is not going to put those types of numbers up all season, but he still brings value to a young club for a variety of reasons.
Along with the left handed hitting ability and playing first base, he is a veteran leader in the clubhouse and one that comes with more than 14 playoff series across his career. That is something this Cubs roster lacks and something they would love to have to show these young guys how to win.
If the Cubs are really interested in him, don't expect them to make any offers better than one year, and you know what, that is not a bad deal considering the value it could have. Once he reached the Yankees, he exploded over the course of 154 PAs this past season: .305/.412/.727/217 wRC+, with a 13.7% barrel rate and just about every good peripheral you could imagine.
Then came the injuries where he missed the final two months of the regular season with a broken foot. Had that not happened, Carpenter may have put himself in the comeback player of the year conversation. On any level, with the Winter Meetings set to begin this week, this is certainly a story worth looking at.