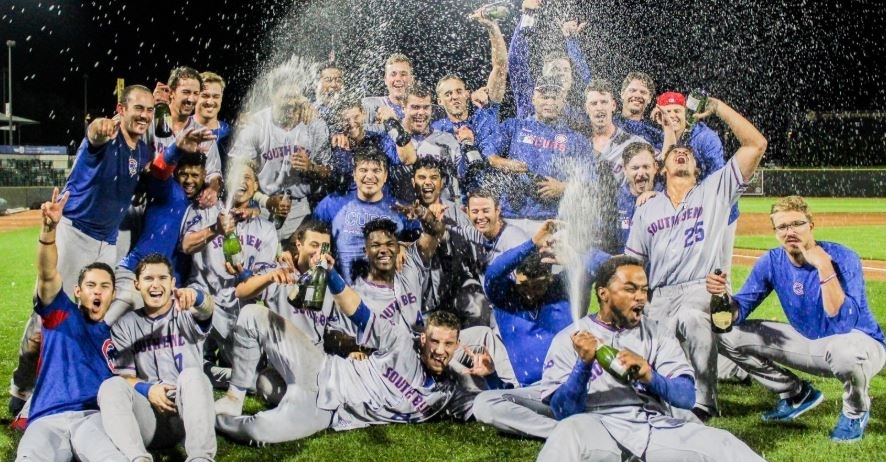 | | |
| --- | --- |
| Season in Review: South Bend Cubs | |
---
| | | |
| --- | --- | --- |
| Friday, September 27, 2019, 11:02 AM | | |
Ever since the day Buddy Bailey was hired as the manager for South Bend, there was a renewed sense of energy around the organization. The winningest manager in Minor League baseball history installed a belief at Four Winds Field during the winter that led to one of the best seasons in South Bend history in 2019.
After missing the playoffs for two seasons, South Bend was able to secure a spot in this year's postseason, claiming the second half wildcard spot and finishing 76-61 overall, top record in the entire Cubs organization. The fun didn't stop there, however, as South Bend won not one, not two, but all three of their playoff series to earn their first league title since 2005. They captured the title in dominating fashion, sweeping all three of their playoff opponents in the process.
To say 2019 was a successful year for South Bend is an understatement as the star-studded roster put together helped Bailey reach 2000 career wins along with bringing home a Midwest League title. The fun thing about this team will be watching this roster unfold for next season as several of these players will have new homes in the organization which could lead to even more success.
When you talk about the roster, you cannot skip over the Cubs No. 3 prospect and top arm in the system in left-hander Brailyn Marquez. At just 20 years old and armed with a 97-100 MPH heater, Marquez gave the opposition fits despite some inconsistent early-season struggles. Once the all-star break passed, Marquez turned it on going four starts without allowing an earned run including a 0BB 14K performance in his second to last performance before heading to Myrtle Beach. Marquez finished the year 5-4 with a 3.61 ERA for South Bend but was 9-5 with a 3.13 overall.
Another top prospect that made an impact was No. 4 ranked Brennan Davis, who lands as the top outfielder in the system. Davis had trouble staying healthy this year as a couple of hit by pitches in the wrist area forced him to miss upwards of 50 games. Despite that, Davis showed why he is such a highly-touted prospect as he finished the season with a .305 average eight homers and 30 RBI's.
19-year-old Cole Roederer considers this season a learning experience despite posting great numbers all year. The California kid had no idea what to expect when coming to South Bend as the early season weather certainly messed with his head. Roederer did struggle in terms of batting average hitting just a .224, but he did lead the team in homers (9) and RBI's (60) proving that the potential is there for him to hit for a higher average.
All season long the Cubs benefitted from a team effort offensively as it seemed like no matter who stepped into action delivered on the big stage. Late-season additions Nelson Maldonado, Jake Slaughter, Chase Strumpf, Caleb Knight, Zac Taylor, Yonathan Perlaza and Darius Hill, mixed with a lineup full of capable hitters and were able to produce immediately. That helped the Cubs finish the regular season as the hottest team in the Midwest League before capturing the title.
On the pitching side of things, Marquez may have gotten most of the headlines, but the South Bend staff was much deeper than just him. Look no further than Faustino Carrera who took over as the teams ace especially during the second half of the season. Carrera led the team with 21 starts and posted a team-best eight wins to go with seven losses. His 3.62 ERA is a little deceiving as he got better as the season went on. Cam Sanders was another reliable starter for the Cubs making the all-star team this past summer. In his 20 starts, Sanders was tied for the team lead in wins with eight while dropping just four games and posting a 2.94 ERA. That ERA was the lowest on the team for all starters.
Another name Cubs fans may be hearing a lot more is starter Riley Thompson. After going 8-6 with a 3.06 ERA in 21 regular season starts, Thompson got the ball in the final playoff game in which he struck out ten hitters without allowing a hit in five innings. After flying under the radar most of the season, his postseason performance certainly turned heads as he is now in the Cubs future.
The Cubs also benefitted from a dominant bullpen led by Brian Glowicki, Ethan Roberts and Sean Barry. Roberts was solid all season going 3-2 with a 2.57 ERA and a team-best nine saves before his promotion. Barry notched a 2.38 ERA in 34 games while collecting six saves himself. However, it is Glowicki that will receive the most recognition this season as he took over as full time closer late in the season.
Despite throwing just 19 games, Glowicki tallied 26 innings and posted a ridiculous 1.38 ERA with a 2-2 record. His seven regular-season saves were second on the team, but his 6BB/24K ratio was elite stuff coming out of the pen. Glowicki stepped up his game come postseason time as the Cubs counted on him to be the stopper in the ninth inning which he delivered every time.
Look for a large number of roster turnover next season as I anticipate 60-70 % of the current roster to be at different levels next season looking to bring a title to another organizational stop.