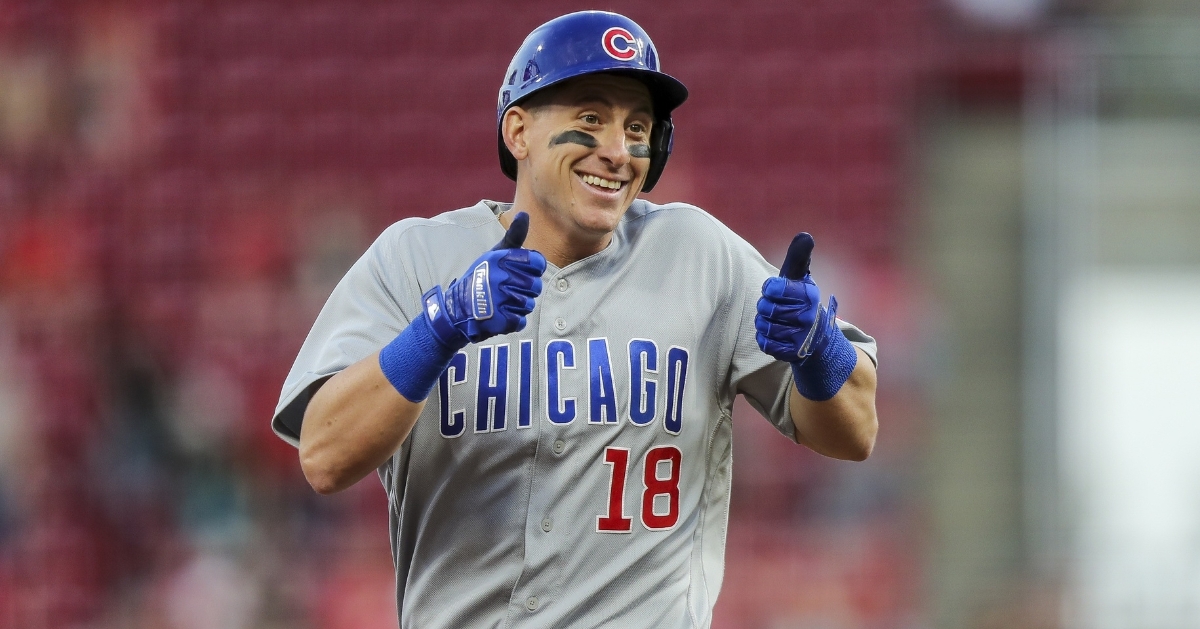 | | |
| --- | --- |
| Season Report Cards: Cubs first basemen | |
---
| | | |
| --- | --- | --- |
| Saturday, October 8, 2022, 9:32 AM | | |
Ever since the beloved Anthony Rizzo was traded away at the deadline in 2021, the Chicago Cubs have had a gaping hole at first base. They have tried to fill that hole plenty of different ways, and it appeared they found a replacement last season, only to see that player die off in 2022.
Hopefully, that isn't a sign of things to come when you look at the Cubs minor league system, as Matt Mervis had a phenomenal year and should be on the verge of reaching Wrigley Field next year. As nice as it would have been to have him in the lineup this year, the Cubs took the patient approach with him, and now it looks like it is his job to lose.
However, three other guys saw time at first base this year or, should I say, are natural first basemen. This is one of the positions the Cubs need to address, as they posted some of the worst offensive numbers in the league from that position. That is not something you want to hear, especially when you saw how consistent and productive Rizzo was during his time with the Cubs.
Frank the Tank turned into a national superstar in what seemed like overnight in 2021. An excellent hitter in the minor leagues, Schwindel struggled to find an opportunity to show what he could do at the major league level. Once Rizzo was dealt, that opportunity came, and he made sure to capitalize on it.
He hit .312 with 14 homers and 43 RBIs in the final two months of the season and earned consecutive National League rookie of the month honors. That two-month stretch earned him the opportunity to hold onto the job, but things didn't pan out this season.
Not only did Schwindel deal with a series of early-season injuries, but when he was in the lineup, the production was not nearly as good, hitting just .229. He did manage to hit eight homers and drive in 36, but that is a far cry from what he did in 2021.
Season Grade D: You have to feel for a guy like Schwindel, who did everything right to earn his first real opportunity. That is just the cruel side of baseball, as you never know what kind of success you will have from one season to the next.
For Schwindel, he is a beloved player who would have loved nothing more to produce in front of the Wrigley Field fans all season. That never happened, and the Cubs later released him to help him land his next gig.
Another player the Cubs hoped could pick up some of the slack left by Rizzo was Alfonso Rivas. Acquired from the Oakland A's in 2019, Rivas is not your typical left-handed hitting first basemen.
Known for having a great glove in the field, Rivas has a knack for being a great contact hitter, which helped him hit .289 across his Minor League career so far. He is a rare player who sacrifices power for contact to reach base more.
In limited action in 2021, Rivas hit .318 with the Cubs with one homer and three RBIs, as 2022 was supposed to be his breakout year. Instead, you had something similar to Schwindel, where Rivas never got going, and his season was lost almost as quickly as it started.
His .235 average was the lowest mark of his career at any level, as was his three-homer and 25 RBI performance for production. This is still a player the Cubs would like to see stay in their system, but at what capacity?
Grade C-: Had it not been for his great glove at first base; this grade would have been lower. No one expected Rivas to come in and play at an all-star level. Instead, he gets a C- which is a bit generous.
However, I think many fans were hoping for a better showing than what he gave, especially from an average side of things. This will be a crucial offseason for Rivas as he gets to take a mental reset and regroup for next year.
Young received an incomplete for a grade this season as he only played in a handful of them in September. One of the Cubs most productive hitters in Iowa, Young reached the Majors as an injury fill-in and went on to hit .286 in those games. Next up for him will be an invite to spring training to see if the overall production he showed with Iowa this season can make it at the MLB level.