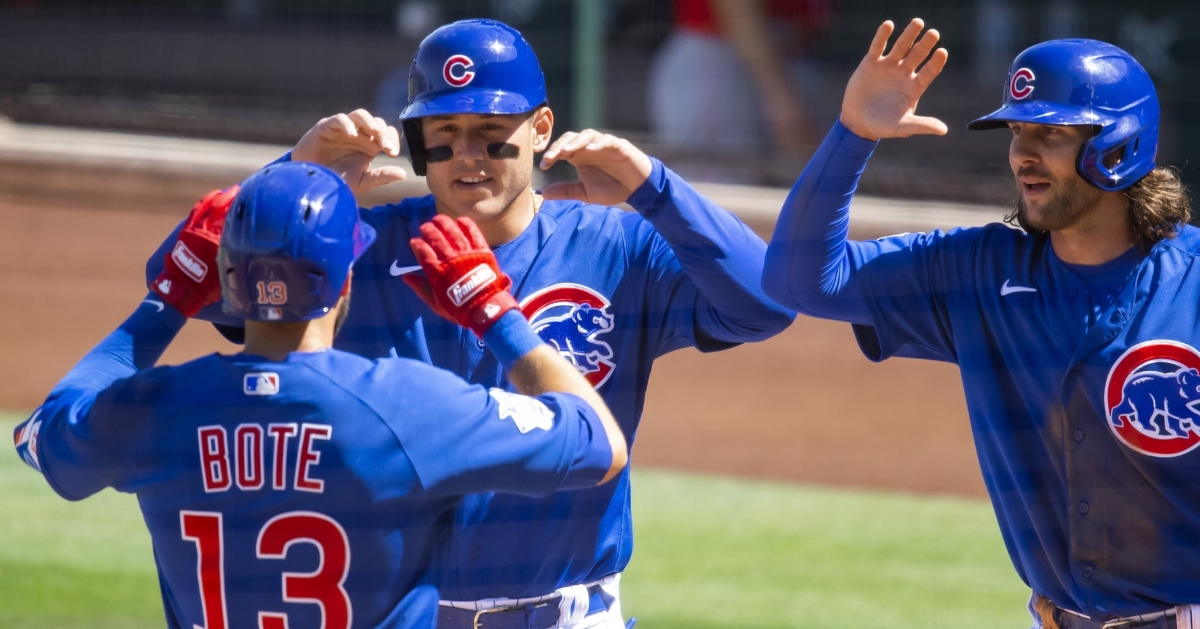 | | |
| --- | --- |
| Series Preview and Prediction: Cubs vs. Brewers | |
---
| | | |
| --- | --- | --- |
| Monday, April 5, 2021, 5:01 PM | | |
It wasn't easy, but the Cubs managed to take two of three from the Pirates over the weekend and now are getting ready to face the Milwaukee Brewers in round one of the I-90 rivalry. The Brewers are coming off consecutive losses against the Minnesota Twins and will head to Wrigley sporting a 1-2 record.
Despite finishing under .500 a season ago, the Brewers did qualify for the expanded postseason earning the eighth and final seed. They also have had the Cubs number in recent seasons as the once one-sided rivalry has not only become more balanced but has leaned in the Brewers' favor since the ending of 2018.
Here are the pitching matchups and start times for the series ahead:
Taking the ball for the Brewers will be southpaw and former Chicago Cub Brett Anderson as he signed following a solid 2020 season.
The veteran lefty was signed to anchor the back end of the Brewers rotation as he is not only a veteran but an innings eater.
Anderson may not be a hard thrower, but he has effectively pitching to contact and limiting baserunners. As always, the key to his success has been health. He dealt with a blister issue in 2020 that kept him out of three turns around the rotation. Spring was certainly not too kind for the southpaw as he posted an ERA above 11.00 while struggling with his command. Most of the Cubs lineup has limited at-bats against him, so the production hasn't been the best.
Opposing him will be Williams as he will be making his regular-season debut with the Cubs. After dealing with his own share of injuries the past two seasons, Williams signed a free-agent contract with the Cubs and went on to put up a very impressive showing all spring long. While Williams has always had the potential to be great, look for him to utilize his slider more than ever this season in hopes of increasing his performance.
Not only is Williams coming off a great spring, but for his career, he has posted a 3.09 ERA against the Brewers as they are one of the few teams he has had success against. He also has posted a 4.00 ERA in four starts at Wrigley and is hoping to continue to be effective on that mound this season. Kolton Wong and Orlando Arcia hit him the best in this lineup while Christian Yelich has struggled.
Tuesday, April 6, 6:40 P.M. on Marquee Sports Network: Freddy Peralta vs. Adbert Alzolay
After bouncing around between the bullpen and rotation for the past three years, Fastball Freddy has finally earned a spot in the starting rotation permanently and will be the No. 5 in the rotation. However, Fastball Freddy isn't as reliant on his 96 MPH as he once was, mixing in a quality slider and improving changeup.
Peralta was in a battle for the final spot in the rotation all spring and eventually beat out veteran Josh Lindblom for the time being. Given his improvement regarding the secondary pitches, Peralta has all the tools to have a breakout campaign should he make 20-25 starts this season.
Much like many the Brewer pitchers on the staff, Peralta has had his moments against the Cubs where he looks unhittable and then has moments where he struggles to get outs. No one in this lineup has seen him more than six times, but Javier Baez and Willson Contreras have hit him hard.
Earning a spot on the opening day Major league roster for the first time is Adbert Alzolay, who beat out a trio of pitchers for the final rotation spot. Alzolay may have had a rough spring, but his last start against the Dodgers coupled with how he finished the 2020 season gave David Ross all the confidence he needed to plug him into the rotation.
Not only is he the youngest arm in the rotation, but the former No.1 prospect has perhaps the best stuff in the rotation, hitting 95 MPH with his fastball and mixing in a brand-new slider to offset his changeup and curve. For his career, Alzolay has posted a 3.15 ERA in six games at Wrigley and will be making his first career appearance against Milwaukee.
Given his injury history and lack of overall experience, Alzolay will undoubtedly be on an innings restriction this season. This where having a guy like Alec Mills will come in handy as I feel he will piggyback most of Alzolay's starts early on.
Wednesday, April 7, 1:20 PM on Marquee Sports Network: Brandon Woodruff vs. Kyle Hendricks
In a battle of polar opposites and opening day aces, both Woodruff and Hendricks will be looking for better results this time around as they both struggled on opening day. It is all about power for Woodruff as he averages nearly 98 MPH with his heater backing that up with a 92 MPH change and 89 MPH slider.
Despite a strong strike percentage on opening day, his command wasn't where he wanted it to be, but that could be predicated on the adrenaline from having fans back in the seats. The Cubs are a team that struggles with high velocity, and for the most part, Woodruff has done well against Chicago, posting a 3.65 ERA in five starts against them. Ian Happ is the lone hitter in the lineup with a 250 average or better as Chicago will need to capitalize on him early.
On the other hand, Hendricks is coming off a dismal first start where he lasted just three innings. Not only did he have a high pitch count, but his command was iffy at best, walking the leadoff hitter in all three innings. It was just the fourth time in his career where he walked more than one leadoff hitter, and just the sixth time, he issued three or more walks.
Unlike Woodruff, who is all about power, Hendricks pitches off finesse as his fastball is slower than Woodruff's changeup. A guy who has pitched well at Wrigley field his entire career has struggled a bit against Milwaukee but is coming off a season in which he posted a 1.08 ERA with 16 K's in two 2020 stars. Hendricks needs to not only get his command back in control but needs to keep both Travis Shaw and Wong from making contact as they have done the most damage against him.
Prediction: Brew Crew wins two of three
This may be the first of six series between the two but expect this to feel like a playoff atmosphere all year long. With fans back in the seats, the adrenaline will be pumping as that aspect of the rivalry certainly lacked last season. Even with the Brewers going 1-2 and the Cubs going 2-1 this past weekend, the Brewers not only played a better team but looked much better than the Cubs despite taking two on the chin.
Milwaukee also has a distinct advantage in starting pitching this time around as the Cubs have struggled to hit high-velocity pitchers, and the Brewers will be trotting two of them out during the series. With two of the three games being night contests, expect cold temperatures with offense tough to come by. I think Milwaukee gets the upper hand in round one as they take two of three this week.