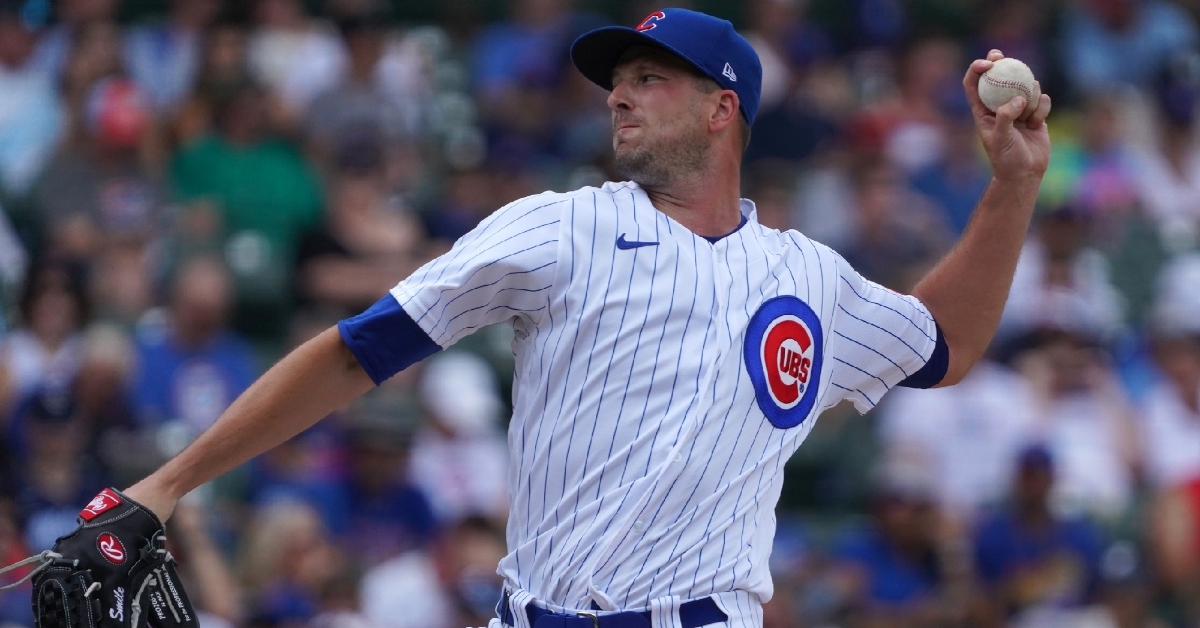 | | |
| --- | --- |
| Smyly twirls a gem as Cubs shutout Marlins | |
---
| | | |
| --- | --- | --- |
| Saturday, August 6, 2022, 5:46 PM | | |
CHICAGO - No one will argue that the 2022 Chicago Cubs (43-63) season has been a struggle filled with ups and downs. Just two days ago, this was a fifth-place team, and now here things sit two days later, and they are back in third.
Regardless of how the standings look, the Cubs are playing for the future right now, as a lot of their lineup is filled with young and intriguing pieces looking to showcase what they can do beyond this season.
When it comes to playing at Wrigley Field this season, that has also been a struggle, as the Cubs are in danger of posting a losing record at home this season. That hasn't been the case over the last several weeks, as the Cubs have now won five-straight games at home, including their 4-0 win against the Miami Marlins (48-59) on Saturday.
Drew Smyly made the start for the Cubs as he opposed Paulo Lopez from the Marlins. Seen as a trade candidate most of the season due to his consistency on the mound, Smyly missed over a month of action with an oblique injury, which ultimately sealed the deal on his trade fate.
He will now be part of the rotation the rest of the season, and judging by two of his last three starts, he could be in for a huge second half of the season. The left-hander was in control early and gave the Cubs a much-needed 6 2/3 inning outing using 106 pitches to get those innings. He scattered five hits and struck out four before handing things over to Mark Leiter Jr the rest of the way.
While the Marlins are not a playoff team, they do have a playoff-caliber starting rotation that is filled with young hard throwers. Lopez is one of those guys, and despite allowing four runs in five innings, he continues to post a very good 3.57 ERA.
For as good as Smyly was in this one, he did have to overcome a slow start in the first as a walk and a single put two runners on base for the Marlins before coming away with nothing. Miami continued to keep the pressure on early, and it looked like that pressure would pay off in the third inning.
Not only did Peyton Burdock lead things off with a single, but Jesus Aguilar added a second single to put two runners on base with two outs. Two pitches later saw Bryan De La Cruz singled home what looked to be the go-ahead run, only to have Seiya Suzuki gun him down at the plate to keep things 0-0. That out was the beginning of Smyly's dominance as he retired the next 11 Marlins he faced.
After failing to score in the second and having that play from Suzuki keep things scoreless, momentum was back in the Cubs favor as they came to bat in the fourth. Ian Happ picked up a one-out double to get things going before racing home on the Nico Hoerner single to give the Cubs the lead for good 1-0. That single proved to be the winning run, but no one knew that at the time.
Immediately following that run in the fourth, it was the Cubs offense getting going again, with Christopher Morel and Rafael Ortega leading off the fifth with singles. Those singles were followed by a Willson Contreras single to double the lead as the Cubs put their first three men on base. What could have been an enormous inning came crashing down as Suzuki grounded into a costly double play, but a third run managed to score to make things 3-0. The Cubs picked up two more singles later in that inning before Lopez struck out Frank Schwindel to finish his outing.
If a 3-0 lead wasn't good enough, why not make it 4-0 as PJ Higgins unloaded for a long solo shot to begin the sixth. That would be the day's final run for the Cubs, as it was up to their pitching to take care of the rest. After retiring 11-straight, Smyly surrendered a two-out double to Charles LeBlanc in the seventh, which signaled the end of his afternoon.
Leiter Jr took over to finish that inning and then went on to shut the Marlins offense down the next two frames as he gave the Cubs 2 1/3 innings on just 24 pitches to close out the 4-0 victory. Hoerner had the hot hand at the plate picking up three hits to lead the way, with Happ and Higgins adding two. On a side note, Morel left Saturday's game with hamstring tightness and is deemed day to day at this point.