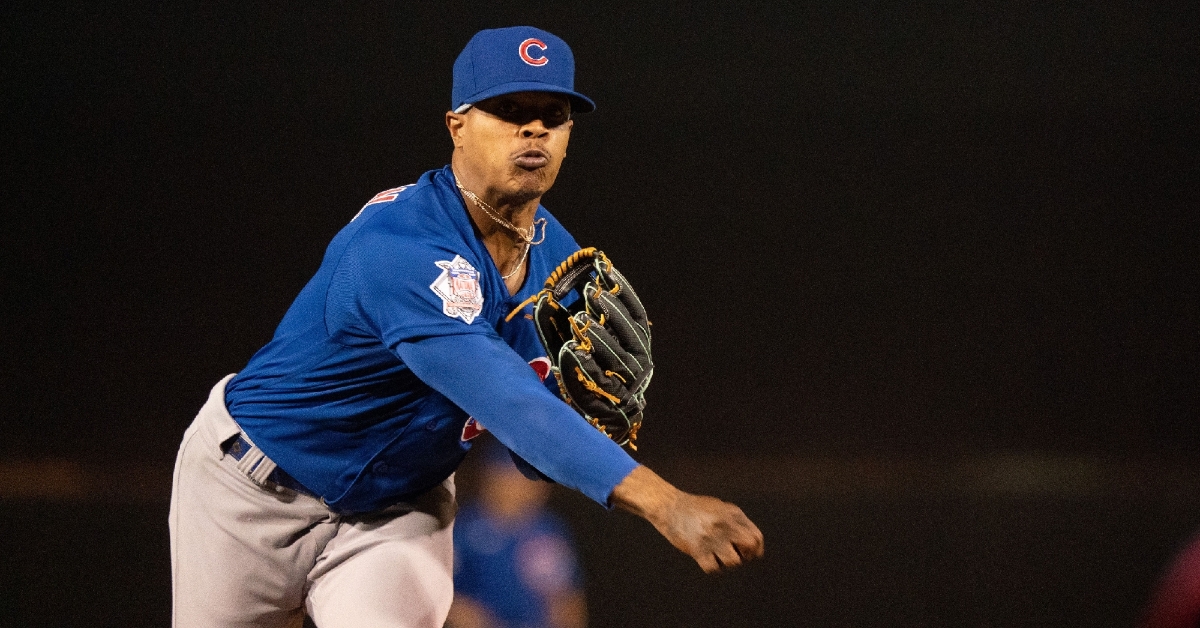 | | |
| --- | --- |
| Stroman impressive in Cubs win over Giants | |
---
One of the best parts about having this condensed Spring is that Cubs fans will have a chance to see more prospects than normal. Whether that bodes well for the regular season when talking about the veterans remains to be seen, but it does give everyone an excellent look into what the future holds for the organization.
Coming off a pair of losses on Thursday, the Cubs were back on the diamond for a rare night contest as they took on the San Francisco Giants. Led by Marcus Stroman, Mark Leiter Jr, Jonathan Holder, and four more pitchers, the Cubs nearly no-hit the Giants keeping them hitless through seven innings of work. San Francisco started to make some noise off of Eric Yardley and Matt Dermody in the final two, where they pushed across three runs, but that wasn't enough as the Cubs made quick work of the Giants 7-3.
Speaking of Stroman, the right-hander was in midseason form and looked great in his outing. Despite this being his first appearance with his new team, the prized possession of the offseason was crisp, striking out three in his two innings of work and setting the tone for a strong pitching performance throughout.
Just a little preview for Chicago Cubs fans of what Marcus Stroman will be doing for you this season!
?? @STR0 ?? @Cubs ?? pic.twitter.com/4eFFVagqOp

— Codify (@CodifyBaseball) March 19, 2022
Stroman wasn't alone when it came to having great outings on the mound.
Chicago. @Cubs pic.twitter.com/GibSiQbwy5

— Marcus Stroman (@STR0) March 19, 2022
Leiter Jr. picked up a trio of punchouts in two innings, Stephen Gonsalves adding a pair, and even Matt Dermody recorded three punchouts despite allowing a pair of runs. The Cubs staff finished the night with 14 strikeouts and just four walks.
From an offensive side of things, the Cubs had plenty of production from the top down, but most of their damage was done in the span of two innings. With both teams held scoreless through two frames, the Cubs offense came to life in the third when they scored four runs and then doubled right back to push across two more in the fourth. That was more than enough offense for them with how strong the pitching was.
You had Dixon Machado get things started with a single to put a runner on base to get to that third inning. Nico Hoerner followed that up with a base on balls as the Cubs' patience showed up early. One of the more surprising stories of 2021 was the play of Rafael Ortega in center. Despite hitting around .100 against lefties, Ortega crushed right-handed pitching and finished the season with a near .300 average.
He also played strong defense and settled into the leadoff role where the Cubs expect him to be again. Ortega put the Cubs on the board in that third, ripping a single to left field for the 1-0 lead. Speaking of fun stories, the Frank Schwindel story has been going on since last August, and Cubs fans hope it continues. Schwindel followed that RBI single with an RBI double as the Cubs surged in front 2-0.
Still in the third, Yan Gomes added to the lead with an RBI groundout before the infield single from Ilderamo Vargas put the Cubs in front 4-0. Given how strong their pitching was, that four-run advantage seemed more than enough, but the Cubs didn't want to stop there. With Hoerner reaching base on an error and Ortega picking up another single, the Cubs offense was threatening again.
Add in another walk to Schwindel, and the Cubs had the bases loaded as one-hit could essentially bust the game wide open. That is precisely what happened as another new face in Clint Frazier came through with a soft single to the outfield, pushing home two more runs to stretch the Cubs lead to 6-0. That would be the last of the scoring until the eighth inning, when both offenses started to get rolling again.
In that eighth inning, the Cubs struck again as Donnie Dewees capped off the Cubs, scoring with a sacrifice fly to extend the lead to 7-0. It wasn't until the bottom of the seventh when the Giants offense came through as Yardley was called on to pitch. Not only were the Giants scoreless to this point, but they were hitless also until Bryce Johnson ripped a double off Yardley to put an end to that.
Yardley looks like Kyle Hendricks and it's weirding me out pic.twitter.com/OB1CXE12zq

— Aldo Soto (@AldoSoto21) March 19, 2022
Johnson would come around to score two batters later, with Diego Rincones ending the shutout bid with an RBI single.
San Francisco continued to make some noise in the ninth inning, with Dermody suffering the wrath of that. James Glowenke did his part by picking up a single before racing around to score on the Brett Auerbach triple to make things 7-2. The Giants were not finished in that inning, with Rincones picking up his second RBI in as many innings using an infield single to make things 7-3. That would be as close as they would get as Dermody recovered to strike out the side and lifted the Cubs to the 7-3 win.