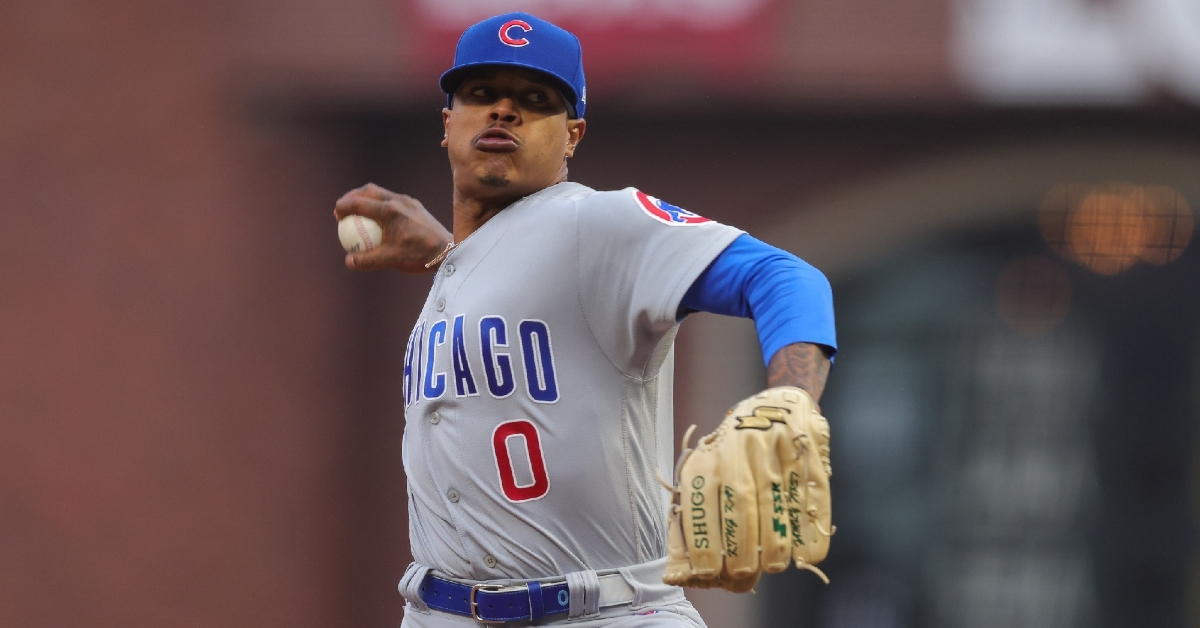 | | |
| --- | --- |
| Stroman pitches gem as Cubs take down Giants | |
---
| | | |
| --- | --- | --- |
| Saturday, July 30, 2022, 10:53 AM | | |
SAN FRANCISCO - With the trade deadline now just four days away, expect a ton of action across Major League Baseball. Many of that action could come from the Chicago Cubs (41-58), as they have several players rumored to be trade casualties.
While many expect to see Willson Contreras and David Robertson gone for sure, you have Ian Happ, Mychal Givens, and possibly others who could be on the move. Despite the talks and distractions, the Cubs still had a game to play as they took on the San Francisco Giants (49-51) at Oracle Park on Friday.
Led by a fabulous pitching performance from Marcus Stroman and an offense that got going late, the Cubs managed to even up the series by topping the Giants 4-2. Stroman has been on quite a roll lately, especially over the last month, where his ERA has been under 2.50.
He continued that roll by delivering one of his better starts of the season as the right-hander went six scoreless innings allowing eight hits in the process. He walked one and struck out three as his ERA fell below the 4.00 mark at 3.99 with the win. Despite not having a ton of strikeouts and allowing a lot of hits, Stroman found ways to get out of countless jams, which was critical.
That is because Alex Cobb was dealing on the other side and kept the Cubs guessing for most of the game. Not only did Cobb give the Giants six innings, but he allowed just one run on three hits to go with 11 strikeouts. That was his season high for strikeouts and was his 10th career double-digit strikeout game before the bullpen let things get away late.
Things could have gotten out of hand for Stroman in the first inning as the Giants immediately had something going. Singles from Tommy LaStella to lead off the game, followed by a Brandon Belt two-out single, to put two runners on base for the Giants. Mike Yastrzemski followed that up with a single of his own, where Ian Happ came up firing to nail a runner at the plate to keep things 0-0.
The second inning saw more of the same as the Cubs could not do anything against Cobb while the Giants continued to put runners on base with Jason Volser and Joey Bart grabbing two outs hits, but once again coming away empty-handed. Third inning, same story as Cobb struck out the side to retire the Cubs in order while Stroman allowed another hit, but continued to strand men on base.
At some point, you had to think that Stroman's luck would run out, meaning that the Cubs would have to get something going on their end. It took four innings for them to put a runner on base, but after a Contreras hit by a pitch and a Happ single, the Cubs had two men on, but were unable to cash in.
Later in the fourth inning, the Giants missed out on a golden opportunity with Lamont Wade Jr working a one-out walk. Another Volser double followed that, but Wade Jr wasn't running on the play and was forced to be held at third before Stroman retired the next two men to get out of the inning.
Sometimes it isn't about the number of hits, and more so the quality of those hits, and Patrick Wisdom made sure to give the Cubs a quality hit in the fifth. Not only did he reach base for the 20th consecutive road game, but his fifth-inning homer was the second in as many nights as he put the Cubs up 1-0. That seemed to be the momentum shift the Cubs needed as Stroman's two best innings came in the fifth and sixth as he finished his outing leading 1-0.
With Cobb still on the mound to begin the seventh, the Cubs were looking to bust things wide open. What started with a Nico Hoerner walk turned into a bases-loaded no-outs situation as Wisdom, and Frank Schwindel also took walks. After Alfonso Rivas struck out, Christopher Morel came to bat with a chance of delivering a huge hit. Instead, Dominic Leone got him to ground into an inning-ending double play as the Giants escaped big-time trouble.
Scott Effress was first out of the pen for the Cubs in the seventh, and it was his time to figure out how to pitch out of a jam. Not only did he walk Yermin Mercedes to start the inning, but he walked Belt later for a rare two-walk outing. Add in a Wilmer Flores double, and the Giants had the bases loaded with two outs only to come away empty-handed in their own right.
Still holding that 1-0 lead in the ninth, the Cubs finally picked the perfect time to finally get their bats going, which started with a Hoerner walk and the Wisdom ground rule double. With two on and one out, Schwindel cashed in with a huge RBI single to double that lead 2-0 before a Rivas single made things 3-0. Despite his struggles this season, Rivas is the team leader in batting average, with runners in scoring position, as he is hitting .311 in those situations.
What looked to be a routine pop-up off the bat of Morel, turned out to be anything but that as Yastrzemski dropped the ball in right field, leading to another run as the Cubs now lead 4-0 with just three outs to go. That set the stage for Robertson to make his first appearance in a week.
As his name continues to be the center of attention in the trade market, Robertson needed some work on the mound, but was very rusty, as you would expect. The right-hander not only allowed a leadoff double to LaStella, but two batters later saw Flores belt his 15th homer to pull the Giants to within 4-2. Following another single off the bat of Belt, Robertson finally settled in as he retired the final two hitters to preserve the Cubs 4-2 win.
With six hits, the Cubs made sure to capitalize on those hits as the bottom of the order did most of the damage. Wisdom and Schwindel led the way with two hits and an RBI, while Rivas and Happ had the other two hits.

Tags: Cubs Baseball
,
Willson Contreras
,
David Robertson
,
Ian Happ
,
Mychal Givens
,
Marcus Stroman
,
Patrick Wisdom
,
Nico Hoerner
,
Frank Schwindel
,
Alfonso Rivas
,
Christopher Morel