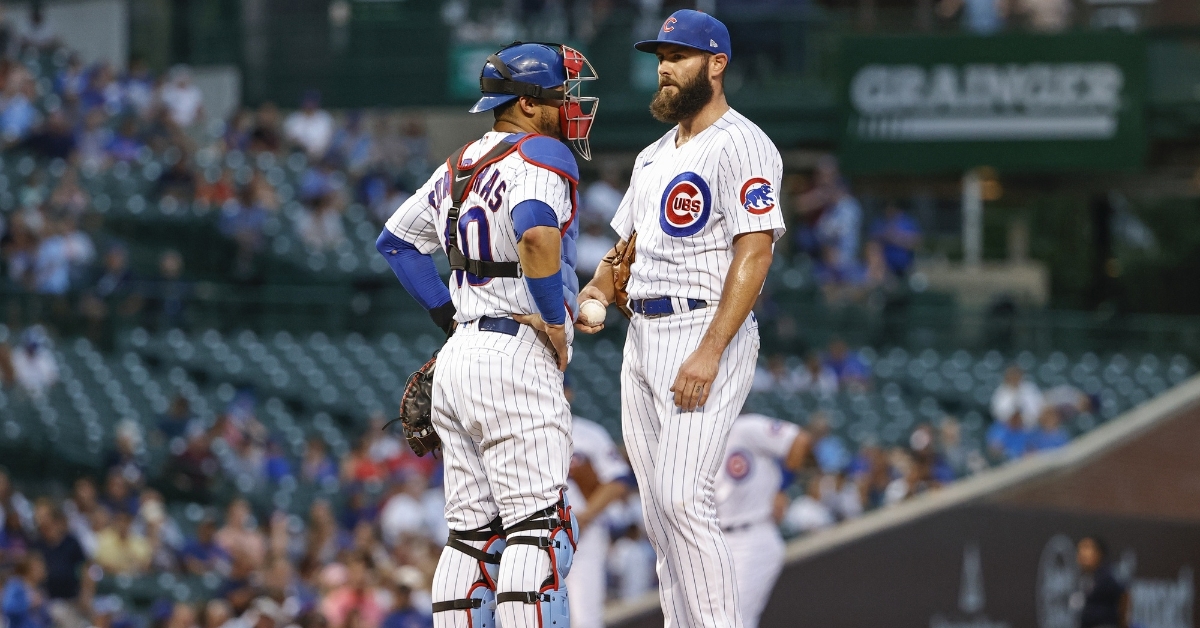 | | |
| --- | --- |
| Takeaways from Cubs' blowout loss to Brewers | |
---
| | | |
| --- | --- | --- |
| Thursday, August 12, 2021, 9:00 AM | | |
The Cubs surrender already! At least that is what must be going through the Cubs heads when they face the Brewers as Milwaukee continues to have their way with them. In what would have been a great matchup a few years ago between Corbin Burnes and Jake Arrieta was over before Burnes even took the mound.
For his second time in as many starts against Milwaukee, Arrieta was lit up, allowing eight earned runs in four innings of work, with seven of those runs in the first inning. Making up seven runs is never easy against anyone, but against someone like Burnes, it is near impossible as he was on top of his game. Burnes needed just 98 pitches to get through eight innings as he not only kept the Cubs off the board but scattered just four hits in the process.
He continued to go about his business striking out 15 batters and walking none as the Cubs hitters had no chance against him on Wednesday with the Brewers rolling 10-0. The win pushes the Brewers mark against the Cubs this season to 12-3, and they have now won eight consecutive games against their rivals. Things won't be any easier today with Brandon Woodruff toeing the rubber as the Brewers have a chance at history not only today, but this season.
Should Milwaukee win, that will be the ninth straight win for the Brewers against the Cubs. It would mark the longest winning streak ever in this rivalry as the Brewers have already surpassed their previous mark of seven straight. Also, no team has ever won more than 14 games in a single season in this rivalry, and the Brewers are not only closing in on that mark, but have a great chance to make that happen.
Knowing that he needed to be on top of his game, the Brewers made Arrieta pay early and often in the first, with Kolten Wong leading things off with a double. That was followed by a Christian Yelich RBI single for a quick 1-0 lead, then a Willie Adames single as the first three hitters reached base. With runners on second and third and one down, Omar Narvaez came through with an RBI single as a misplay by Greg Deichmann in right allowed for another run to score and a 3-0 Milwaukee lead.
Tyrone Taylor kept the line moving with an RBI single to right before Lorenzo Cain chopped a double down the third baseline to extend the lead to 6-0. With two outs, Wong came back to bat as the Brewers batted around in the first inning. Much like his first at-bat, Wong took an Arrieta pitch the other way for another double as the Brewers raced out to a 7-0 lead before Burnes even threw a pitch.
That would be all the Brewers would need as Burnes was impressive all game long, keeping the Cubs hitters in check and striking 15 out of the 24 outs he recorded. Outside of David Bote's long fly ball that was caught by Taylor, the Cubs really didn't make any hard contact against him all game long. Narvaez continued his outstanding series adding a sacrifice fly and a two-run homer later in the game as the Brewers moved closer to another sweep 10-0.
Burnes makes history
Sometimes, you must give credit where credit is due, and the Brewers deserve a ton of credit for their overall record this season. A big reason for that is their pitching staff which features three of the best starters in the National League. Burnes is one of those pitchers who has been on the right side of history a lot this season.
Not only did he get off to an impressive start this season, going his first eight starts without walking a hitter and striking out 58 over that time. That is now a major league record as he shattered the old mark. To add to his history-making season, Burnes was at it again as he did something that only Tom Seaver in 1970 and Aaron Nola earlier this season have done.
Throughout three-plus innings spanning from the bottom of the second to the top of the fifth, not only did the Cubs not put a single ball in play, but they failed to make contact as Burnes struck out 10 consecutive Cubs out of his 15. That tied the major league record in terms of consecutive strikeouts, and he made it look easy. With Woodruff on the hill today, the Cubs could experience something close to that again.
Here's all 15 strikeouts from Corbin Burnes tonight. He's one of just 3 MLB pitchers to strikeout 10 consecutive (with Tom Seaver and Aaron Nola).

Brewers are a force in the central. Really excited to watch them in the postseason.

?? @jgroc pic.twitter.com/LFVmiWihKo

— Jordan Moore (@iJordanMoore) August 12, 2021
I think we can safely say that the Arrieta experiment is over, and he no longer has what it takes to be a starter in this league. Despite his belief that he still has something left in the tank, he has not shown it for a while, and the Cubs are 0-8 in his last eight starts.
It doesn't help when you get lit up like he did last night, but outside that, he is struggling to make it through four innings and is allowing more hard contact than at any point in his career. At this point, I no longer feel this is a mechanical issue and more so that he is done as a starter. This was bound to happen when you have the number of innings he has on his arm mixed with an injury history earlier in his career.
I just don't think the Cubs expected it to happen so abruptly and to the point, it has gotten this season. Had they known this was coming, there is no way they sign him to a one-year deal as he is the worst starter in the rotation by far. David Ross feels like he needs to give Arrieta every opportunity to pitch through this, but enough is enough already.
If Arrieta wants to be a leader for this team, he needs to remove himself from the rotation and either go to the bullpen or just sit out the rest of this season. It's not like the Cubs don't have other options as Thompson is getting stretched out in Iowa, and Abbott has started plenty of games down there.
Arrieta won't be a part of this rotation next season, so why not give some younger guys a chance, especially if the Cubs are going with a six-man rotation anyways. Fans saw Justin Steele perform well in his first start, and Thompson has looked great in Iowa in his three starts. It is time to move on and look towards the future.
Another start for Keegan Thompson with the @IowaCubs, another scoreless outing for Keegan Thompson with the @IowaCubs.

Tonight: 4.0 IP, 3 H, 0 R, 2 K, 1 BB
In 3 starts with I-Cubs: 10.1 IP, 5 H, 0 R, 9 K. 0.00 ERA, .161 OBA.

— Alex Cohen (@voiceofcohen) August 11, 2021
Truly the end of an era
As if trading the core this season wasn't enough to prove to the fans that the most successful era in Cubs history is over, maybe this will help them. With the loss on Wednesday, the Cubs have now dropped seven straight and are 12 games under .500. That marks twice this season where the team has lost more than six games after doing that only twice from 2015-2020.
Going a bit further, the team has fallen 10 games under .500 for the first time since the 2014 regular season ended, with the team posting a 73-89 mark. That marked a span of 983 games which was the fourth-longest stretch in team history, staying above that mark. For all the slack the core got for not producing, to realize this team was never more than 10 games under .500 at any point with them is impressive.
That even counts this season as they never fell more than five games under with the core and now look where this team sits. Sometimes fans expect too much from their players, especially after they have such a great start to open their careers. Baseball is a challenging game, and it is hard to stay on top as long as the Cubs did. This has been an end of an era type of season, and now it is time to start a new era of Cubs baseball in 2022.
Rowan Wick: "The Chicago Cubs, it's going to be good in 2022. I think the team's going to be not as bad as everyone thinks."

— Jordan Bastian (@MLBastian) August 11, 2021