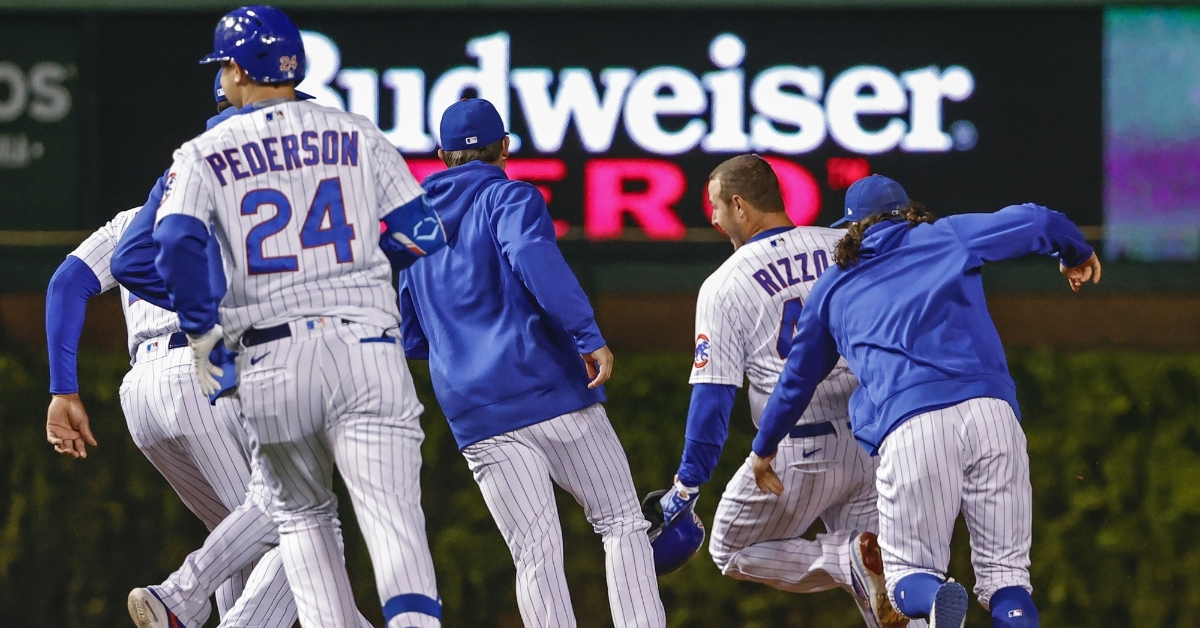 | | |
| --- | --- |
| Takeaways from Cubs' impressive sweep of Dodgers | |
---
| | | |
| --- | --- | --- |
| Thursday, May 6, 2021, 8:42 AM | | |
The Cubs and Dodgers treated fans to some extra baseball for the second straight night as nine innings were not enough. Facing off against another tough customer in Walker Buehler, the Cubs not only showed they have heart but are not afraid of anyone in this lineup.
Despite the great pitching effort from Buehler, the Cubs got contributions of their own, starting with Adbert Alzolay, who continues to pitch well as of late. Coming off a career-long outing, Alzolay held up exceptionally well against this Dodgers lineup allowing just two earned runs in five innings of work to go with two walks and seven strikeouts.
Offensively, the Cubs continue to see production from Jake Marisnick and Matt Duffy as both have been a pleasant surprise this season. Starting with Marisnick, trailing 2-0 following a Max Muncy fourth-inning homer and Gavin Lux fifth-inning double, Marisnick took a poorly located fastball from Buehler and crushed it for his fourth homer of the season, tying things up 2-2.
The Dodgers answered in the sixth with a bases-loaded nobody out situation but could only push home one run on the long Will Smith sacrifice fly. Ryan Tepera made the key pitch in that inning, forcing an inning-ending double play to prevent further damage. With Blake Treinen on in the eighth, a leadoff walk to Joc Pederson got the line moving before a rare Corey Seager error put runners on the corners with no outs. Javy Baez then came through with an RBI groundout tying things up 3-3.
After a scoreless ninth, it was time for extra innings once again as the Cubs called on Alec Mills to take the ball. After getting both Mookie Betts and Seager to ground out, Mills left a pitch over the plate, and Muncy ripped it off the left-field wall giving the Dodgers a 4-3 lead. The key to that play was the relay throw in which Baez nailed Justin Turner at the plate to keep things within a run.
Facing a tough customer in Kenley Jansen, the Cubs had a golden opportunity to win the game as Pederson was looking to beat his old team. Pederson took a big hack and thought he sent one over the fence only to have Betts catch it on the warning track. It was deep enough to plate the tying run as it was now 4-4 heading to the 11th.
Down a run again, Duffy started things off as his RBI single was not only his third hit of the night but tied the game up at five. Anthony Rizzo was at the plate with runners on first and second after entering the game as a pinch hitter in the eighth. Rizzo did precisely what he does as his seeing-eye single brought home Duffy for the Cubs second straight walk-off win to complete the sweep 6-5.
Jake Marisnick deserves playing time
No one likes when players get injured. However, sometimes injuries are a blessing in disguise as teams get to see players who may not have had as much playing time otherwise. Marisnick is the perfect example of this as he is not only seeing more time but proving he deserves an everyday role.
When the Cubs signed him this offseason, he was supposed to exactly what Albert Almora was for this team. Instead, Marisnick has been way better than expected and is playing better than Almora did during his entire tenure in Chicago. His two-run shot off Buehler was his fourth of the season, and he is now hitting close to 270 this year.
Compare that to Ian Happ, who has just two homers and is hitting 100 points less, and you can see why Marisnick deserves more playing time. He has the hot hand right now, as does Duffy. Both are seeing more time on the field, and the offense has been playing better with them in the lineup. Once Nico Hoerner and Happ are healthy enough to return, David Ross will have to decide how to keep these two in the lineup.
Jake Marisnick - Chicago Cubs (4) pic.twitter.com/B50kwWEeTy

— MLB HR Videos (@MLBHRVideos) May 6, 2021
Adbert Alzolay continues to grow
I know his start resulted in a loss last night, but Alzolay continues to impress on the mound. I would even go as far as saying this was his best start as a pro when you look at how easy he went through that lineup most of the night.
A question mark heading into camp, Alzolay is showing everyone why he was the right choice to be named one of the five starters and is proving to everyone he has front of the rotation stuff. Once the top prospect in the Cubs system, Alzolay has dealt with a series of arm injuries to go with inconsistent performances across the board.
Once he adopted that slider last season, it appeared to be a game-changer for him, and he now seems to be on the verge of breaking out. Taking on one of the best starters in all of baseball, Alzolay matched Buehler's pitch for pitch the first three innings and held that Dodgers lineup to just two runs in five innings.
No decision or not, this is a confidence booster start for him, and he is making the Cubs believers in his ability. Hopefully, he can keep it up as Chicago will desperately need him to deliver in the rotation all season.
Another strong start from Adbert Alzolay. ???? #Cubs

5 IP, 3 H, 2 R, 1 BB & 7 K's.

(??: @WatchMarquee) @adbert29 pic.twitter.com/z01tCRPrbf

— Cubs Zone ™? (@CubsZone) May 6, 2021
A much-needed series win
Going back to mid-April when the Cubs swept the Mets at home, things haven't been great since. On the back end of three straight series losses, the Cubs returned home to face the defending World Series champs.
You looked at the pitching matchups on paper, looked at the lineup, and immediately felt like the Cubs were in for a long weekend. Well, that is why they play the games because following a 13-2 start, the Dodgers have gone just 4-12 and have now dropped three-straight to the Cubs. Not only was this their first sweep against the Dodgers at home since 2008, but it was also the first sweep of a defending world Series Champion in over 30 years.
This was a much-needed series win for Chicago to reverse their fortunes and get back on track, hopefully. Not only did they prove to themselves that they can beat the best team in the National League, but they showed they can hit good pitching after struggling against that most of this year.
Sometimes all it takes is one game or one series to change the entire outlook of a team's season. With three games with Pittsburgh coming up, followed by five with the Indians and Tigers, the Cubs have an excellent opportunity to bank some wins and get right back into the wide-open Central Division race. Hopefully, there is no letdown after this massive sweep.
[W]ild
[W]rigley Field
[W]alk-off#CubTogether pic.twitter.com/vV1a6Ho6vr

— Chicago Cubs (@Cubs) May 6, 2021

Tags: Cubs Baseball
,
Adbert Alzolay
,
Jake Marisnick
,
Ryan Tepera
,
Joc Pederson
,
Javy Baez
,
Alec Mills
,
Anthony Rizzo
,
Albert Almora
,
Ian Happ
,
,
David Ross