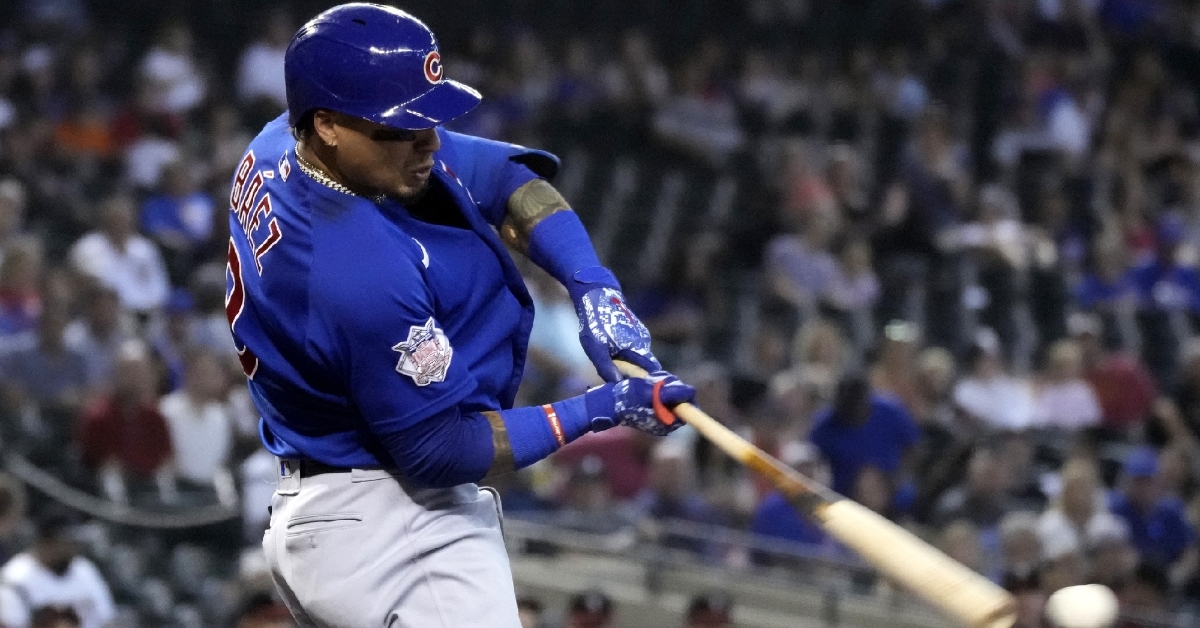 | | |
| --- | --- |
| Takeaways from Cubs loss to Diamondbacks | |
---
Well, it wasn't a sweep, but the Cubs still managed to take a series on the road to open the second half. I understand it was against the Diamondbacks, so fans shouldn't get too excited, but any series win away from home is a positive thing, especially for a team struggling as much as the Cubs.
Zach Davies continued to give the Cubs quality starts on the mound despite his continued struggles with a career-high walk rate. Davies has certainly walked a tightrope this season, loading the bases in what seems like once a start only to work his way out of trouble most of the time. He allowed two runs, but only lasted 4 2/3 innings as his pitch count continues to be an issue.
Merrill Kelly, on the other, was brilliant as he made it through eight innings on less than 100 pitches before being pulled in the ninth. Both pitchers were able to keep the opposing offense in check through three innings until the Diamondback pushed across a run in the fourth off an RBI single before Cole Calhoun added another RBI single in the fifth to push the lead to 2-0.
It took six innings for the Cubs to finally breakthrough on Kelly, and when they did, it was a pleasant sight to see as Kris Bryant picked up an RBI double before coming home on a Javier Baez single to tie things up 2-2. However, the Diamondbacks got the last laugh as they pushed across four runs off Dan Winkler and Rex Brothers to take a 6-2 lead into the ninth.
Chicago wasn't going to go down quietly with Baez picking up his second RBI single of the day before coming across to score on a Rafael Ortega double. Willson Contreras represented the tying run at that plate only to be retired via strikeout as Joakim Soria got revenge from his blown save on Saturday to seal the deal.
Cubs still can't get out of their old ways
It doesn't seem to matter who the Cubs play at this point, as they can't get out of their old ways. Although they have done a better job in this series getting runners home, they continue to leave too many men on base while their batting average with runners is putrid at best.
Also, add in that they are striking out more than earlier in the season and taking fewer walks, and you have an inconsistent offense that has been plaguing this team for years. It is incredible when you look back at 2016 and how good that offense was to see them sitting where they are now. Granted, some of those pieces are no longer on this team, but there is a large chunk from that roster still here as they haven't improved over time.
Even though it seems like the Cubs are going to be sellers, we talked about the possibility of a fast start, perhaps altering their plans a bit depending on how the Brewers did in the same time frame. Taking two of three from Arizona is a start, and they still have three more with them coming up. If the Cubs want to reconsider their selling talks, consistency needs to happen sooner rather than later.
One of the players Cubs fans miss the most from teams of the past is Tommy La Stella. Say what you want and his issue reporting to AAA that one season, but La Stella was a decent player for the Cubs and thrived in his role as a pinch hitter. Given the nickname 3 AM by Joe Maddon, who felt he could fall out of bed at 3 AM and just hit, La Stella was the best pinch hitter in baseball during his time with the Cubs. That helped him land a couple of free-agent contracts as his numbers have taken off.
This season it appears the Cubs have a new version of La Stella in left-handed outfielder Ortega. Called up earlier this season as the Cubs injuries continued to pile up, Ortega has done a decent job at the plate, but has been great as a pinch hitter.
Not only is he hitting above 300 as a pinch hitter, but he is seven for his last eight in pinch-hit opportunities, including an RBI double in the ninth yesterday. With Joc Pederson now in Atlanta, look for Jake Marisnick and Ortega to see more time in the outfield as the Cubs try to get by without him. If he is not in the starting lineup, Ortega will continue to be called upon off the bench, and so far, that is working amazing for David Ross.
Could we see Justin Steele in the rotation?
This isn't something that is necessarily a takeaway from last night, but more so of a long-term outlook. With the Cubs looking like sellers right now, Davies is starting to see his name in trade talks as he could be dealt in the next couple of weeks. That would create a void in the Cubs rotation and one that would need to be filled.
With several in-house options available, Stelle would be the one to watch for in this scenario. Called up in late April, Steele emerged as a left-handed weapon out of the Cubs pen up until he injured his hamstring against Milwaukee. Since then, he has been rehabbing in Iowa, where the Cubs have stretched him out to be a starter.
This wouldn't be his first rodeo as a starter, as he spent most of his career in the rotation before moving to the pen after consistent arm and shoulder injuries. Hopefully, those injuries are behind him, and he can get back to his old self. He was once a top 15 prospect when he was a starter and has the stuff to be that once again. Stelle would also give the Cubs a lefty in the rotation, which is something they do need.

Upgrade Your Account
Unlock premium boards and exclusive features (e.g. ad-free) by upgrading your account today.
Upgrade Now

Tags: Cubs Baseball
,
Zach Davies
,
Kris Bryant
,
Rex Brothers
,
Rafael Ortega
,
Willson Contreras
,
Tommy La Stella
,
Joc Pederson
,
Jake Marisnick
,
David Ross
,
Justin Steele
,
Joe Maddon