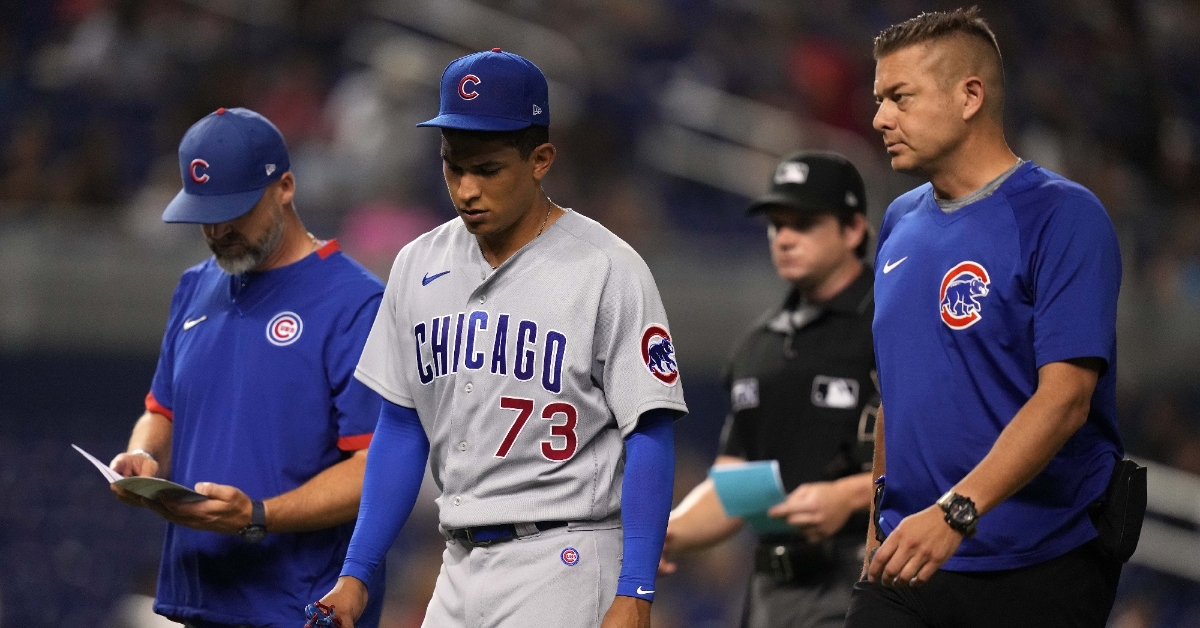 | | |
| --- | --- |
| Takeaways from Cubs loss to Marlins | |
---
| | | |
| --- | --- | --- |
| Saturday, August 14, 2021, 9:23 AM | | |
Things haven't been this bad in Chicago since 2012, and even then, this is beginning to look worse. Not only have the Cubs had their longest losing streak since 2012 of 11 games earlier in the season, but they are currently on another nine-game losing streak and are a clear 20 games out of first place in the division. That is a free fall from where this team was earlier in the season, and it just goes to show you how quickly things can change in major league baseball.
The Cubs opened a six-game road trip with a three-game set against the Miami Marlins on Friday. Hoping that someone in a similar position would be the remedy they would need to get back on the winning track, the Cubs continue to struggle as their pitching gave up 14 runs to the Marlins, with 11 of those runs coming in the second inning.
Six of those 12 early runs came off Adbert Alzolay, who left his start after just 1 1/3 innings, while Dan Winkler served up six runs of his own. Rex Brothers was charged with the remaining two runs while the rest of the Cubs pen was strong. As if the rough start by Alzolay wasn't enough, it was later revealed that he left the game with tightness in his hamstring, which could signal the end of his season on the mound.
Things were not bad for the Cubs early on, with David Bote unloading on a first-inning two-run shot to put the Cubs on top 2-0. Following a Jesus Aguilar RBI groundout in the bottom of the first, the Cubs offense continued to do their thing, with Johneshwy Fargas picking up an RBI triple ahead of a Sergio Alcantara sacrifice fly to give the Cubs a 4-1 lead.
That is when things went south as Alzolay started to labor in the second inning. Bryan De La Cruz delivered the big blow as his grand slam put the Marlins on top for good 5-4. Lewis Brinson followed that up with a two-run double before later coming home on a passed ball, while Jorge Alfaro added a bases-loaded walk to push the lead to 9-4. Miami added a three-run shot later in that inning to cap off the 11-run frame and led 12-4.
After Aguilar went deep in the third to push the lead to 14-4, it was all Chicago the rest of the way as they mounted an impressive comeback that ultimately fell short. Robinson Chirinos played long ball in the fifth, putting an end to 13 unanswered runs by the Marlins, but the Cubs still trailed 14-5. That was until the eighth inning when the long ball continued to make a difference.
This time, Frank Schwindel and Ian Happ got into pitches as both connected for two-run shots to pull within 14-9. Add in a Rafael Ortega single in the ninth, and the Cubs were down 14-10, but couldn't get any closer, falling by that score.
What happens now with the Cubs rotation?
Around two weeks ago, David Ross announced that he would be going with a six-man rotation the rest of the season and inserted Justin Steele as the sixth arm. That six-man rotation is back to four in the past few days as Jake Arrieta has since been released with Alzolay dealing with hamstring injuries.
The Cubs have guys like Keegan Thompson, who will most likely be called up, but what happens after that? Given that Alzolay was on an innings limit and was most likely approaching his final few starts of the season, there is a good chance he is done for the year, knowing how hamstring injuries go. That leads me to believe that Kyle Hendricks, Alec Mills, Zach Davies, Steele, and Thompson will fill the rotation the rest of the way with possibly Cory Abbott or someone else.
With nothing to play for the rest of the season other than pride, the Cubs are hoping to get through this rough patch and back to winning some games. They knew it would be a long second half, but I don't think they thought it would get this bad so quickly.
The new-look lineup
The Cubs have struggled to hit the ball during their nine-game losing streak, and Ross is starting to see enough of that. To jumpstart this offense, not only did he change things up a bit in terms of batting order, but he added some names to the lineup that haven't played much in recent games.
The result was another loss, but at least the offense came through with 10 runs, their most in quite some time. As this team is approaching September, you will see guys like Happ, Willson Contreras, and Jason Heyward play less and less as more minor league names come to fold. Patrick Wisdom, Schwindel, and Ortega may emerge as the only everyday players as those three are fighting for MLB jobs with the Cubs next season.
As tough as it is to lose games of this caliber late in the season, there are some positives to take away from it, as tough as that may seem. The more games the Cubs lose, the better their draft pick will be, which helps jumpstart a rebuild sooner rather than later. It also allows the Cubs to call up more players for fans to get a look at, as their prospects will ultimately determine their future success.
The Cubs could go after Aguilar next season
While you have the Cubs unloading tons of their superstars, other teams have found luck signing players who haven't been stars in the league. In the Marlins case, Aguilar is that player and someone the Cubs should take a run at next season.
Known as a role player much of his career, Aguilar burst onto the scene with the Brewers a few years ago when he belted over 30 homers and drove in 100 plus RBIs. Since then, Aguilar has bounced around a bit, but has found a home with the Marlins the past two seasons. Not only has he established himself as a starting first basemen, which the Cubs will need, but Aguilar is hitting a .266 thus far, which isn't terrible.
Not the big-time home run hitter that he was in Milwaukee, Aguilar still produces at a significant level as his 82 RBIs not only leads the team, but ranks fifth in the National League. That would by far be the most on the Cubs roster, and his 21 homers wouldn't look bad either. Signed to a one-year deal this season, the Cubs should look to land him to a multi-year contract next season. That would give the Cubs a temporary first baseman who has power and gives them the option to flip him at the deadline for more prospect pieces.

Tags: Cubs Baseball
,
Adbert Alzolay
,
Rex Brothers
,
David Bote
,
Ian Happ
,
Rafael Ortega
,
David Ross
,
Justin Steele
,
Jake Arrieta
,
Keegan Thompson
,
Kyle Hendricks
,
Alec Mills
,
Zach Davies
,
Cory Abbott
,
Willson Contreras
,
Jason Heyward
,
Patrick Wisdom