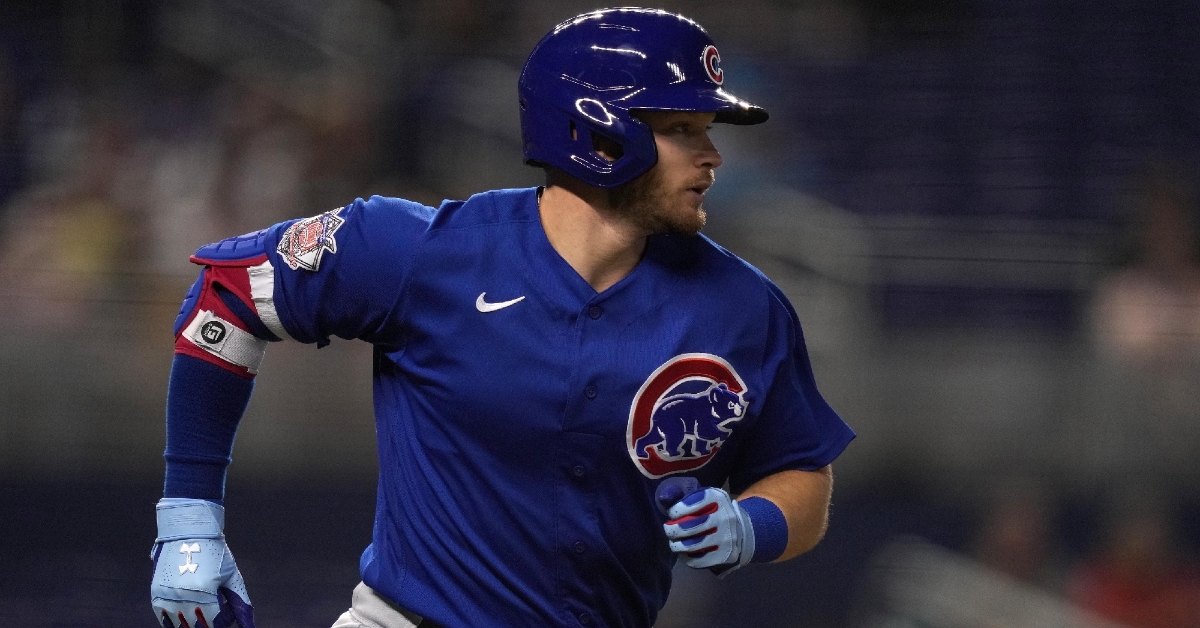 | | |
| --- | --- |
| Takeaways from Cubs loss to Marlins | |
---
It has been rough sailing for the Cubs this season, but it has especially been rough in August, where the team has posted a 1-12 record so far this month. Not only did they have an 11-game losing streak earlier in the season for their longest since 2012, but the Cubs backed that up with another 10-game skid that they are currently on.
This loss was another heartbreaker as the Cubs had to play from behind to grab the lead, only to see it evaporate in the bottom of the eighth inning. Saturday was a fun night on the mound as the battle of Zach's went head-to-head with Zach Davies facing off with Zach Thompson. For the first time in a while, Davies delivered a strong outing as he went six innings, surrendering just four hits. He did allow three runs in the game, but the Cubs committed four errors, so none of those runs were charged to him.
Early on, it proved to be the pitchers duel that no one expected as both pitchers held their opposition quiet through three innings of play. That was until the fourth when Patrick Wisdom came through with an RBI single, giving the Cubs a 1-0 lead. The Cubs made that lead hold up until the sixth inning when their defense did them in.
After retiring the first two batters in that inning, Davies walked Jesus Aguilar for his lone walk of the night before a costly inning-ending error extended the sixth for the Marlins. That error proved extremely costly, with Brian Anderson unloading off Davies for a three-run shot to put the Marlins in front 3-1. It was a tough way for Davies to go out especially given the way he pitched.
Still trailing by a run in the eighth, Austin Romine led things off with an infield single before getting erased on a fielder's choice. With two outs in the inning, Matt Duffy kept the inning alive with a single before Rafael Ortega showed great patience to earn a walk and load the bases. That set the stage for Frank Schwindel as he continues to impress David Ross using a bases-loaded double to give the Cubs a 4-3 lead.
That lead didn't last long for the Cubs as Codi Heuer was called on to pitch the eighth inning. Once again, it was a costly error that set things up as Anderson came through with an RBI fielder's choice to tie things up. One batter later saw Magneuris Sierra cash in with the game-winning single as the Cubs couldn't push a run across in the ninth, falling 5-4.
Schwindel continues to make an impression
The one thing this rough season has given the Cubs was opportunities to players who may not have had them before. Fans have seen Ortega and Wisdom take over full-time roles and run with them, but another new player is turning heads in the dugout. That would be the first basemen Schwindel who continued to make hard contact on Saturday.
Formally of the Oakland Athletics organization, the Cubs were able to pick up Schwindel as a free agent earlier this season and stashed him in AAA Iowa. While with the Cubs, Schwindel got used to playing every day and gave them quality at-bat after quality at-bat while providing plenty of power. With Anthony Rizzo getting dealt to the Yankees, the Cubs needed a 1B to join Wisdom and others, so Schwindel was called up to take the role.
Not only has he been impressive, but with each passing day, he is looking like someone who could handle the 1B duties for at least the short-term next season. The Cubs love what he is doing at the plate right now, and he is no stranger to the big moment right now.
A bases-clearing double for the lead from Schwindel! pic.twitter.com/Azg0FqlFQj

— Chicago Cubs (@Cubs) August 15, 2021
Starting rotation questions loom
It seemed like only yesterday when Ross announced he would be going with a six-man rotation this season. In the week since the Cubs have released Jake Arrieta, and have now seen Adbert Alzolay land on the IL with a hamstring injury. This is not ideal timing for a team struggling to find pitching, and now they have two questions to answer going forward.
Having an off day next Thursday does help for the time being, but this team could be in trouble outside of that. Keegan Thompson continues to be the most talked-about name as he has been getting stretched out in Iowa. Although he may not be as ready as Justin Steele was, the Cubs don't have very many options right now.
To make matters worse, that six-man rotation may be out of the question as they may not feel two AA pitchers are ready to contribute on the big state. Hopefully, the injury to Alzolay is minor, and that he can get back to pitching within the next two weeks. However, as everyone knows, hamstring injuries are always tricky, and there is no set timetable for the duration of the healing process.
Adbert Alzolay injury update https://t.co/2mPuO6Qpba

— CubsHQ.com (@ChicagoCubsHQ) August 14, 2021
A much-needed start from Davies
Saturday was a good night for Davies even though he suffered a no-decision. Not only did his outing end a string of terrible starts for the Cubs, but he also gave the team some much-needed length after taxing the bullpen over the past few days.
After giving up 14 runs on Friday, the Cubs were in a stretch of allowing 10 plus runs in three consecutive games for the first time since 1894, when they did it six times. After watching how Davies pitched his last few outings and knowing he had a rough go of things against the Marlins last time out, it wasn't looking good for him.
Instead, Davies delivered a strong six innings, but it was one of his best outings of the season. He located all four pitches, changed speeds to keep hitters off-balance, and limited almost all hard contact outside that home run. Sure, the defense didn't do him any favors, but at least this was a confidence booster that he can continue to build on heading into September.
This is the best Zach Davies has looked in a while. He's in complete control. #Cubs

— Russell Dorsey (@Russ_Dorsey1) August 14, 2021

Tags: Cubs Baseball
,
Zach Davies
,
Patrick Wisdom
,
Austin Romine
,
Rafael Ortega
,
David Ross
,
Anthony Rizzo
,
Jake Arrieta
,
Adbert Alzolay
,
Keegan Thompson
,
Justin Steele