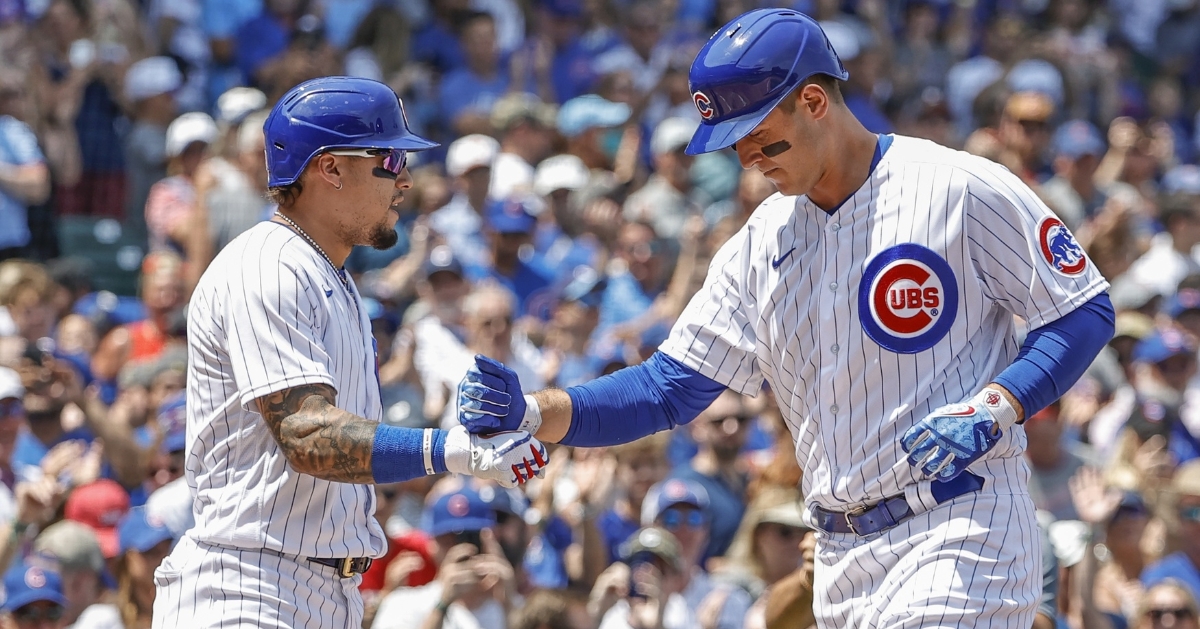 | | |
| --- | --- |
| Takeaways from Cubs win over Diamondbacks | |
---
| | | |
| --- | --- | --- |
| Monday, July 26, 2021, 8:44 AM | | |
In front of another packed house, as most games are on the weekend, the Cubs took on the Diamondbacks looking to not only win the series, but the season series also. Led by Trevor Williams making his second start of the second half, the Cubs also welcomed David Bote back to the lineup.
The addition of Bote may not be significant for the casual fan, but with his addition, the Cubs are at full strength offensively for the first time in roughly two months. Against the southpaw Caleb Smith, the Cubs bats came out swinging as they used a trio of long balls to do their damage. First, it was the Bryzzo connection in the first inning when Kris Bryant took a fastball to left-center field before Anthony Rizzo followed that up to go back-to-back.
Given the uncertainty of both players futures in the next week, fans cherished the moment of those two going back-to-back as it may be the last time that happens during their tenure. It wasn't until the fourth inning when the Cubs got back on the board with Bote unleashing a no-doubter into the left-field seats to put the Cubs in front 5-0.
That was more than enough runs for Williams as he was on cruise control most of the day, getting through six innings for what seems like the first time en route to his fourth win of the season. Arizona made things interesting off Dillon Maples in the ninth, especially after the Andrew Young single, but that was the only run they pushed across as Craig Kimbrel came in to slam the door on his 23rd save for the 5-1 win.
David Bote returns with a bang
Say what you want about Bote and his struggles at the plate, but he is an essential piece to the Cubs offense. Not only does he play a good second base when given the opportunity, but Bote also sees plenty of time at third and some at first, showing his versatility across the infield.
While his 204 average is nothing to get excited about, Bote led the team in RBIs in 2020 and was one of the leaders this season before going down with a separated shoulder earlier in the year. At first, that injury looked like it may end his season as those types of injuries are tricky to diagnose a timetable on. However, Bote was ready to go in sooner than expected and began his rehab assignment right after the all-star break.
Looking back on that trip to Iowa, things didn't go well for him as he collected just one hit in five games, although it was an RBI double. I thought the Cubs would give him a few more games to get his timing right, considering he didn't look too good at the plate. That is why I don't run the organization because the team felt he was ready, and he certainly looks ready.
In just his second at-bat back from the long layoff, Bote got into a Smith fastball and powered it over the left-center field fence for a no-doubter. He now has six homers and 25 RBIs on the season. To go with his homer, Bote also took a walk, and it seems as if he is seeing the ball well. With the emergence of Patrick Wisdom in his absence and the return of Matt Duffy, it will be interesting to see how Bote is used now that he is back.
David Bote - Chicago Cubs (6) pic.twitter.com/GrBZAFYKz1

— MLB HR Videos (@MLBHRVideos) July 25, 2021
Trevor Williams delivers
The 2021 season has been a struggle for Williams, but that hasn't kept him from grinding. Entering Sunday with a 3-2 mark and an ERA over 5.00, Williams went out and put together by far his best start of the season as he won his fourth game of the year. Not only did Williams go 6 1/3 allowing no runs on just five hits, but he struck out six to go with zero walks. That lowered his ERA to 5.09 in the process.
While that type of outing isn't what fans typically see out of Williams, it isn't out of the ordinary, at least at Wrigley Field. Williams has made seven appearances for the season, with six of those being starts in front of the home fans. He has posted a 3-1 record to go with an impressive 3.81 ERA in those starts. Compare that to his dismal starts on the road, and you can see why his ERA is what it is.
The Cubs have quite a few pitchers who fare better at home than on the road, but Williams is the most surprising one of the bunch. Entering this season, Williams had an ERA of 5.40 at Wrigley, spanning five career starts with the Pittsburgh Pirates. Whatever happened from now and then has worked in his favor, and Williams has looked impressive at home.
Had he given the Cubs more consistent starts like this all season, he could have had some trade value which the Cubs could have used to their advantage. Instead, they will look to use him in the back of the rotation the rest of the season and hope he can give them more outings like Sunday.
Trevor Williams lowers his ERA to 5.06.

The underlying numbers have been a bit better: 4.53 FIP, 4.01 xFIP, 9.36 K/9 vs 3.38 BB/9. Victimized by a .343 BABIP (entered .351) and 17.9 HR/FB% (entered 20.0%).

So maybe he'll have better luck (like today) going forward.

— Matt Clapp (@TheBlogfines) July 25, 2021
How hurt is Javy Baez?
The hottest hitter in the Cubs lineup over the better part of the last five weeks has been Javy Baez, and it isn't even close. Not only is his average north of 310 over his last 40 games, but the production is that of his MVP caliber season, which is why he leads the team in most offensive categories.
His .242 average is something the team would love to see higher, but when he was hitting 217 at one point, you can see the turnaround he has made. However, the last two games of the Arizona series were not too kind to Baez, and things got worse as the game went on Sunday. It was in the bottom of the eighth when Baez tried to beat out a ground ball to first.
After getting called out, Baez fell to the ground and appeared in obvious pain. The replayed showed that he did land awkwardly, but he waived the trainers off and stayed in the game despite walking gingerly. Typically, this wouldn't be a big deal considering he does this often, but the David Ross handled questions about him postgame was a little strange.
Typically, Ross has no trouble talking about players who left a game with an injury, but he was very short using one- or two-word answers when it came to Baez. All we know is that it is a lower-body injury, and he would let us know Monday. Maybe that is his way of saying it isn't too severe, and he should be day-day. Maybe there is more to it than that, and Baez is trying to play through something he shouldn't play through anymore.
Regardless, missing Baez for any length of time will hurt this team both offensively and defensively. They need him on the field, and for Cubs fans sake, hopefully, this is just another day-day tweak injury and not something that could linger for weeks.
Javy Baez enjoying time with his family postgame at Wrigley. #Cubs #CubTogether pic.twitter.com/EMIloqbdPW

— MBDChicago (@MBDChicago) July 25, 2021

Tags: Cubs Baseball
,
Trevor Williams
,
David Bote
,
Caleb Smith
,
Kris Bryant
,
Anthony Rizzo
,
Dillon Maples
,
Craig Kimbrel
,
Patrick Wisdom
,
Javy Baez
,
David Ross