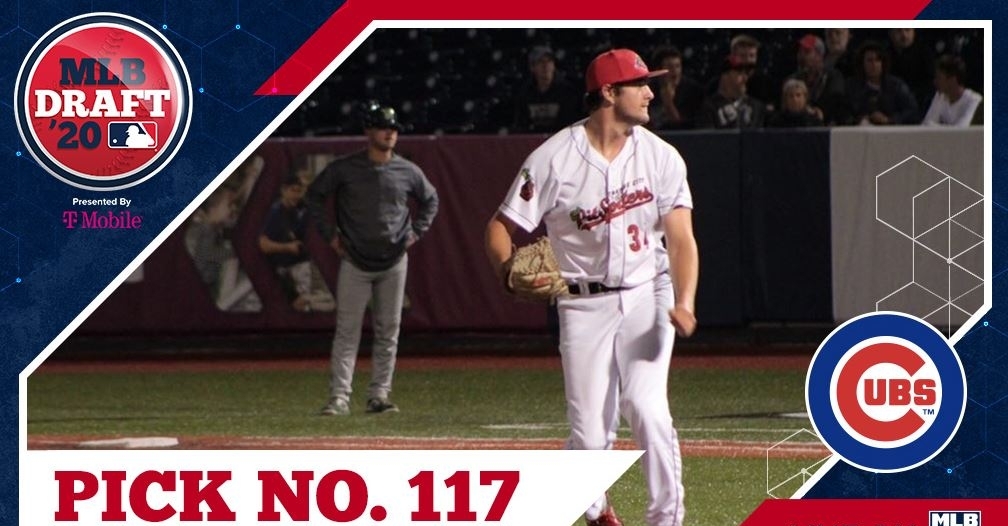 | | |
| --- | --- |
| Three potential breakthru Cubs pitching prospects in 2023 | |
---
| | | |
| --- | --- | --- |
| Monday, December 26, 2022, 8:41 AM | | |
2022 was a struggle for the Chicago Cubs and their fans, but perhaps not as bad as some thought. A big reason for that was their vast improvement during the second half, which saw them not only post a 39-32 record, but also have the third-best ERA in the majors.
While things in the majors didn't go as planned, it was in the minor Leagues where all the excitement happened as three of the four full-season teams made the postseason, with Iowa being the lone team to miss. South Bend went on to win the championship for the second time since 2019. Tennessee fell in the championship, with Myrtle Beach falling in the first round. The future of Cubs baseball is bright, and it is time for the fans to get excited.
Part of the reason there was so much success across the minors last year was the breakout of several prospects like Matt Mervis, Alexander Canario, and Luis Devers. Those are only a few, as the Cubs had several breakout performances, but those will be the most well-known of the group. For the Cubs to continue to ascend toward the top of the National League, they will need the farm system to continue improving, especially on the pitching side of things.
Fans have already seen Caleb Kilian, Javier Assad, Hayden Wesneski, and several others make their major league debuts and perform very well. Still, now it is time for others to start making some noise. The Cubs have plenty of options to lead this team on the mound in the future, and some of them may start establishing that this season.
Here are three pitching prospects poised for a breakout showing in 2023:
Not one of the well-known pitching prospects in the system, Little was a fourth-round draft pick by the Cubs in 2020. Known for his massive 6-9 frame and 105 MPH heater, Little has not reached that level in the Minors, but still sits in the 96-98 MPH range consistently.
After appearing in just 11 innings in 2021, Little showed what he could do in 2022. While pitching for the Myrtle Beach Pelicans, Little not only proved he belonged, but dominated his competition. In 20 games, 19 of which came as starts, Little was used sparingly and only pitched 52 innings.
However, he posted a 2.92 ERA in those innings with 84 strikeouts, which comes out to be 14.4 K/9. His dominating performance earned him the promotion to South Bend late in the season, where he continued to do his thing. Little posted a 2.47 ERA in 2022 with 101 strikeouts in just 65 innings. 2023 will be a massive year for him as we still need to determine his long-term outlook. He could be a starter. He could be a reliever, and 2023 is the year when fans see what his long-term outlook could be.
Another pitcher that many casual fans may not know is Daniel Palenica. However, after the season he had in 2022, this is a name many will soon learn, as he is one of the fastest risers in the system. Acquired from the Oakland A's in the Andrew Chafin deal, Palencia has some of the best stuff in the system and has been touching 99 MPH with his heater while mixing in a nasty breaking pitch.
Palencia made 20 starts this season, but like Little, didn't pitch a ton and threw just 75 innings. His ERA was high at 3.94 but improved as the season progressed. His most impressive showing came late in the season when Palencia pitched 12 scoreless frames across his final three starts. He also struck out 15 in those starts and started to assert himself as a big-time prospect.
With a fastball already touching triple digits, a sharp breaking slider, and a curve that can be a great third pitch, the sky is the limit for Palencia. This is just a 22-year-old right-hander who may start the season in South Bend to get stretched out a bit more, but look for him to be in AA and knock on the AAA door by the seasons end.
When you look at the Cubs top 30 prospect list, many names will change from now until January. One of those names is Porter Hodge, who has snuck into the top 30, but could be on the way up. A 13th-round pick in 2019, Hodge threw a total of eight innings in 2019 and 2020, so his professional career was off to a slow start.
Then came 2022, where the 21-year-old firmly put his name on the map as a legitimate starting pitcher. Across 109 innings with Myrtle Beach and South Bend, Hodge was simply brilliant as he posted a combined 2.63 ERA. However, what stands out the most is that he got better with a higher level posting a 2.01 ERA in 40 innings with South Bend.
His combination of fastball, slider and change-up allowed him to punch out 141 batters which was good for an 11.6 K/9 on the season. Those are awe-inspiring numbers for such a young pitcher, and there is no reason to believe he won't get better each season. While these are only three names, the Cubs have other options to have breakout seasons, as Ben Brown, Caleb Kilian, Jordan Wicks, and DJ Herz all have the potential to break out in 2023.

Tags: Cubs Baseball
,
Alexander Canario
,
Luis Devers
,
Caleb Kilian
,
Javier Assad
,
Hayden Wesneski
,
Luke Little
,
Daniel Palencia
,
Andrew Chafin
,
Porter Hodge
,
Jordan Wicks