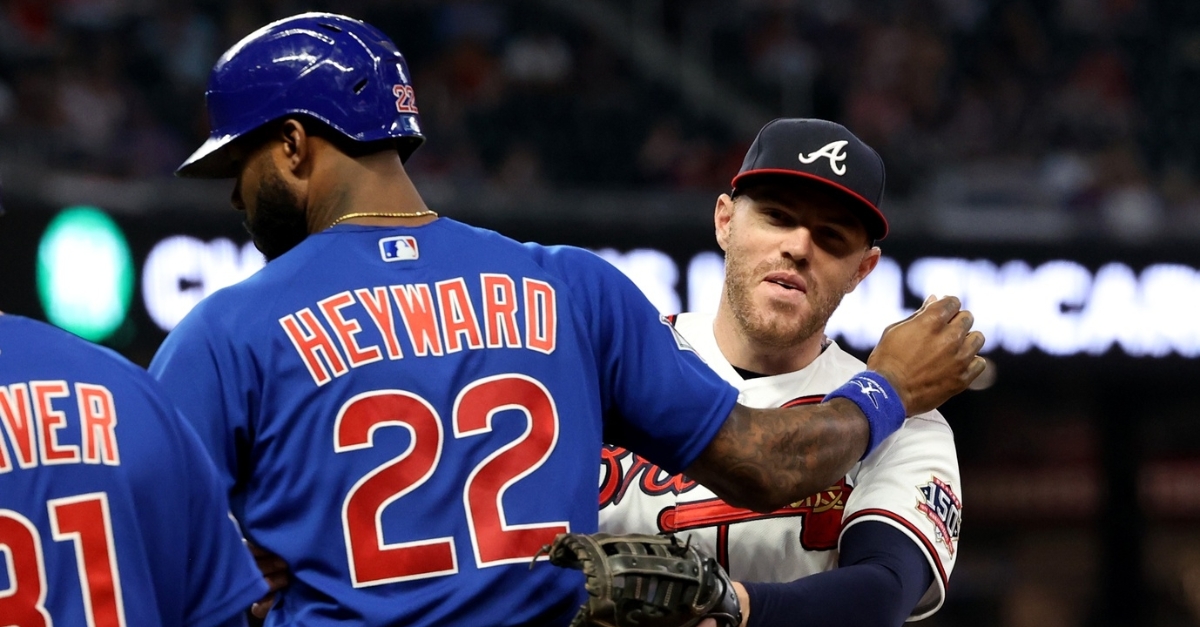 | | |
| --- | --- |
| Three takeaways from Cubs loss to Braves | |
---
| | | |
| --- | --- | --- |
| Wednesday, April 28, 2021, 10:40 AM | | |
Once again, the Cubs received another strong effort from Trevor Williams as he struck out a career-high eight batters in five innings of work. Williams did allow a solo shot to Ronald Acuna Jr in the fifth to go with an Ozzie Albies double in the same inning as those were the only two runs' Williams allowed in his outing.
Unfortunately for him, Ian Anderson was even better as the righty held the Cubs in check allowing just one hit in seven scoreless innings of work to go with eight strikeouts of his own. That 2-0 lead held up until the bottom of the eighth, where Brandon Workman struggled for the second night in a row.
After allowing the game-winning three-run shot to Freddie Freeman on Monday, Workman was hoping for better fate this time around as he looked to keep things close and give the offense a chance. That was not the case as some fatigue appeared to be setting in on Workman as he has now thrown more than 50 pitches the past two games. The end result was a three-run eighth inning where Dansby Swanson, Pablo Sandoval, and Freeman each added RBIs as the Braves took what was a 2-0 lead and turned it into a 5-0 easy win.
4.74 innings per start
Despite another good outing for Williams last night, he was once again pulled after just five innings, as this is becoming all too common for this Cubs team. Only the Pirates starters are averaging fewer innings per start as the Cubs starters average 4.74 innings per start this season. Ironically, three of the five worst starting teams reside in the NL Central, with Cincinnati also checking in on this list.
This has been a concerning trend all season long for everyone not named Jake Arrieta. No matter how good Williams has pitched or the sudden success of Alzolay, the Cubs don't have anyone in the rotation with plus stuff, which is becoming a problem. Not only does that allow teams to foul off pitches and extend at-bats, but the Cubs starters are also racking up higher pitch counts than they would like hence leading to the shorter outings.
If the Cubs want to compete this season, this needs to change as their bullpen is becoming one of the most overworked units in baseball. For the most part, their bullpen has pitched well, entering the series with Atlanta posting a 3.84 ERA. Following the rough outings from Workman this week, that ERA is now over 4.00, but it shouldn't surprise anyone.
The fewer innings the starters throw, the more innings the bullpen will have to make up for. That can work in short spurts, but if this is the way things will go, they will be burned out by midseason. Fans knew the starting rotation would be an issue this season, but I don't think anyone expected Zach Davies to struggle as much as he has to go along with the short starts.
.232 batting average
As bad as the Cubs have been hitting this season, there is some light at the end of the tunnel when you look at the rest of baseball. While the Cubs are still ranked dead last in team batting average, they have brought that average to 206 after hovering around 150 for the first two weeks of the season.
When you look at the rest of the league, only four teams have a team batting average north of 250, with 17 teams coming in under 240. That is a big reason why the league average is just 232 at the plate this season. Say what you want about the Cubs struggles this season, but all five teams in the NL Central are batting under 250, with the Reds as the only ones over 240.
That shows you how tough the pitching has been this season, as they have dominated hitters the first month of the year. Chicago needs to pick things up offensively, but they are not that far off from some of the other teams in their division. Teams like Milwaukee, Oakland, and Atlanta are also hitting under 230, and yet they are either winning their division or at least within striking distance.
The fact that the Cubs are just three games under .500 when you look at how much they have struggled across the board is amazing. I find it very difficult that their offensive struggles are going to be this bad for much longer. You would think they would be breaking out sooner or later, and if that happens, it should be more than enough to make up for the struggling pitching.
Injuries starting to pile up
The Cubs are not going to make excuses for their struggles, but it doesn't help when the injuries are beginning to pile up. Already down Joc Pederson, who is sidelined with a wrist injury, but Austin Romine was added to the IL over the weekend after he, too, is experiencing a wrist injury.
Now throw in Kris Bryant, dealing with a sore Bicep, and Javy Baez with hamstring tightness, and the Cubs are dropping like flies. The good news regarding Bryant is that his injury doesn't seem too serious, and he should be back in the lineup today. On the other hand, Baez is a big question mark as the Cubs need to make a decision on him.
As much as they want to keep him day to day, he has now gone two games without playing and is in danger of missing a third game tonight. That leaves the Cubs technically down a man as they haven't put him on the IL. With Nico Hoerner up and playing well, the Cubs may elect to put Baez on the IL and backdate it three days.
In the process, look for Ilderamo Vargas to get called up to give the Cubs another infielder to help out in the middle. Peterson also remains a concern as there is no timetable as to when he will be back. If he passes the tests this weekend, look for him to land in Iowa for a couple of games to get his timing back down.
After that, the Cubs will face a significant question mark regarding keeping Hoerner up when Pederson comes back or sending him down. The answer should be a no-brainer, and Hoerner should indeed stay up, forcing the Cubs to send someone down.

Tags: Cubs Baseball
,
Trevor Williams
,
Brandon Workman
,
Jake Arrieta
,
Zach Davies
,
Joc Pederson
,
Austin Romine
,
Kris Bryant
,
Javy Baez
,
,
Ian Happ