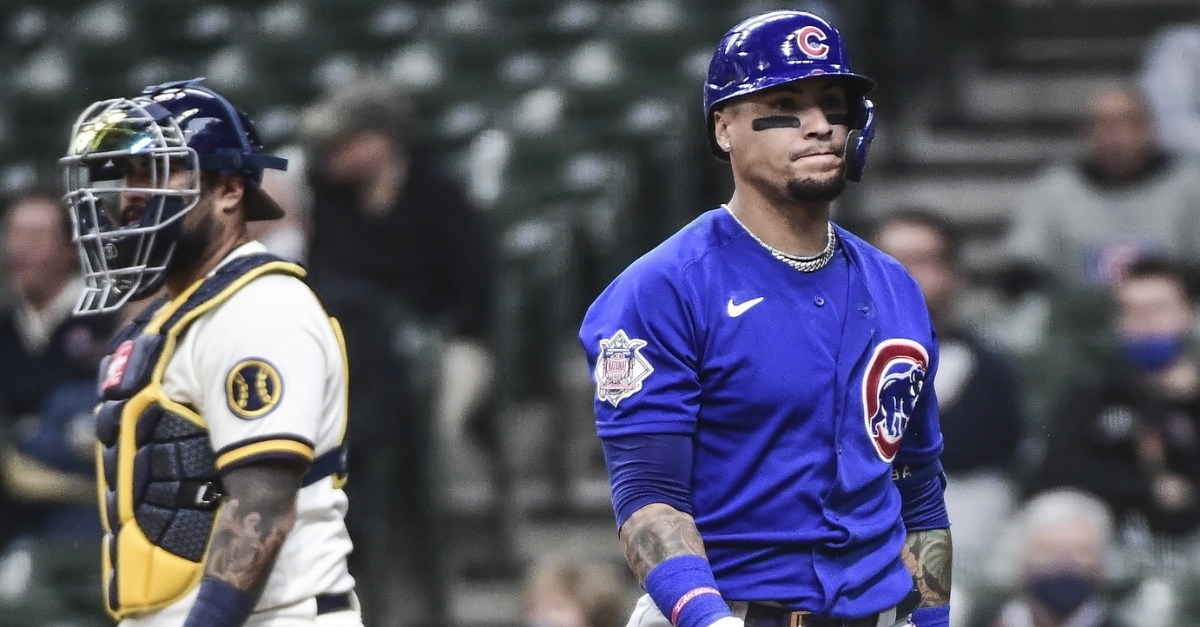 | | |
| --- | --- |
| Three takeaways from Cubs loss to Brewers | |
---
When you can't consistently hit, can't move runners over, or drive them with less than two outs, and when you give up four or more runs in an inning for the fourth time in six games, you're asking for a recipe of failure. That has been the case for the Cubs lately, as frankly, this team is running out of answers.
Hoping that Jake Arrieta could improve to 3-0 on the season, he was victimized by a shaky first inning, and a pair of Travis Shaw RBI hits the second one a home run. That would be all the Brewers needed as Corbin Burnes was simply brilliant on the hill. In six innings, Burnes not only gave up just two hits but zero earned runs while striking out 10 batters. He also went another start without walking a single hitter and now has 0BB to go with 30K this season.
Chicago knew runs were going to be hard to come by against Burnes but falling behind 3-0 made things that much tougher. To make matters worse, any chance of a comeback went by the wayside when Shelby Miller couldn't throw strikes in the sixth, leading to a four-run Brewer inning. Burnes was part of that inning when he delivered a two-RBI single.
All in all, it made for an easy 7-0 Milwaukee win as the Cubs now head home with a 5-7 record.
Give credit where credit is due
They always say that good pitching will beat good hitting, and the Brewers have great pitching. That all starts at the top, where Brandon Woodruff and Burnes make up one of the best 1-2 punches in the game. Not only are both big young right-handers, but they are flame throwers who possess exceptional command and limit the opposition to very few chances.
To beat them, you need to jump on them early, and the Cubs never got many chances at doing that. The one chance they had against Burnes came in the second when they had runners on second and third with one out. In Chicago Cubs fashion, they left both men stranded as their hitting woes continue.
In particular, Burnes must give credit to, especially when you look at how he has started the season. Everyone knew he had the potential to be great, but his command always seemed to be the issue. Not only has he ironed out his command, but he has yet to walk a batter this season and now has 30 strikeouts in just 17 innings of work. That comes out to nearly two per inning, which is ridiculous.
Milwaukee gets a lot of flack for not being a big-time player in free agency. They may not spend, but they do know how to draft and develop pitching. Cubs' fans would kill to have one of those hurlers from Milwaukee anchoring their rotation.
Brewers RHPs Brandon Woodruff and Corbin Burnes have a combined 2.35 ERA with 228 strikeouts in 168.2 innings since the start of last season.

Needless to say, we're looking at one of the top rotation duos in baseball right now.

— Kyle Glaser (@KyleAGlaser) April 14, 2021
The Shelby Miller experiment hasn't worked out
After an impressive spring training that left many people surprised to see him optioned to South Bend, Shelby Miller returned to a pitching mound on Wednesday for the first time in nearly three years. It was the deadline day for his opt-out clause in his contract, meaning had he not been called up, he could have left.
Given the Cubs have two off days in the next week, they don't need a number five starter for a while, hence bringing up Miller and sending down Adbert Alzolay. After the spring Miller put together, many people expected him to be an essential piece on this team capable of delivering big-time innings.
While that still may be the case, his season debut was a disaster as Miller couldn't throw strikes. Not only was he charged with four earned runs on two hits, but he also had three walks to go along with no strikeouts. He threw 23 total pitches, with only seven being strikes. Obviously, he was nervous about getting on the mound again, but that was not good.
A nightmare outing for Shelby Miller, who was in the Brewers organization last season but pitches for the Cubs now. Single, single, four-pitch walk, seven-pitch walk, four-pitch walk. Two runs in, no outs and Miller's day is done.

— Adam McCalvy (@AdamMcCalvy) April 14, 2021
A much-needed day off
The Cubs have already had two days off this season but are coming off a putrid 2-4 road trip against Pittsburgh and Milwaukee. Next on the docket is a nine-game homestand against Atlanta, New York, and Milwaukee as the competition is starting to pick up. Looking at how bad the offense performed over the past week, this off day couldn't have come at a more perfect time as the Cubs have a chance to rest, recover and reset.
Add in the off-day on Monday, and you have a team that will now have two off days over the next five as they search for any signs of life. Another thing that can come from this is the overall health of this team, as they have several players down with COVID-related protocol issues. Jason Adam returned to the roster on Wednesday, but Matt Duffy, Brandon Workman, and Dan Winkler remain out to go with coaches Craig Driver and Chris Young.
With Kyle Hendricks feeling ill on Tuesday and getting scratched from his start, he too has some extended time off, hoping to be ready to go Sunday when the rotation rounds back to him. Overall, this team needs a jolt of life, and typically that comes when new players arrive on a roster. Maybe this off-day will give them a chance to do the soul searching they need because they are looking anywhere close to the team on the field last year.