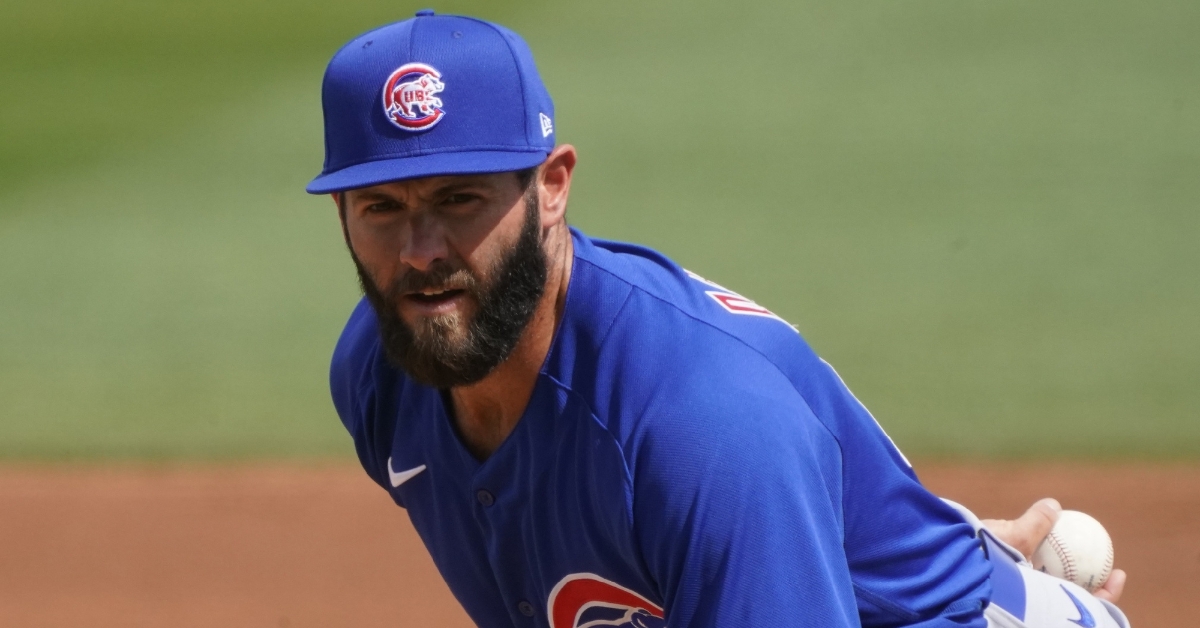 | | |
| --- | --- |
| Three takeaways from Cubs loss to Diamondbacks | |
---
After starting Spring Training 3-0-1, the Cubs have now dropped two of their last three as the first week of games comes to a close. The latter of those two losses came on Sunday when the Cubs fell 5-4 to Arizona in what happened to be a rare nine-inning game.
From Jake Arrieta's first start with the Cubs since 2017 to a couple of core players continuing their excellent starts to the Spring, there was certainly a lot to like about the performance despite dropping to 4-2-1 on the Spring.
Arrieta got to ball for his first start of the Spring returning to the Cubs for the first time since 2017. This is Arrieta's home, and despite not being the same pitcher he was four years ago, this will still be a huge sign. In his two innings of work, Arrieta didn't allow a run while walking one and giving up zero hits. He was greeted by some early run support in the top of the first when Willson Contreras took one 408 feet the opposite way for his first homer of the Spring.
Anthony Rizzo kept the party going in the top of the third with his second homer of the season as the Cubs lead grew to 3-0. Making his second appearance of the Spring, Adbert Alzolay entered in relief, and this was not the outing he was hoping for. After a strong showing his first time out, Alzolay was tagged for five earned runs in just 1 1/3 inning work, including allowing three runs in the third before the inning was called. Steven Vogt put the Diamondbacks up for good in the bottom of the fourth as he took Alzolay deep to left for the 5-3 lead.
The combination of Tommy Nance, Brandon Workman, Andrew Chafin, Jason Adam, and Robert Stock were impressive over the final four innings of work. Not only did they only allow three hits, but they stuck out a total of six hitters without allowing a run. Workman and Chafin, in particular, were strong, striking out five hitters in their two innings of work to give the Cubs a chance to come back.
Looking for a late-game rally, Jose Lobaton set the Cubs offense up a one-out double in the top of the seventh. After Michael Hermosillo was hit by a pitch to put runners on first and second, P.J. Higgins pulled the Cubs within 5-4 with an RBI single. Unfortunately, Higgins was thrown out trying to stretch that single into a double, killing the Cubs rally. The Cubs had another golden opportunity in the eighth when Ian Miller and Patrick Wisdom reached base with no one out. An Andy Weber double play ended the treat, and the Cubs offense went quietly the rest of the day.
Chicago will be back on the field tomorrow when they host the Texas Rangers at Sloan Park. Game time is scheduled for 2:05 PM.
Jake Arrieta back in Chicago makes sense
Whether you want to like the Jake Arrieta signing or not, you must admit seeing him in Chicago feels right. After the run he put together from 2014-17, seeing him leave for Philadelphia was a gut punch and certainly hurt to see him go. Luckily, the Cubs dodged a bit of a bullet as Arrieta was never healthy with Philadelphia, and the results were not pretty.
Now on a one-year deal with a second-year option, Arrieta hopes to give the Cubs at least somewhat of a decent season while adding a veteran presence. No one is asking him to produce at the level he did when he was the best pitcher in the national league, but anything close to what he did in 2014 or 2017, for that matter, will be a huge surprise. Plus, he is a great teammate to be around.
Two scoreless innings today from Jake! pic.twitter.com/N6ETvzQfFI

— Marquee Sports Network (@WatchMarquee) March 7, 2021
Brandon Workman's curveball is lethal
When the Cubs signed Brandon Workman a few weeks ago, they did so with the hopes of him returning to 2019 form. For him to do that, his curveball must continue to be his out pitch. Unlike most high-leverage relievers, Workman is not a hard thrower sitting mostly in the 92 MPH range.
A big reason for his success is a lethal curveball that happens to be one of the best pitches in the game when on. Sunday, that curveball was on full display as the high spin rate mixed with devastating sink made life tough for the Arizona hitters. If this curveball continues to be what he knows it can be, the Cubs made an excellent decision for a bullpen piece.
Ian Miller needs to make this team
Last season, Ian Miller was having a great spring and would have been in line to make the opening day roster had COVID not happened. This season, Miller is in a similar spot as he is not only fighting for the fourth outfield spot but fighting to be the 26th man on this roster.
He is the fastest player in camp, and it isn't even close. Every time he is on the bases, he is a threat to steal and can change the game with his legs, especially in the late innings. Speed is undoubtedly something the Cubs have lacked in recent seasons, and they hadn't had a late-game difference-maker since Terrance Gore in 2017. People may argue that Billy Hamilton was a game-changer last season, but Miller needs to be given a shot to make a difference.
What a catch from Ian Miller! ?? pic.twitter.com/fZKij1erDE

— Cubs Zone ™? (@CubsZone) March 7, 2021

Tags: Cubs Baseball
,
Jake Arrieta
,
Willson Contreras
,
Anthony Rizzo
,
Adbert Alzolay
,
Brandon Workman
,
Andrew Chafin
,
Jason Adam
,
Robert Stock
,
Michael Hermosillo
,
Ian Miller
,
Patrick Wisdom
,
Andy Weber