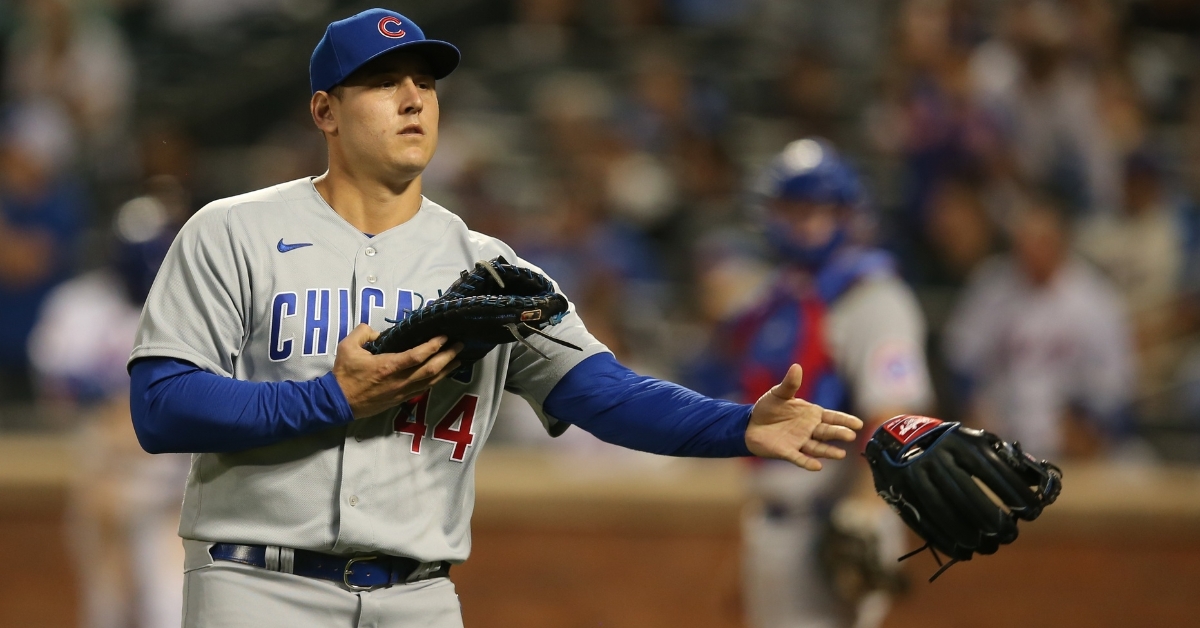 | | |
| --- | --- |
| Three takeaways from Cubs loss to Mets | |
---
I know it is only one series, but this series looks all too familiar to the 2015 NLCS when the Mets dominated the Cubs. Add in their four-game set at San Francisco two weeks ago, and this team is starting to resemble the 2019 Cubs team that couldn't figure out how to win away from home.
While this season's team is way better than 2019, their road woes are a bit concerning, but they continue to play well enough to maintain their lead in the NL Central. Against the best pitcher on the planet in Jacob DeGrom last night, the Cubs elected to go with hard-throwing Robert Stock as they needed a starter.
DeGrom was as good as advertised, pitching three perfect innings before leaving with right shoulder soreness. That left the door open for the Cubs to take advantage, but Stock didn't allow that to happen. In his four innings of work, Stock was all over the place, walking six hitters compared to just three strikeouts as he threw nearly as many balls as strikes.
Stock was also charged with five earned runs, giving up a Kevin Pillar RBI double and DeGrom RBI single in the fourth, before Dominic Smith touched him up for a solo shot in the third to push the Mets lead to 3-0. An Anthony Rizzo solo shot in the third got the Cubs on the board and closed the gap to 3-1, but that would be as close as the Cubs would get.
The Mets would score two more runs off Stock in the fourth, using a Francisco Lindor bases-loaded walk and Smith RBI groundout to take a 5-1 lead. That lead grew to 6-1 when Pillar jumped all over a Cory Abbott off-speed pitch for the solo shot putting the Cubs offense in panic mode again. Although they were down five heading to the ninth, the team certainly didn't quit as Rafael Ortega connected for a two-run shot, but that would be it as the Cubs fell 6-3.
DeGrom is the early MVP of the National League
There hasn't been too many cases where an MVP has come from a starting pitcher, but that could change this season. Depending on the severity of the DeGrom injury, I truly believe you are looking at the MVP of the National League this season. This man is simply not human at this point and is on another planet.
His average fastball sits around 98.7, and he has thrown more than 150 pitches above the 100 MPH range. Keep in mind he is 32 years old and only continues to get better. Not to mention that after three perfect innings in which he struck out seven straight and eight on nine, DeGrom has now thrown 27 consecutive scoreless innings as his ERA stands at 0.52 for the season.
That is the lowest ERA in MLB history through a pitcher's first 11 starts, topping Bob Gibson's old mark of 0.67. While those numbers are impressive, look at what DeGrom has done at the plate. Through 11 starts this season, DeGrom has given up four earned runs, with two of those coming in one start. That means across 10 starts, he has allowed two earned runs.
When it comes to hitting, he is one of the best, if not the best, hitting pitchers in the game as he connected for an RBI single last night driving in his sixth run. That's right, DeGrom has driven in six runs at the plate, two more than he's allowed on the mound. I don't care if he pitches once every five days. DeGrom is not built like the rest. He is the MVP of the National League right now and could be the first National League pitcher to win that award in a long time.
Jacob deGrom has a 0.54 ERA, 0.79 FIP, 0.51 WHIP, 111 strikeouts, eight walk, and a 719 ERA+ thru 67 innings of work

oh, and he's also 11-for-26 at the plate (.423) with a double and 6 RBIs

????

— Tim Ryder (@TimothyRRyder) June 17, 2021
Too many three true outcome results
A big reason for the decline in production in baseball has been the three true outcomes. Players don't focus on batting average anymore as home runs, walks, and strikeouts are the main contributing factors of the game. While every team lives and dies by the true outcome result, the Cubs have demonstrated that far too much this series.
Following their two homers last night, all seven of their runs have come off five home runs. Hitting home runs is great, but you won't win too many games if that is all you do. A pitching staff that has been, for the most part, good this season, the Cubs have walked 24 hitters in this series averaging eight per game. That is going to be a recipe for disaster as extra baserunners are never a good thing.
Finally, the third and most likely true outcome is the strikeouts, and the Cubs have that covered. Through three games this series, the Cubs have surpassed 40 strikeouts at the plate. Give the Mets some credit as they do have one of the best pitching staffs in baseball, but the team hasn't looked good at the plate this entire series. Hopefully, this is just one series where they can throw it out and move on to the next.
Things are tightening up in the NL Central
Following their sweep against the Cardinals over the weekend, the NL Central was led by Chicago and Milwaukee as they opened a nice five-game lead. However, in the days since, things have gotten a bit more interesting as the division is tightening up yet again.
To go with the Cubs three straight losses, you have a Brewer team who also lost three straight getting swept at home by the Reds. Cincinnati has now won six consecutive games and are sitting in third, just 2.5 games out. The Cardinals have also picked up the slack this week, taking it to the Miami Marlins to move within three games.
Fans knew this division would be competitive this season, but it may be a little bit better than some realize. Chicago has been fortunate enough to be sitting near the top for a while, but the season is far from over. This will be a four-team race the rest of the way, with the winner emerging some time in the final few weeks of the season. Whoever gets hot that last month will take this division.
#Reds pick up three games in the NL Central standings in three days. pic.twitter.com/Pr4MvhPKhY

— Bobby Nightengale (@nightengalejr) June 17, 2021