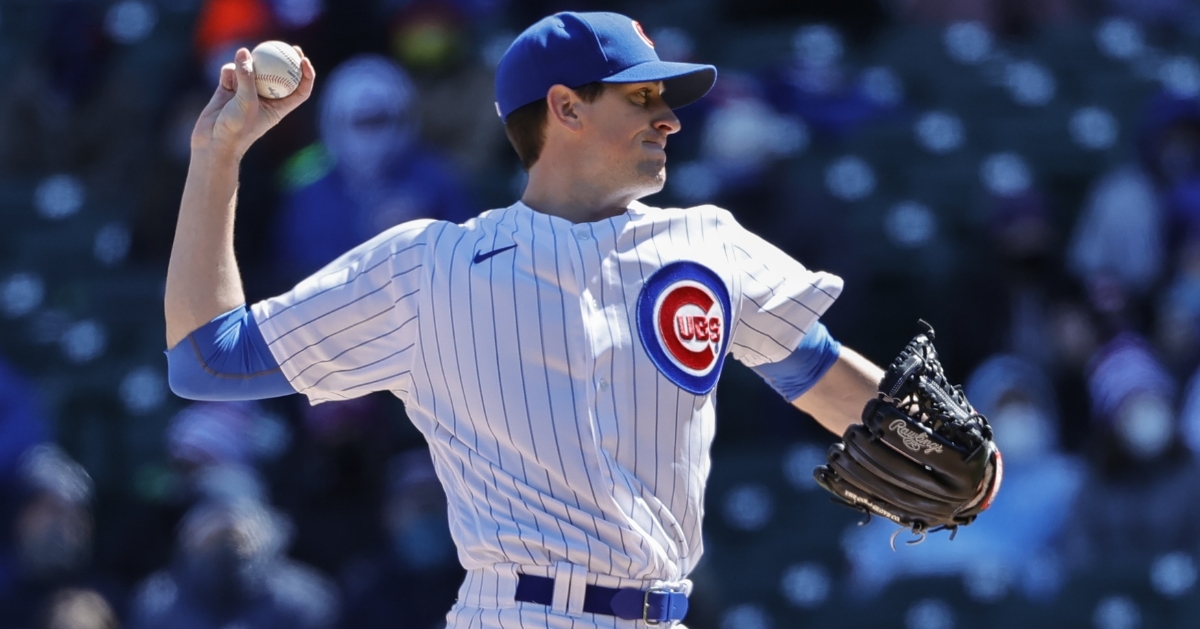 | | |
| --- | --- |
| Three Takeaways from Cubs loss to Pittsburgh | |
---
| | | |
| --- | --- | --- |
| Friday, April 2, 2021, 8:05 AM | | |
At long last, Opening Day 2021 arrived as the Cubs took to Wrigley Field to host the Pittsburgh Pirates. Unlike last season, there were finally fans in the seats as nearly 11000 fans were in attendance for the Thursday afternoons contest.
Coming off the spring the Cubs had, there was a lot of optimism, and given the team the Cubs were facing, many felt this was one of those series in which Chicago could get off to a great start. Instead, the Cubs mustered just two hits, and three sacrifice flies off Chad Kuhl and company as a rare rough outing from Kyle Hendricks paved the way for a 5-3 defeat.
Kyle Hendricks' struggles continue from spring
Hendricks certainly has turned back the clock since arriving on the MLB stage going against the grain in terms of MLB pitching today. Known as a league that has seen fastball velocity top 95 MPH plus across the board, Hendricks gets by using a fastball that barely touches 87 to go along with pristine command to look like this generation's version of Greg Maddux.
Not only has Hendricks continued to improve every season, but he has been the most consistent starter for the Cubs over the past three seasons, which has earned him consecutive opening-day starts. As good as he has been, the month of March and April hasn't been too kind to him as that has been his worst month as a pitcher.
For his career, Hendricks ERA is 3.12. However, his ERA in March and April sits around 4.66, which shows you how good he is once the calendar flips to May. As tough as it is to believe his struggles, Hendricks is also coming off a spring in which his ERA nearly hit 7.00. Something seemed off with him all spring, and that continued to Opening Day.
Yes, the weather did play a significant factor in it as the windchill was sitting around 34 degrees, but Hendricks was uncharacteristically wild walking three batters in three innings. He also threw 20 plus pitches in every inning, which led to a very short outing. As the ace of the Cubs staff, he needs to get better, and it will be interesting to see how he pitches next game.
The Professor: Kyle Hendricks ??

(??: @WatchMarquee) #Cubs pic.twitter.com/3SP5ld5Q5n

— Cubz Zone ™? (@CubsZone) April 1, 2021
Where was this version of Duane Underwood in Chicago?
When the Cubs drafted Underwood, which seems like centuries ago, they had visions of him not only becoming a pivotal piece to the Cubs rotation but someone who could potentially be a middle-of-the-rotation arm or possibly even future ace. You can see why the Cubs had all the confidence in the world with him when you look at his stuff.
His fastball sat around 93-94 but could touch 96 to go with a fading changeup and hammer curve that only continued to get better with age. His command was also his most significant issue as he struggled to 26-38 with a 4.45 ERA as a starter across his minor league career. Without wanting to let him go, the Cubs tried to bank on his stuff and moved him to the bullpen, where he compiled a 3.07 ERA across 21 minor league relief appearances as it seemed found the perfect role.
Once he moved out of the rotation, his command improved, and the Cubs started to see why they felt so highly about him. Once he was given a shot to be in the major league bullpen full-time, Underwood never seemed to find the stuff again as his command once again was spotty at best, and he was serving up hard contact.
There was always the occasional outing where he flashed how good he could be, but that was few and far between as the Cubs elected to part ways with him before spring training. Now a part of the Pirates pen, Underwood not only got into the game in the fourth inning but dominated the Cubs in the process striking out the side. It left Cubs fans scratching their heads and wondering where that was when he was on the north side.
New year, same offensive problems
I know it is only one game, but through one game, the Cubs same issues that have plagued them for years show up again. Not only did they struggle to hit the ball, picking one hit each from Anthony Rizzo and Eric Sogard, but they struck out 13 times as a team compared to just four walks. Six of those strikeouts came from Javier Baez and Jason Heyward, who each had three.
However, the Cubs pick up three sacrifice flies in the game, which was something they had a hard time doing last year. However, three sacrifice flies or not, two hits will not get it done, and something needs to change much earlier this season than last. When you watched this team all spring, not only were they taking walks and striking out less, but they were making solid contact across the board.
Whatever approach they had in Mesa completely went away on Thursday, and the team was exposed once again for who they have been the past three years. Chicago knows the importance of a fast start, but if the core players don't pick it up this season, it will be a long year.
David Ross:

"Just kind of a crappy game.

"Hopefully, we learned some lessons today and we'll try to be better."#Cubs

— Gordon Wittenmyer (@GDubCub) April 1, 2021