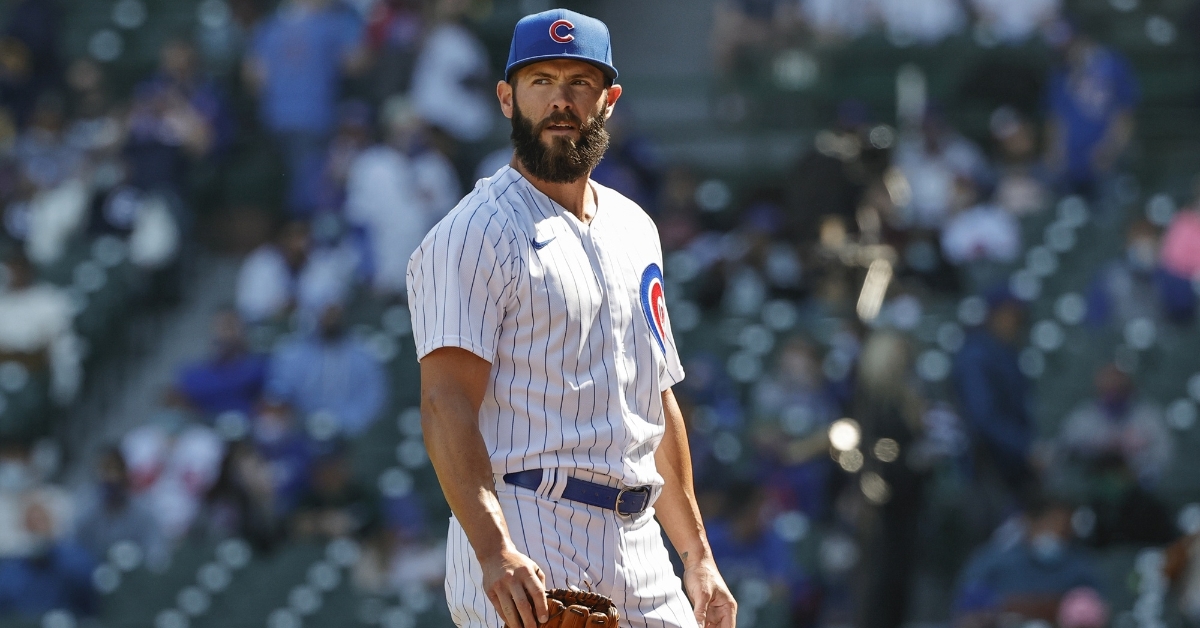 | | |
| --- | --- |
| Three takeaways from Cubs win over Pirates | |
---
| | | |
| --- | --- | --- |
| Sunday, April 4, 2021, 8:22 AM | | |
Following an opening day loss, the Cubs had an off-day Friday before returning to the field on Saturday. What a difference a day made as the Cubs went from near below freezing wind chill temps on Thursday to mid-'60s and Sunny on Saturday.
That nicer weather seemed to provide a big lift for the team, as did Jake Arrieta returning to the Wrigley Field mound as a member of the Cubs. In his six innings, he allowed just one run on six hits as Kris Bryant and Jason Heyward backed him with a pair of solo shots, and the Cubs picked up the 5-1 win.
Home Sweet Home for Jake
When Jake Arrieta left the Cubs following the 2017 season to sign with Philadelphia, it was a gaping hole that never quite got filled. Arrieta also saw his career take a hit in Philadelphia as injuries and overall inconsistency were a huge issue.
After hitting the open market again this past offseason, the Cubs made Arrieta an offer he couldn't refuse as he returned to the North Side. This was a fitting homecoming for someone who meant so much to this franchise for the better part of five years, and the fans let him know by giving him a standing ovation when he took the mound.
Arrieta then went on to show his appreciation for the fans by putting together a strong six-inning start to earn the win in his return to the Cubs. Arrieta allowed just one run on six hits while striking out five and walking one. This wasn't a typical overpowering start from him, but he still dominated on the mound as he continues to reinvent himself on the mound.
Entering the game, Arrieta has posted a 2.24 ERA on the Wrigley Field mound, by far the best of anyone in this rotation. There is just something about Wrigley that brings out the best in him, and it was another home-sweet home outing for him in the mound that he has pitched so well on.
In five seasons with the #Cubs, @JArrieta34 compiled a 2.73 ERA over 128 starts. He threw two no-hitters, won a Cy Young award and a World Series ring.

Three years, seven months and five days between starts, Jake returned to pick up his 69th career win in a Cubs uniform. pic.twitter.com/XeiCi0pjDy

— Chicago Cubs (@Cubs) April 3, 2021
No one would argue that Kimbrel has struggled since coming to the Cubs. The potential future hall of Famer was signed midway through the 2019 season with the hopes he could lock down a revolving ninth inning door that was never filled since both Aroldis Chapman and Wade Davis left.
Although there have been some great showings by Kimbrel, he has been a shell of himself for the better part of his two years with the Cubs, and his once sure-fire hall of fame resume took a hit. After posting a very impressive September down the stretch last season, Kimbrel ran into more struggles this spring before eventually settling down once again.
Hoping his mechanics were where they needed to be, Kimbrel entered the game in the ninth inning Saturday in what was a non-save situation. Not only did he deliver an exclamation point by striking out the side, but he may have pitched his best outing of relief since joining the Cubs.
Craig Kimbrel strikes out the side looking to end the game.

This is the first game in Kimbrel's career where he recorded 3 taken strikeouts.#CubTogether

— Inside Edge (@IE_MLB) April 3, 2021
His fastball may not be the 98-100 anymore, but Kimbrel was consistently in the 96-97 range while showing more movement than in past seasons. Not only that, but he was locating on both sides of the plate, painting the corners with that heater. That set things up for his knuckle-curve, which was equally as lethal if not more.
Not only was he getting more break on that pitch than in seasons before, but he was locating it and hitting the spots that he wanted to hit. In essence, he looked like the Kimbrel of old and looked like the guy the Cubs wanted to pay all that money to. Hopefully, this is a sign of things to come as a top-notch Kimbrel would be incredible for the pen.
Craig Kimbrel PAINTING pic.twitter.com/AHQ4tSJ7lp

— Cubs Insider (@realcubsinsider) April 3, 2021
Kris Bryant, Javy Baez, and Jason Heyward are on the board
After a rough showing on Thursday by these three hitters, all three of them responded in a big way Saturday and played a pivotal role in the Cubs victory.
It was Bryant hitting the first homer of the season for the Cubs as he desperately needs to get back to MVP form if he wants a huge long-term deal.
#KBoom!@BinnysBev pic.twitter.com/7ZvgOZAQKu

— Chicago Cubs (@Cubs) April 3, 2021
Heyward was coming off perhaps his best season as a Cub last year and looks to be in good form this season. Not only did he pick up a second-inning single, but he crushed a solo shot of his own to pad the Cubs' lead and looked very comfortable at the plate following a three-punchout day.
Jason Heyward - Chicago Cubs (1) pic.twitter.com/RiTNsSlyuv

— MLB HR Videos (@MLBHRVideos) April 3, 2021
Speaking of three punchouts, Baez also had an 0-4 three strikeout day on Thursday only to respond in a big way. He, too, had a second-inning single before stealing a pair of bases to set up the Cubs' first run of the day. He then came up later in the game and delivered a rare two-strike RBI single to push home the Cubs' fifth and final run of the game.
Javy yourself a day! pic.twitter.com/oA65tmgI4d

— Marquee Sports Network (@WatchMarquee) April 3, 2021
These types of performances need to happen more often for the Cubs to get back to their consistent winning ways.