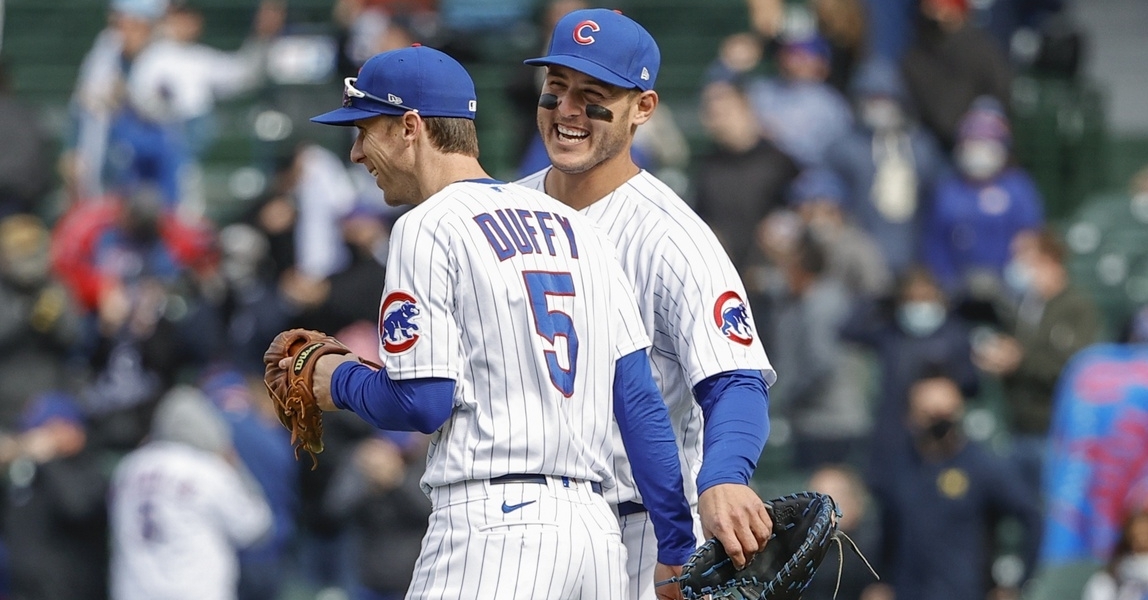 | | |
| --- | --- |
| Three takeaways from Cubs win over Pirates | |
---
| | | |
| --- | --- | --- |
| Saturday, May 8, 2021, 8:44 AM | | |
It was a cold and windy afternoon at Wrigley Field as the Cubs welcomed the Pittsburgh Pirates to town to finish off the homestand. With Trevor Cahill and Zach Davies facing off on the mound, the Cubs provided Davies with some early offense, and the bullpen held on for the 3-2 win. The win not only moves the Cubs back to .500, but it ensures them a winning homestand in the process.
With Joc Pederson now filling handling the leadoff role while Ian Happ is on the mend, he was right in the middle of the early offense leading the bottom of the first off with an opposite-field single. After advancing to third on a pair of groundouts, Anthony Rizzo lofted one to right field only to have Phillip Evans drop the ball for the run-scoring error and 1-0 Cubs lead.
Pederson was just getting started as, once again, he played a massive role in the Cubs early offense. A one-out David Bote single in the second paid dividends as Davies moved him over to second with a bunt. Pederson then followed that up with a sharp single to right extending the Cubs lead to 2-0. A pair of third-inning singles by Rizzo and Javy Baez, Matt Duffy pushed the Cubs lead to 3-0 with a sacrifice fly.
Although the Cubs offense stalled for the rest of the game, that 3-0 lead was able to hold up as the Cubs withstood a ninth-inning Pirates rally to secure the 3-2 win. Rex Brothers earned his first save of the season.
A much-needed win for Davies
After having a stretch of five less than appealing starts, Davies finally got back into the win column, taking care of the Pirates once again. Ironically, both Davies victories have come against Pittsburgh, and both have come at Wrigley, where he has allowed just two earned runs in 12 2/3 innings.
His seven-inning out of no-run ball was not only his longest outing of the season but his best start of the year. His command was better, and he pitched to contact as he walked one and struck out two. He didn't need to strike anyone out as the weather conditions played into his favor.
With the wind blowing in at 20 MPH off the lake, Davies knew that today was a day where he could get away with more than he typically could. He capitalized on that opportunity by pitching to contact and letting the defense do the work for him. Hopefully, this is a sign of things to come in his upcoming starts.
Zach Davies is the third @Cubs pitcher since 1996 to go 7+ IP, allow 0 ER and have only 1 K.

(Lester '18, Wells '09) pic.twitter.com/EMzPc1UZDH

— Marquee Sports Network (@WatchMarquee) May 7, 2021
Pederson looks much better
After posting one of the best springs in a long time, Pederson has struggled out the gate, and his spring performance has long been forgotten. After recently coming off the IL, one has to wonder if the wrist was bothering him a bit longer than he led us to realize. The bottom line is, since coming off the IL, Pederson looks much better, and the results are showing.
Not only is he catching up to the fastballs that he was missing before, but he is driving the ball the other way and making better contact. Timing is everything in baseball, and if you are dealing with a wrist injury, it can throw off your timing. Pederson is starting to get that timing back, and that could be huge for the Cubs.
Not to mention, he has taken over the leadoff role with Happ on the IL and looks comfortable in that role. Pederson has some experience in that role in the past, so it is nothing new for him. His ability to hit for power and take walks make him an intriguing leadoff option. Should his recent production continue, it will be interesting to see if David Ross leaves him there.
Three hits for Joc Pederson this afternoon pic.twitter.com/7E8MIGyoMd

— Cubs Insider (@realcubsinsider) May 7, 2021
With a 3-0 lead entering the ninth inning, fans expected to see their stopper Kimbrel take the mound. Instead, the fans were treated to the combination of Ryan Tepera and Brothers as the duo almost blew it. Tepera was certainly the rockier of the two, but Brothers also gave up a hit to keep the inning going. Fortunately, he was able to recover and prevent further damage.
Whenever Kimbrel isn't in there for a save situation, it is always concerning, especially when he hasn't pitched a ton in recent days. However, the Cubs also had a day off yesterday, so it wasn't as if he was fatigued. Ross insists that Kimbrel was just getting the day off, but this team has three off days in the next seven days, so it's confusing why he needed one today.
The Cubs got a glimpse of what could happen if their stopper goes down today. He has had his struggles, but he has been near lights out all season. He is their best option in the ninth, and the Cubs almost found out the hard way they need him more than they realize.
#Cubs David Ross says Craig Kimbrel was "just down" today and that not having Kimbrel in the ninth was not injury related.

He also said he expects Kimbrel to be available tomorrow.

Ross did acknowledge that the bullpen was "short" today, which is odd coming out of an off day.

— Jordan Horrobin (@JordanHorrobin) May 7, 2021

Tags: Cubs Baseball
,
Trevor Cahill
,
Zach Davies
,
Joc Pederson
,
Ian Happ
,
Anthony Rizzo
,
Phillip Evans
,
David Bote
,
Javy Baez
,
Rex Brothers
,
David Ross
,
Craig Kimbrel
,
Ryan Tepera