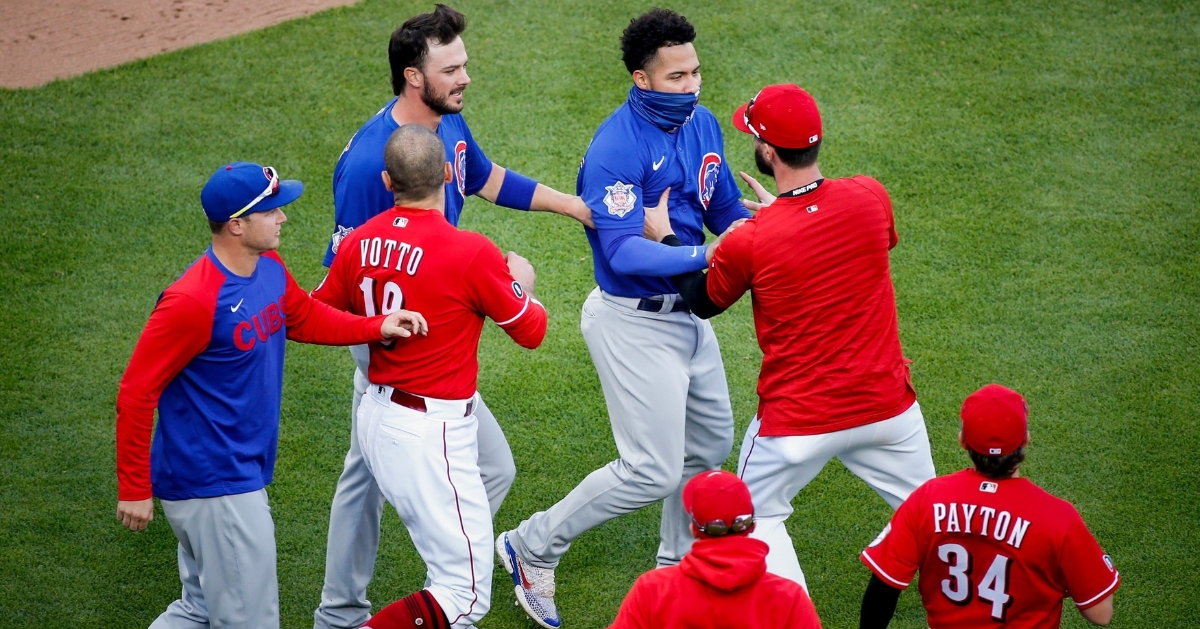 | | |
| --- | --- |
| Three takeaways from Cubs win over Reds | |
---
Hoping to start a new month with a win, the Cubs turned to Zach Davies on the hill as he, too, was hoping May could bring him better fortunes. Davies has been prone to allowing big innings in recent outings, especially in the first, as that tends to be his toughest inning to get through.
That was once again the case on Saturday as the Reds raced out to a 2-0 lead courtesy of a Nicholas Castellanos infield single and Mike Moustakas sacrifice fly. Fortunately, Davies held the Reds there as Chicago had a tall task in topping Luis Castillo. Davies once again pitched in and out of trouble all start long failing to reach the fifth yet again. However, with only two earned runs allowed, it was at the very least a step in the right direction.
After Castillo held the Cubs scoreless through two innings, Davies took it upon himself to drop down a sacrifice bunt which brought home Nico Hoerner from third to make things 2-1. A fourth-inning RBI single from Jason Heyward tied things up 2-2 and got Davies off the hook for another losing start. With the Cubs bullpen being asked to deliver five innings of relief, they answered the bell allowing no earned runs on just two hits to go with no walks and eight strikeouts. Both those hits came off Craig Kimbrel in the ninth.
Hoerner had a great day at the plate, going a perfect 3-3 to go with a walk as he reached base all four times. His third hit in the sixth was the biggest one of them all as he drove in Javy Baez to give the Cubs the lead for good at 3-2. Going back to Kimbrel, who allowed the first two men to reach in the ninth. He then settled down to record a pair of strikeouts before inducing a game-ending grounder as the Cubs picked up a well-played 3-2 win.
A big moment for Kimbrel
So far this season, Kimbrel has been perfect in both the save side of things and his ability to keep teams off the board. Saturday was as close as he had come to ending that streak after both Tyler Stephenson and Tucker Barnhardt led off the inning with singles before he retired the next three hitters.
This was a big moment for Kimbrel for various reasons, but we will start with the first. Over the last week, Kimbrel hasn't been used a lot as the Cubs haven't won many games. Given his lack of in-game action, his command wasn't as sharp as he would like it to be, but he got the job done, which is all that matters.
The biggest reason why this was so important is the history Kimbrel has had on the Great American Mound. Going back to 2019, when he debuted with the Cubs, Kimbrel has struggled in Cincinnati, pitching to an ERA north of 9.00. It is the highest ERA he has at any park in his career. A big reason for his issues here have been the lack of command which wasn't a problem on Saturday. Hopefully, this is a confidence booster for Kimbrel to realize he is finally back.
Craig Kimbrel got out of 1st/3rd, no out jam in the 9th today...according to @tangotiger RE table the probability of scoring at least once in that out/base state is 84.9% since 2004. @Cubs

— Jon Sciambi (@BoogSciambi) May 2, 2021
What a ninth. pic.twitter.com/lYRyMjF3ov

— Marquee Sports Network (@WatchMarquee) May 2, 2021
Cubs showing off the wheels
The art of the stolen base has long gone away in the game of baseball, but the Cubs have really gone away from it. Not much of a base-stealing team under Joe Maddon, the Cubs ranked 27th or worse in the league in each of his seasons as that was never part of their game. Fast forward to David Ross, and that is becoming a bit more popular, especially this season.
Following their series with the Braves, the Cubs entered Saturday's game ranked sixth in MLB in stolen bases. They then added three more on Sunday, with the final one leading to the go-ahead run. This something that fans would love to see more as the recent steals are leading to more runs.
Stolen bases are all part of a small-ball approach that the Cubs are starting to use much more. Given the offensive struggles they had in the last week, the Cubs have ditched the home run ball and have now been counting on singles while doing the little things to get wins. Stolen bases fall into that category, and the Cubs have been swiping a lot of bags. This small ball approach is working for this lineup, and maybe Ross will be willing to stick with it a bit longer.
Stolen Base Team Leaders
1. San Diego Padres - 35
2. Kansas City Royals - 22
3. Oakland Athletics - 20
T-4. Chicago Cubs - 19
T-4. Texas Rangers - 19

we're in a class of our own

— Justin (@j_murray19) May 2, 2021
In the middle of the game Friday, Willson Contreras was lifted for Tony Wolters as he experienced some inner thigh tightness. Saturday, Contreras was out of the lineup as Ross is taking a cautious approach with him given his history of Hamstring problems.
While it doesn't appear to be too serious at the moment, it is something to keep an eye on as Tony Wolters will take over the starting catcher duties for the time being. With Austin Romine on the IL nursing a sore wrist, the Cubs will be shorthanded if Contreras is sidelined longer than expected.
If that is the case, Ross will have to decide if he needs to bring up another catcher like P.J. Higgins or Jose Lobaton or decide if Romine would be ready to come back. Either way, fans shouldn't worry at this point as the injury doesn't appear to be too serious, but instead, the Cubs are taking the cautious approach they should.
David Ross says Willson Contreras is feeling better. Just some soreness, but they got positive feedback. Says PJ Higgins is up on the taxi squad if they have an emergency situation. #Cubs

— Russell Dorsey (@Russ_Dorsey1) May 1, 2021