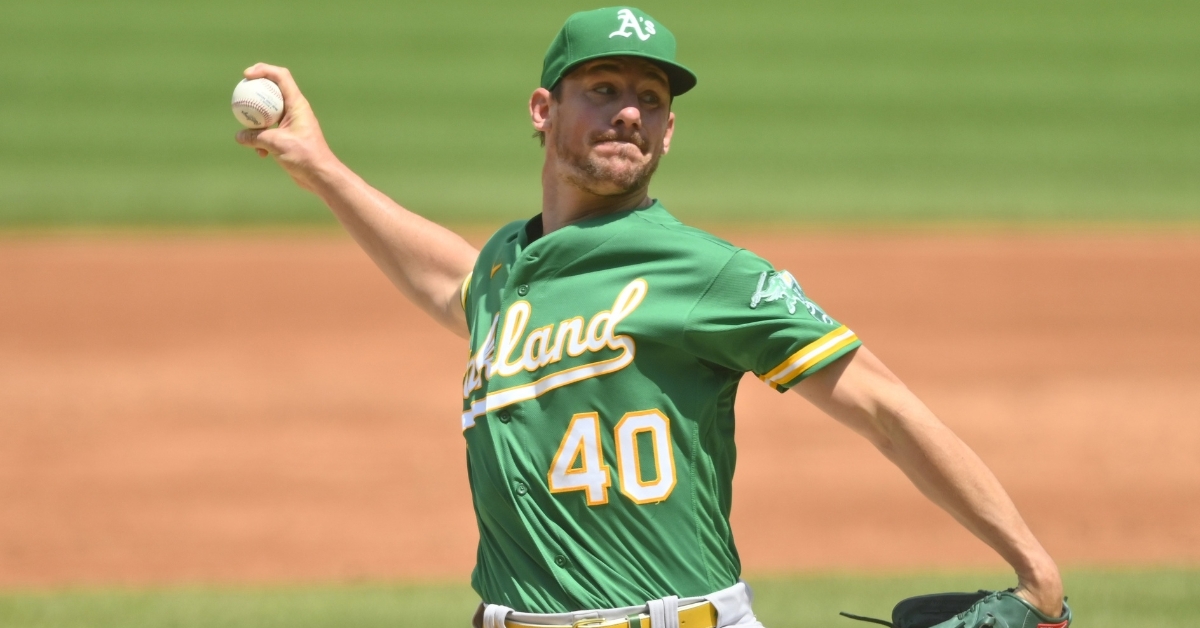 | | |
| --- | --- |
| Three trade options for Cubs involving the A's | |
---
The Cubs have done a lot of wheeling and dealing the past decade, but one team they have a ton of history with is the Oakland Athletics and Billy Beane. You can go back to 2014 when the Cubs traded Jason Hammel and Jeff Samardzija to Oakland in exchange for Addison Russell and Billy McKinney.
Four years later and the two teams were at it again with a bit of an under-the-radar move that sent Tony Kemp to Oakland in exchange for Alfonso Rivas. That looks like a good move now as Rivas could be in the Cubs plans for first base as early as this season. This year, these teams also got together when the Cubs sent Andrew Chafin their way for Greg Deichmann, another player who could be in their plans this season.
Needless to say, these two teams have had several successful trades, but there could be more coming this offseason. With the Cubs entering a transition period where they are figuring out if they will be rebuilding or not. They are adamant that this will not be a complete rebuild, but that is yet to be seen. On the other hand, Oakland is entering unfamiliar territory as they will be looking for a new manager for the first time in over a decade.
Bob Melvin shocked the world when he elected to part ways with Oakland and joined the San Diego Padres. Now it looks like Oakland is willing to make trades to trim payroll and get something for some of the players they have. The Cubs seem like the perfect match for Oakland as the Athletics have one thing the Cubs desperately need: pitching.
I am not just talking about any pitching, but Oakland has starting pitching with three starters, all under the age of 33 and capable of making a massive difference for any organization. As far as the Cubs go, we have already seen them pluck Wade Miley off of waivers and pick up their option, but more work is to be done. This team desperately needs pitching in the worse way, but other holes need to be filled.
The Cubs have plenty of money to spend this offseason, and I am sure some will be spent on pitching. The question is how much, and to what extent as they need to also round out their offense with the funds given. Knowing this, and knowing some of the players they could have, the Cubs may elect to go to the trade route for starting pitching, and Oakland has three options the Cubs would love to have.
Chris Bassitt
The oldest of the Oakland starters, Bassitt is coming off a phenomenal 2021 and continues to impress. The 32-year-old right-hander has been in the league since 2014, but didn't establish himself as a reliable starter until 2019, when he went 10-5 with a 3.81 ERA across 25 starts. One year later saw him make 11 starts going 5-2 with an outstanding 2.29 ERA before winning a career-high 12 games this season, going 12-4 with a 3.14 ERA.
For his career, Bassitt has gone 31-25 while posting a 3.47 ERA. He has been the ace of the A's staff and has fit in the middle of the rotation, which could be an option for the Cubs. Bassitt isn't going to blow you away as his fastball tends to sit around 92, but his change-up and curveball keep hitters off balance. Not to mention he has excellent command and would come at the cheapest cost, and he looks like an ideal fit for the Cubs.
Sean Manaea
One thing the Cubs lacked last season was left-handed pitching, and the 29-year old Manaea could give them just that. Since coming into the league in 2016, Manaea has been a reliable starter posting a 50-41 mark with a 3.86 ERA. Although not ace material, he is undoubtedly a middle-of-the-rotation lefty that any rotation would benefit from having.
Manaea hasn't won more than 12 games at any point in his career, tallying 12 wins in 2017 and 18. This season, he came close, going 11-10 with a 3.91 ERA while walking 41 hitters to a career-high 194 punchouts. Take away his rough 2020, and Manaea was coming off a great start to his 2019 season, going 4-0 across five starts with a 1.21 ERA.
Again, not a flame thrower, Manaea tends to sit in the 93-94 MPH range with his fastball, but has plenty more than that to give. He mixes that with a great breaking ball that is tough to hit. While the record wasn't overly impressive last season, his strikeout numbers were as he started to become the strikeout pitcher the A's hoped for. It will take some bargaining for the Cubs to trade for him, but perhaps not as much as you would think.
Frankie Montas
The most intriguing name on the list, and perhaps the most difficult one to acquire, would be Frankie Montas. The youngest of the group at 28 years old, Montas also has the best stuff in the rotation, which is why he has been the team's ace for the better part of the last three seasons. Armed with a 97 MPH heater, Montas has no trouble going after anyone striking out more than 200 hitters in 187 innings this season.
Montas didn't become a starter until 2018, and failed to start more than 16 games in his first three seasons. Despite that, he posted a 17-11 mark with an ERA in the 3.7 range. Then comes 2021, where Montas was not only the ace of the A's staff, but he started 32 games, winning a career-high 13. For the season, Montas went 13-9, but his 3.37 ERA was the lowest since posting a 2.63 in 2019.
That showed that he not only was durable enough to last an entire season, but he is starting to figure things out as a pitcher. When it comes to a team like the Cubs who need not only young starting pitching, but hard throwers, Montas makes a ton of sense. The only problem would be the asking price as the Cubs can't afford to deplete their system again.
The Cubs will be aggressive in their attempt to improve their starting pitching, whether through free agency or trades. The Free agent market seems to make the most sense, but so does trading with the A's. Both teams have identified their direction and needs and know what it takes to stay on track. Don't be surprised to see these teams talk a ton this offseason.