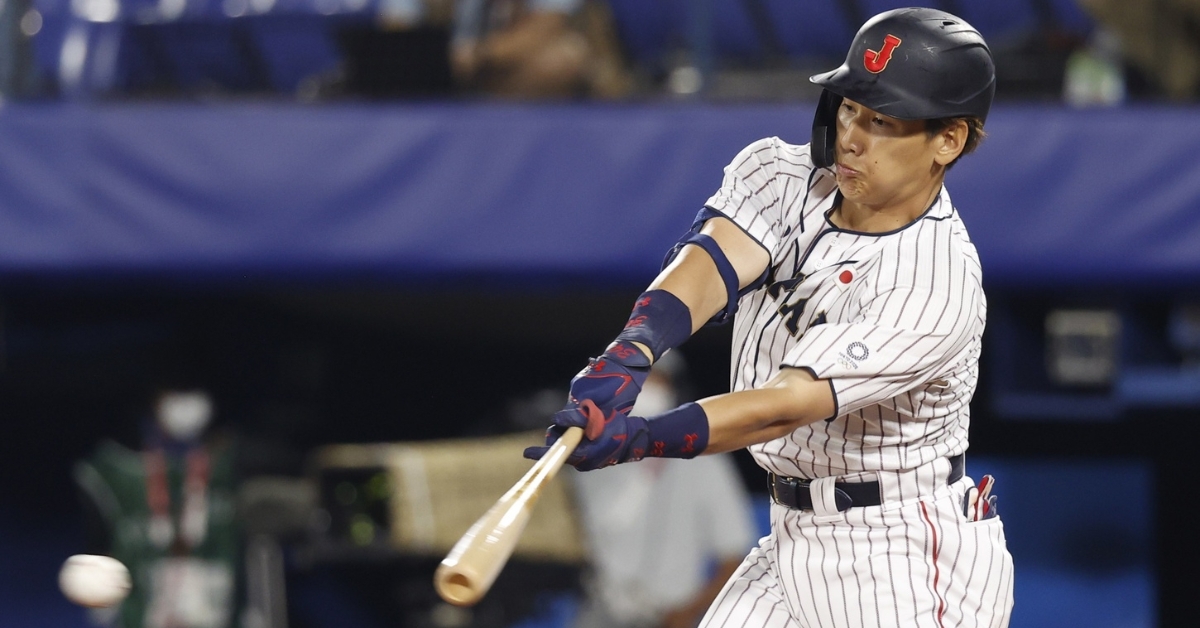 | | |
| --- | --- |
| Top Japanese outfielder could be targeted by Cubs | |
---
With the free agency period officially underway, expect things to be very hectic over the coming months as plenty of free agents are available. The Cubs are not only expected to be aggressive, but they appear to have a list of names they want, which may see them trying to sign a few of these players sooner rather than later.
Should that happen, you could see them take a step back for a little while to let the dust settle before going back into the market to make something happen. Although most of the top free agents have already been made available, one pending free agent has yet to officially become a free agent, but he could within the next two weeks.
That player happens to be stud Japanese outfielder Masataka Yoshida as he will be looking to take his talents to the states. The Cubs are no stranger to the NPB market as they signed Seiya Suzuki last season to a five-year deal and now appear to be one of the favorites, if not the favorite, to land Kodai Senga this offseason. Add the Kosuke Fukudome deal from years ago, and the Cubs have had luck and success on their side when making NPB deals.
Should Yoshida become available, the Cubs may become interested as he brings a lot to the table. While Senga and the flame-throwing Shuntaro Fujinami are the two names posted right now, the 28-year-old Yoshida could jump to the top of the list should he become available for various reasons.
First, you are looking at the two-time batting champion while playing with the Orix Buffaloes as this dude can flat-out hit. Yoshida put together a slash line of .336/449/.559, which are just gaudy numbers for the season. This was also the second straight season he hit .336 while hitting an eye-popping .351 the year before.
Add in an OBP that hasn't dipped below .400 since his rookie season, and you have a star in the making if he can adjust to the American game. His high average and high on-base percentage will be a terrific addition to any team, but he also brings some pop as he's hit 20+ homers and 20+ doubles in the same season four times in basically five full and two partial seasons.
Looking at his career lines which started as a rookie in 2016, Yoshida has hit .326 for his career while adding 135 homers and 474 RBIs. Speed is not a big element to his game, as he has just 21 steals in 31 attempts, but he more than makes up for it with his eye at the plate.
To get an OBP like the one he has, you have to be able to put the ball in play while having a terrific eye. Yoshida does both, as he has 427 walks compared to 307 strikeouts so far. Expect the strikeout numbers to go up in the majors, but his walk rate should remain constant, which is good.
With Suzuki locking down right field and Ian Happ's future in question beyond this season, the Cubs may be looking for corner outfield help until their prospects are ready. Yoshida may play in the outfield as a righty, but when he stands in that batter's box, he is one of the most feared lefties in the game.
Adding left-handed bats is something the Cubs want to do this offseason, but with Yoshida playing a corner outfield spot, he may not be a target for the Cubs. Unless Happ is traded and or Yoshida is willing to move to CF, this might be a case of kicking the tires to see what can be done instead of fully being interested in him.
Even if the Cubs are not interested in him, or he chooses to sign elsewhere, his signing will drastically alter the outfield market, which could play into the Cubs hands. If he gets picked up by someone else, that opens the door for the Cubs to land Brandon Nimmo or Kevin Kiermeier as short-term CF options until Brennen Davis is ready to go.
According to Jon Morosi, the Yankees appear to be the most connected to Yoshida, but that could change once he is posted. I expect a much bigger bidding war for Yoshida than Senga, which will drastically impact how the free agent market unfolds for outfielders this season.