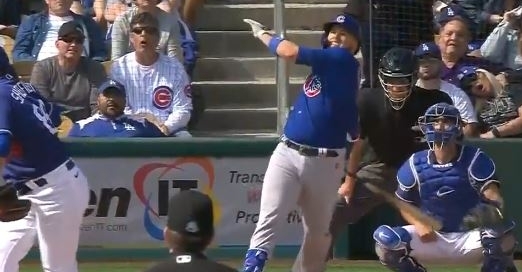 | | |
| --- | --- |
| Victor Caratini impressive in loss to Dodgers | |
---
The Cubs got off to a great start for spring, hammering the A's for nine runs in eight innings of offense. Chicago's pitching stood firm through the first group that David Ross tried, a good sign for a questionable bullpen.
This afternoon, the Cubs traveled to Camelback Ranch, to battle with the Dodgers. As expected, David Ross trotted out a completely different lineup this afternoon, Centered around Tyler Chatwood. This time it consisted of Ian Happ (CF), Kyle Schwarber (LF), Victor Caratini (C), Hernan Perez (3B), Josh Phegley (DH), Daniel Descalso (2B), Nico Hoerner (SS), Noel Cuevas (RF) and Corban Joseph (1B). For the record, Rossy is still out with the flu.
LHP Alex Wood would get the start for Los Angeles.
Chatwood on spring debut pic.twitter.com/4q36VviE5m

— Mark Gonzales (@MDGonzales) February 23, 2020
All eyes were on Chatty as he competed for the coveted fifth spot in Chicago's rotation, but inquiring minds couldn't help but pay attention to Hoerner, Perez, and Cuevas as they fought to secure a place on the 26-man roster. To no one's surprise, a new cast of pitchers also dotted the landscape.
This game would look quite a bit different than yesterday's, as the Cubs exhibited less offense while exposing some possible pitching weaknesses.
T-1 After a Happ flyout and Schwarber strikeout, the Caratini gave the Cubs a chance with a hard double to center that just missed going over the wall. Caratini would take third on a wild pitch, but Perez would fan to end the threat.
B-1 Chatwood came out struggling a bit with control, throwing three-straight balls to start the frame; he'd recover to get Betts on a flyout to center. With one down, Chatwood would end up in a jam after Seager singled. Turner hit a soft line drive to first, but Joseph muffed the play, interfering with Seager in the process. Chatty would next get a groundball to turn a 6-4-3 to end the frame. (13 pitches) Game tied 0-0.
T-2 Kenley Jansen pitched the second, quickly retiring Phegley (K), Descalso (FO-7), and Hoerner (K) in order.
B-2 Colin Rea would take the ball in the second for the Cubs. He'd allow a one-out single but would escape harm on 12 pitches total. Still scoreless.
T-3 Cubs go down in order on three ground balls. (Cuevas, Joseph, Happ).
B-3 Colin Rea would get another inning, and he made the most of it, sending LA down in order on a foul-out to Caratini, FO-9, and FO-9 (Raley, Betts, Seager). Total 16 pitches this inning. Score: 0-0.
T-4 With one away in the fourth, Victor Caratini – batting left-handed during this at-bat - would deliver a bomb to right, giving the Cubs a 1-0 lead, but that's all they'd get.
Victor Caratini bringing the power. pic.twitter.com/s761wo4Mss

— Marquee Sports Network (@WatchMarquee) February 23, 2020
B-4 Newcomer, Trevor Megill would handle the fourth for the Cubs, beginning with a walk to Turner that would cost the Cubs. Turner would take second on a drop-third strike, then come around to score, courtesy of two wild pitches. Game tied 1-1.
T-5 Descalso lined out to center to start the frame, but it should be noted that he's making really hard contact to all fields. Hoerner would ground out, followed by Cuevas, who struck out to end the frame.
B-5 Ben Taylor gets the ball, quickly giving up the lead on a pair of singles and a sac-fly by Betts. Total 12 pitches. Cubs trail 2-1.
T-6 Ian Happ would get his first knock of the day, with a one-out single to left. Kyle Schwarber would hit into a 6-4-3 double play to end the frame.
B-6 Wyatt Short would get his chance to shine in the sixth. After inducing two flyouts, Short would walk a man before retiring the side with a strikeout. Dodgers still lead 2-1. Ian Miller (who replaced Happ in CF) would save it with a diving grab.
T-7 Miguel Amaya (replacing Caratini), Hernan Perez, and Jhonny Pereda (replacing Phegley as DH) go down in order. GO-6, GO-4, GO-6).
B-7 Caleb Simpson on the mound for Chicago. Showing some control problems, he'd get a K, then walk a man, then repeat. With two on and two out, Simpson would plunk a batter while already down 3-1 in the count. With the bases jammed, Cubs bench coach Andy Green pulled Simpson, replacing him with RHP Scott Effross.
Effross would get jammed up on a bloop single to shallow center, netting the Dodgers their third and fourth runs. He'd get a flyout to center to end the damage. Cubs trail 4-1.
T-8 Andy Green would go back to the well with more substitutions, positioning Carlos Asuaje (2B) to lead off the inning. Asuaje would fan, as would Zack Short, before Robel Garcia (RF) singled sharply to right-center, followed by Jared Young (1B), who singled to left. Ian Miller would come through, hitting a line-drive single to center, scoring Garcia. Jared Young fanned to end the rally. Cubs trail 4-2.
B-8 Righty Oscar De La Cruz would struggle some, issuing a one-out walk and then giving up a single, but he'd work his way out of it with a pair of Ks. Total of 21 pitches.
T-9 Down to their few last chances, Amaya would lead off the inning with a flyout to right. PJ Higgins (3B) would pop out to second, then Jhonny Pereda would draw a walk. Carlos Asuaje would ground out to end it.
Final score: Cubs-2; Dodgers-4.
Cubs: 6 for 32 (Team average .188); 1 for 3 (.333) with RISP.
Next Game: Tomorrow; 2:10 PM Central: Cubs @ Mariners, from Peoria Stadium.
Final: Dodgers 4, Cubs 2.

Victor Caratini: 2-for-2, HR, 2B pic.twitter.com/qn9VzTwry3

— Chicago Cubs (@Cubs) February 23, 2020
Dodgers 4, Cubs 2. Caratini hits HR for Cubs, Betts hits sac fly in Dodger spring debut. Tommy makes cameo appearance. pic.twitter.com/0lvUdUh90U

— Mark Gonzales (@MDGonzales) February 23, 2020
#Cubs catchers continue to bring the lumber this Spring. pic.twitter.com/J82VQ8zYVa

— Cubs Talk (@NBCSCubs) February 23, 2020

Tags: Cubs Baseball
,
David Ross
,
Tyler Chatwood
,
,
Kyle Schwarber
,
Victor Caratini
,
Hernan Perez
,
Daniel Descalso
,
,
Noel Cuevas
,
Corban Joseph
,
Colin Rea
,
Trevor Megill
,
Wyatt Short
,
Ian Miller
,
Miguel Amaya
,
Jhonny Pereda
,
Scott Effross
,
Carlos Asuaje
,
Robel Garcia
,
Jared Young
,
Oscar De La Cruz