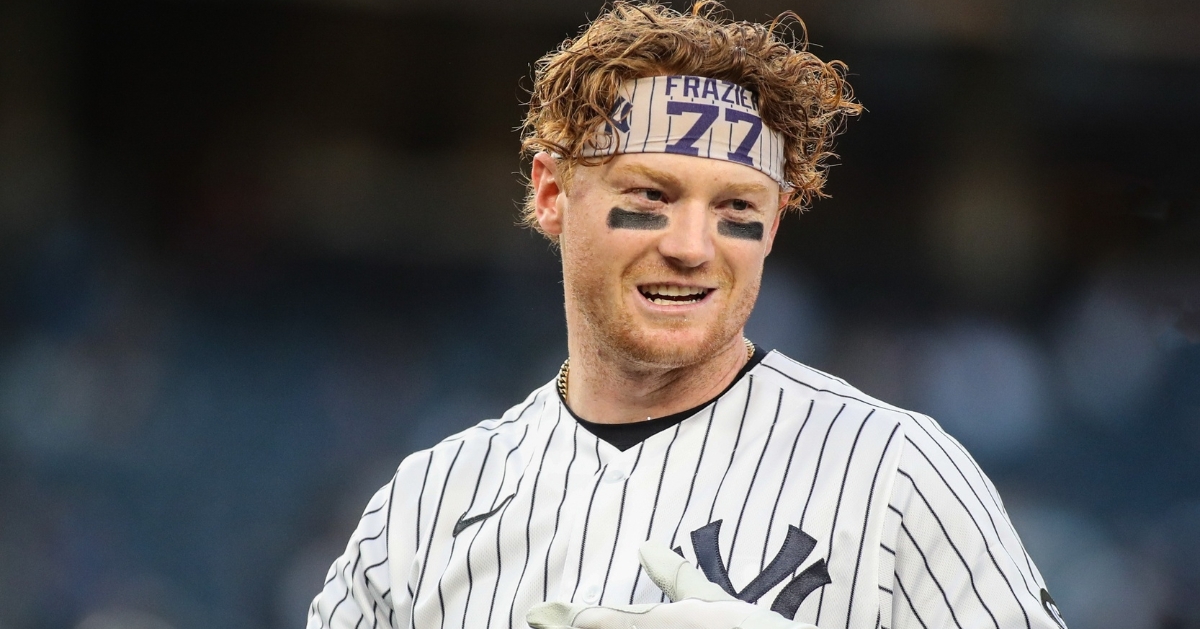 | | |
| --- | --- |
| What does Clint Frazier bring to Cubs? | |
---
| | | |
| --- | --- | --- |
| Thursday, December 2, 2021, 6:00 PM | | |
After listening to Jed Hoyer's end of the year press conference for the team's plans for the winter, most fans expected them to be one of the more aggressive teams on the market. After trading away several vital pieces and having lots more money to work with, being an aggressive team made sense because this team has a lot of holes to fill.
However, as fans have seen so far, the Cubs may have money, but it appears they want to take a passive approach and spend smartly, not foolishly. Add the possibility of a lockout within the next 24 hours, and it is clear the Cubs don't want to put all their ducks in a row until at least knowing the status of the next CBA.
Just because the Cubs haven't been breaking the bank as some of these other teams have, doesn't mean they haven't done anything. They added Wade Miley a few weeks ago to stabilize the middle of the rotation and traded for Harold Ramirez last week to give the Cubs some much-needed outfield depth.
With the rest of the MLB landscape emptying their pockets to try and get ahead of a possible work stoppage, the Cubs have finally started to get in on the fun by adding a pair of players on Tuesday. Neither one is that standout signing fans are hoping for, but both pickups are intriguing options and, of course, are positions of need for this team.
The first and perhaps most important is Yan Gomes, who was brought in for a two-year 13 million deal to be the team's backup catcher. Gomes is more than capable for that role, but there could be a chance he ends up as the starter, depending on what happens with Willson Contreras and his extension talks. The second signing for the Cubs comes with a lot of intrigue as they signed former New York Yankees outfielder Clint Frazier to a one-year deal.
Frazier has been in the Yankees organization for a while, but when they decided to part with him this offseason, the Cubs were immediately mentioned as a fit for him. After adding Ramirez and Narciso Cook to a minor league deal, it became less likely to see Frazier land with the Cubs until Michael Hermosillo was non-tendered, creating an opening to nab him.
Of all the moves the Cubs have made thus far, this is the one that comes with the most intrigue and one that could turn out to be a steal. The 27-year-old Frazier was once regarded as a top prospect in the Yankees organization who even had his name mentioned in the top 100 for a few years. When you look at his minor league career, which started in 2013, you can see why.
Frazier not only hit a .273 across his minor league career, but had several seasons where he hit north of .280. During his time, Frazier connected for 81 homers while driving in 297 runners and swiping 60 bases, putting plenty of tools on display. It wasn't until 2017 when Frazier got his chance on the MLB roster, but things haven't gone as planned since.
Not only has he played in just 228 games, but he has never played in more than 70 games in a season. Injuries played a role in that, but the position he plays as Aaron Judge, Brett Gardner, and Giancarlo Stanton took most of the outfield starts away from him. Despite posting just a .239 career average thus far, Frazier had three consecutive seasons hitting near .270 before the bottom fell out last year. He has also added a total of 29 homers, with 12 of them coming in 2019.
Those numbers are not great and certainly not at the level a top prospect was anticipated to bring to the table, but all is not bad with this signing. It is a low-cost high-award type of deal for the Cubs who are not tied to a long-term contract with him.
A change of scenery
Sometimes, all a player needs to succeed is a change of scenery, and perhaps this is what Frazier needs. When you look at the Yankees organization and who he had to compete with for outfield time, things will be much easier in Chicago. Outside Jason Heyward and Ian Happ, the Cubs don't have a starting third outfielder leaving that job up for grabs.
Sure, the Cubs have plenty of internal options for possible solutions. Still, Frazier will get as many opportunities as them to not only make the opening day roster but to be a starter. I think he will have a solid season and put the Cubs in an intriguing position should he earn a starting job. Would they hang onto him beyond this year or trade him at the deadline? Only Frazier can put the Cubs in that position.
One year flyer
You things have gotten bad in Chicago when the Gomes contract is the largest contract given to a position player over the past five years. Instead, the Cubs have tried to find lightning in a bottle by signing players to one-year deals, and this is another one of those opportunities.
When you look at last season, the Cubs had a lot of success finding players who fizzled out with other organizations, including guys like Frank Schwindel and Rafael Ortega. Both showed flashes with other organizations but never had an everyday opportunity to show what they could do. Last season they not only had those opportunities, but both proved to be more than adequate players who can fill a role on a rebuilding team.
The Cubs are hoping a similar thing can happen with Frazier. Not only is there upside here with the ability of Frazier to bring a middle-of-the-order bat to the mix, but he has shown the ability to produce at the major league level and sometimes at a high level. He has a higher strikeout rate than you would like but also brings with him a high walk rate and some legit power even though it hasn't shown up. These are the deals the Cubs may be doing this offseason, but all have a purpose.
What is next?
It was nice to see the Cubs get a little aggressive this week. The Cubs have a plan in mind, and they are not getting off that plan. The signings they have made thus far fit that plan and fit positions of needs on this team. They are doing a great job keeping their cards close to the vest, but you need to fold or go all-in at some time.