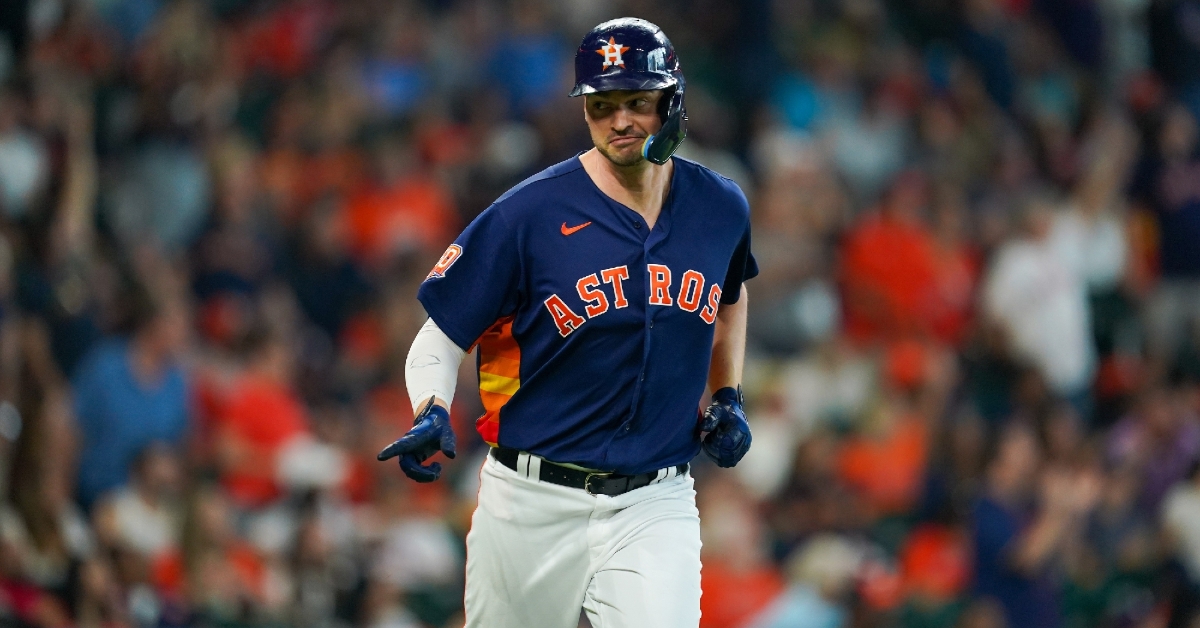 | | |
| --- | --- |
| What does Trey Mancini bring to the Cubs? | |
---
| | | |
| --- | --- | --- |
| Sunday, January 15, 2023, 12:00 PM | | |
Just when you thought the Cubs were content with the Roster they had in place, they continued to surprise fans. No, they didn't go out and add an Ace like Trevor Bauer to the team, but they did go out and get a player that many fans wanted them to pursue from the very beginning.
After hearing rumors for several weeks about the Cubs potentially landing Trey Mancini despite signing Eric Hosmer earlier in the offseason, those rumors became true as Mancini has indeed agreed to a deal with the Cubs. We know that this is a two-year deal worth $14 million that includes an opt-out after year one.
This is an excellent deal for the Cubs, but it could affect the Cubs plan for Matt Mervis as he may now begin the season at AAA. However, Mervis could also start the season on the big-league club, but look for him to be the DH if that is the case. Adding a guy like Mancini is a massive pickup for this team, and there are plenty of reasons to like this deal.
The most obvious reason is what it does for this offense. Say what you want about the season he had last year. Until his trade to Houston, Mancini had a very good season with Baltimore, but struggled to find his footing with the Astros. This has always been a guy that was going to hit around .270 while providing 25 homers consistently. If he can come close to putting up those numbers, the Cubs offense will take a huge step forward which is something they desperately need to do this season.
Another reason this pickup benefits the Cubs is that it gives them the perfect righty/lefty combination at first base, as he will pair well with Hosmer. Both players are looking for bounce-back seasons and will have the opportunity to do so. You could also insert one or the other as the DH on certain days to keep both of their bats in the lineup, but look for that spot to be occupied by Patrick Wisdom for the time being, as his bat has some value with the team right now.
Mancini also brings some versatility that no one talks about, which is something the Cubs have always liked in their players. Yes, 1B and DH will be his primary positions, but Mancini has also been a 3B before while also seeing time in the OF. 3B is out of the question, but you could see him getting a few starts in the OF if certain guys need a day off.
This is one of those deals that benefit Mancini just as much as the Cubs. According to the ZIPS prediction for the season, Mancini is expected to hit around .250 with 20 homers and 28 doubles. Those are great numbers to add to a lineup that lacked overall power last season and would instantly make them deeper and better.
If those are the numbers he can bring to the table, the Cubs will have a steal with another surprisingly smart deal. However, should he struggle, the Cubs are not tied to him for a long-term contract, so it would make things easier to move on from him if needed. Also, this benefits Mancini as it will allow him to opt out in pursuit of a bigger deal should he go out and have a great year.
While all this seems like a win for the Cubs, it could be a loss for Mervis, at least for the beginning of the season. The addition of Mancini almost certainly guarantees that Mervis will begin the season in AAA, which I know many Cubs fans don't want. Mervis could be the starting DH should he go out and destroy pitching during the spring, but I find it hard to believe the Cubs will carry three 1B to open the season.
No one is saying that Mervis will not be a great player or won't continue to add to his legend from last season. However, there are questions about whether or not it was a fluke. This gives the Cubs a safety blanket to develop him slowly to ensure he is ready to go fully.
In the worst case, you start him in AAA for a month or so, monitor how he does offensively and defensively, and then promote him up to the majors. You will likely see him anchor the DH position at that point, but you could also do that in a platoon role with Wisdom early on until he settles in. Having a 1B platoon of Hosmer/Mancini and a DH platoon of Wisdom/Mancini could be a lot worse, as only a few teams have lefty/right platoons anymore. This is a massive deal for the Cubs as they continue to win the NL Central off-season.
Trey Mancini could really bang at Wrigley pic.twitter.com/4WdMoVxd7R

— Greg Zumach (@IvyFutures) January 15, 2023
David Ross should be able to selectively play Wisdom and Mancini, optimizing both their value.

E.g., Mancini hits high fastballs significantly better than Wisdom. Mancini's expected wOBA against upper-quadrant 4seams was ~100 points better than Wisdom's last season. pic.twitter.com/7GtprOkFCz

— Brendan Miller (@brendan_cubs) January 15, 2023