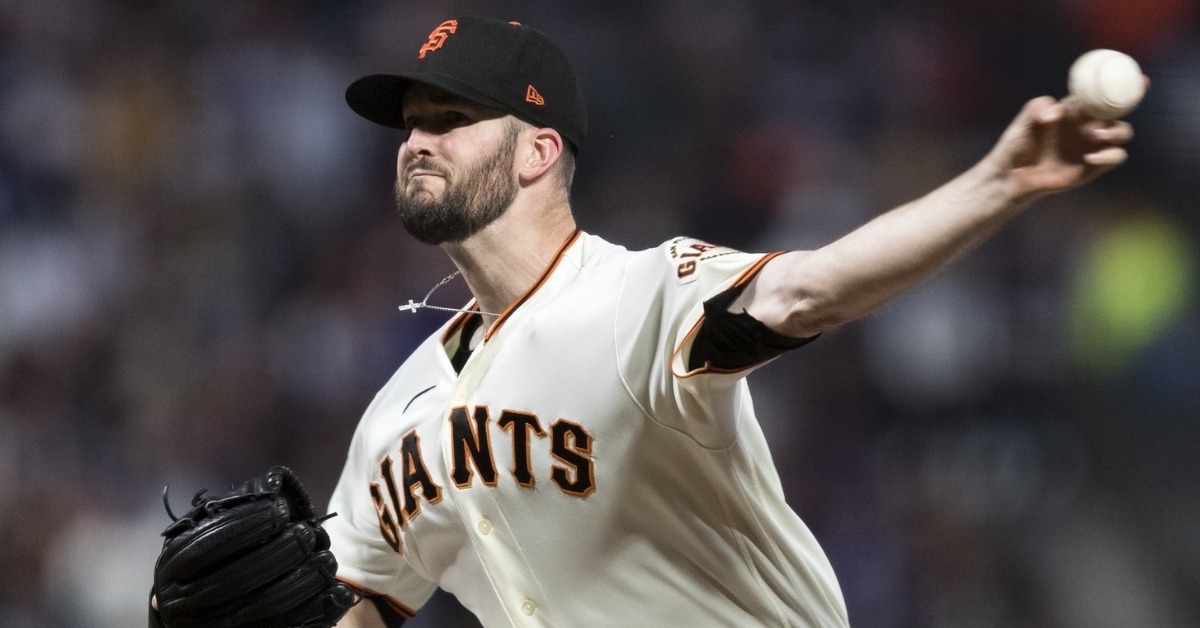 | | |
| --- | --- |
| Wood takes a no-hitter into seventh as Giants top Cubs | |
---
SAN FRANCISCO - Baseball is a game full of opportunities, and those opportunities were on full display Thursday night at Oracle Park. With the Chicago Cubs (40-58) riding a six-game winning streak and taking on the San Francisco Giants (49-50), losers of seven straight, something had to give.
When it came down to it, it was a series of costly miscues that cost the Cubs as the Giants cashed in on the opportunities they had while the Cubs were not able to match that early on. Add that to Alex Wood taking a no-hitter into the seventh inning, and it made for a tough go of things as the Cubs fell to the Giants 4-2, ending their season-long winning streak.
For Wood, the left-hander has always had a fair amount of success against this Cubs team, but Thursday may have been his best start to date as he went 6 2/3 innings, allowing two runs on two hits to pick up his seventh win of the season. You have to credit him for working out of trouble early, as that seemed to be the turning point in the game.
With Christopher Morel leading the game off with a walk followed by a Willson Contreras hit by pitch, the Cubs had runners on first and second with no outs. That is when Wood started to settle in as Morel was thrown out trying to steal third, which started a streak of 15 consecutive hitters retired by the left-hander.
Opposing him was fellow lefty Justin Steele who got off to a great start of his own. Through two innings, Steele already had three strikeouts and retired the first hitter in the third, which is when things began to go sideways. Blame Patrick Wisdom for some of that as a routine pop fly off the bat of Mike Yastrzemski turned into a drop leading two the two base error.
Not only did that error put a runner in scoring position, but it opened the flood gates for what was a miserable inning for Steele. That error was followed by an Austin Slater single to put runners on the corners before Steele recorded a huge strikeout. On the verge of getting out of things, Steele uncorked what looked to be a wild pitch only to have it ruled as a hit by a pitch as the bases were loaded with Yermin Mercedes coming up.
A big reason for his third-inning struggles was his inability to put hitters away with two strikes, and that Mercedes at-bat was a prime example of that. After fighting off several pitches, Mercedes used his strength to bloop one into center field as the Giants took a 2-0 lead. One pitch later saw Thairo Estrada line one into left to score another run as the Giants were up 3-0.
One inning later, the same issue for the Cubs as David Villar managed to reach first to lead things off as Nico Hoerner uncorked a rare throwing error to first. In a similar situation with two outs, Steele couldn't put Slater away as he drove one over the head of Seiya Suzuki in right to score another run as Steele's night ended with the Giants leading 4-0. You have to feel for the left-hander whose ERA fell to 3.83 as all four runs allowed were unearned on the strength of two Cubs errors.
With Steele now out of the game, it was up to the Cubs pen to make things happen with Erich Uelmen entering. Not only did he finish things off for Steele, but Uelmen retired all seven hitters he faced and looked very good in doing so. With Nelson Velazquez working a walk to end the consecutive batters retired streak, the Cubs were still looking for that first hit in the seventh.
It didn't take very long, with Ian Happ needing just two pitches to end it as his leadoff single gave the Cubs a rare baserunner. The funny thing is, once that hit happened, the first runs of the night followed with Wisdom redeeming himself from that earlier error by launching his 18th homer as the Cubs cut the deficit in half 4-2.
Brandon Hughes then took over in the seventh before being lifted by Chris Martin later in the inning, but the work Martin did in the eighth gave the Cubs a chance. Despite allowing a leadoff double to Tommy La Stella and a single to Estrada, Martin was able to buckle down as he retired the next three hitters he faced to send the game to the ninth and gave the Cubs a chance. However, the Cubs wasted another opportunity which was the theme all game, as Happ picked up his second single of the night only to be left stranded with the Giants winning 4-2.

Tags: Cubs Baseball
,
Christopher Morel
,
Willson Contreras
,
Justin Steele
,
Patrick Wisdom
,
,
Seiya Suzuki
,
Erich Uelmen
,
Nelson Velazquez
,
Ian Happ
,
Brandon Hughes
,
Tommy La Stella